ANGER/FLY
Written by: Ruth Margraff
Directed by: Kate Hendrickson
May 24 – June 30, 2012
Trap Door's 2012 season was named "The Best String of Theatrical Stunners" by The Chicago Reader.
Cast: Tiffany Bedwell, Antonio Brunetti, Casey Chapman, Anya Clingman, David. A. Holcombe, Emily Lotspeich, Maria Stephens, David Steiger, Bob Wilson
 "the raucous, challenging, giddy ensemble over at Trap Door Theatre…the European-styled company has a knack for utilizing Trojan horse sweetness to turn dense manifestos melliferous." Dan Jakes, Time Out Chicago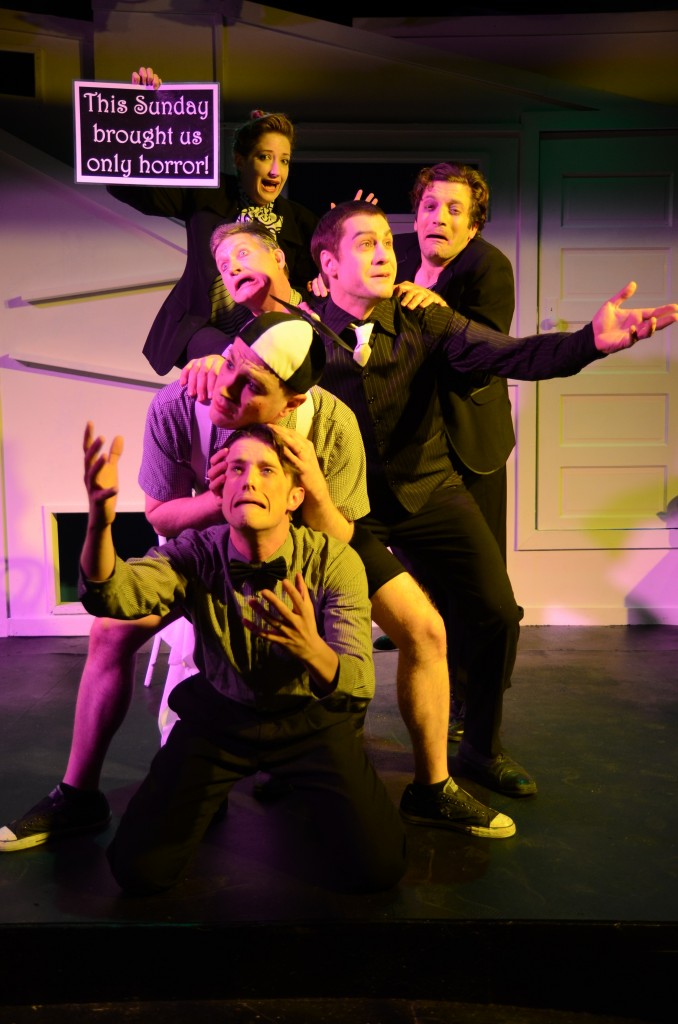 Inspired by an 8-page film scenario written by Eugene Ionesco, 
ANGER/FLY
 deconstructs and expands the story of a perfect little town that erupts in a violent riot set off when all the husbands simultaneously find flies in their soup. The piece is a dark absurdist comedy that explores a Tramp as gypsy, communism as cyclical utopian apocalypse, and marriage as manic ritual. The adaptation utilizes the contrived innocence of bubblegum pop, the exaggerated expressionism of silent film, and the rolling cadence of player piano ragtime rhythms.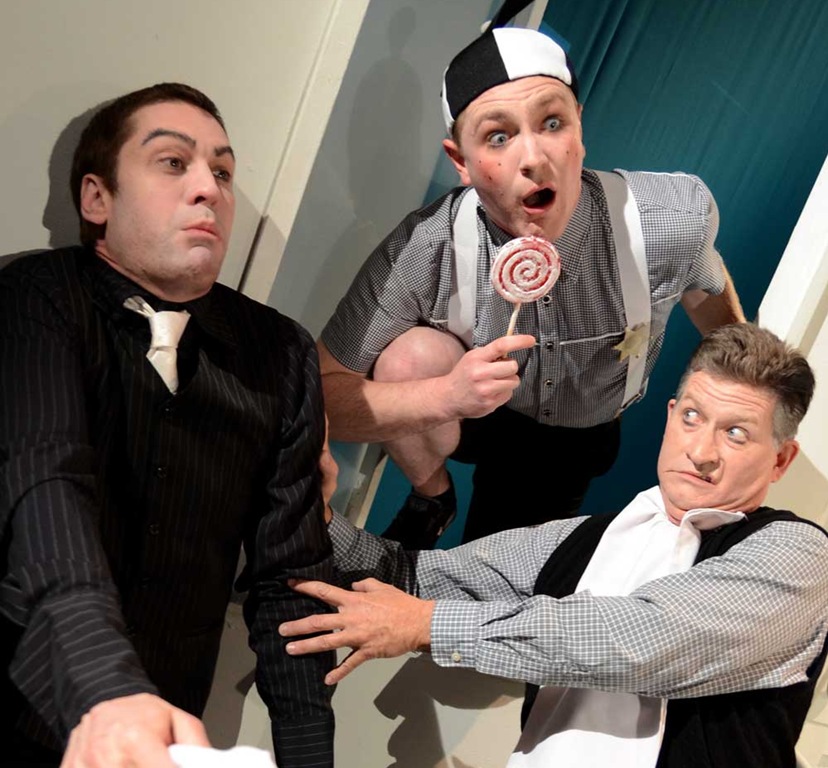 Ionesco's original film scenario, entitled 
La Colère (Anger)
 is written in short narrative form. It begins with happy townfolk coming out of church one sunny spring morning and ends with the destruction of the world.Throughout the action, a "lady television announcer" calmly broadcasts good
news. ANGER/FLY translates this montage into a hysterically visceral live performance event. The multi-layered piece was adapted and devised by playwright Ruth Margraff, with director Kate Hendrickson and the Trap Door Ensemble, through a uniquely collaborative process that delved into cubist points of view, Ionesco's use of language, his themes of social estrangement and the absurdly farcical tone of his work.
Kate Hendrickson (director) has been premiering radical American plays at Trap Door Theatre since 2005. Her past productions have won numerous awards including a Jeff Award for Best New Work (Ken Prestininzi's Beholder). Hendrickson seeks out American playwrights who share a kinship with the works of the European avant-garde. It was in this capacity that she invited playwright Ruth Margraff to collaborate on adapting Ionesco's scenario into a piece built specifically for the Trap Door Ensemble.
Ruth Margraff (playwright) has been called one of America's most singular and "daring theater artists" (C. Svich, Divine Fire). She is known for an "audaciously original" (Moscow Times) use of poetic language that provides "layer after layer of richly textured emotion…and imminent danger" (Dallas Morning News).  Margraff has toured extensively with her plays and her Café Antarsia Ensemble throughout the U.S., U.K., Canada, Russia, Romania, Serbia, Hungary, Ireland, Italy, Greece, Turkey, Slovenia, Czech Republic, Croatia, France, Sweden, Japan, Egypt, India, and Azerbaijan. She has been awarded four Rockefeller Foundation commissions, two McKnight awards, a Jerome Fellowship, an NEA/TCG national playwriting residency, two NYSCA awards, a Fulbright new opera award (to Greece).  Her work is published by Dramatists Play Service, American Theatre, Theater Forum, Performing Arts Journal, Playscripts, Inc., Kendall/Hunt, Backstage Books, The Drama Review, Conjunctions, Autonomedia, New Village Press, Innova Recordsand NoPassport Press. She is an alumna of New Dramatists, member of League of Professional Theater Women, Theatre Without Borders, a resident playwright of Chicago Dramatists and Associate Professor of Playwriting at the Art Institute of Chicago.
This program was partially supported by an Artist Project grant from the Illinois Arts Council, a state agency.
Set Designer Mike Mroch / Lighting Designer Richard Norwood / Costume Designer Tonette Navarro / Makeup Designer Zsofia Otvos / Video & Graphic Designer Michal Janicki / Sound Designer Mikey Moran / Choreographer Lyndsay Rose Kane / Fight Choreographer Mathias Maloff  / Musical Director & Arranger Nicholas Tonozzi /Incidental Music Composer Nikos Brisco / Stage Manager Anna Badenoch Eisenbraun / Production Manager Allison Raynes / Recording Engineer Robert Eisenbraun /Production Intern Skye Fort