Emma
Written by: Howard Zinn
Directed by: Kate Hendrickson
Co-Directed by: Shane Oman
October 18, 2007 – December 1, 2007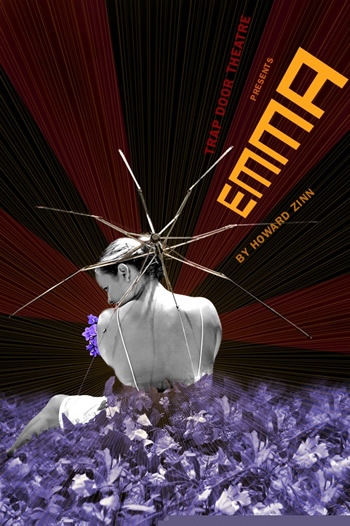 A fascinating look at the life of Emma Goldman, the anarchist, feminist, and free-spirited thinker who was exiled from the United States because of her outspoken views.
Cast: Featuring Beata Pilch as Emma, with David Bettino, Kevin Cox, Gary Damico, Géraldine Dulex, Noah Durham, Jen Ellison, Carolyn Hoerdeman, Jason Huysman, and John Kahara

Crew:
Ewelina Dobiesz, Set Designer
Richard Norwood, Lighting Designer
Michal Janicki, Graphic Designer
Howard Zinn (The Playwright): Historian, author, and pivotal figure of the American Left, Howard Zinn has written over a dozen books. Among them is his now classic A People's History of the United States. He is professor emeritus at Boston University. Zinn has received the Lannan Foundation Literary Award for Non Fiction and the Eugene V Debbs award for writing and political activism. His plays Emma and Marx in Soho have been performed internationally.
Zinn's drama Emma is based on the life of American Anarchist Emma Goldman. Passionate, audacious, and notorious Emma was a popularizer of the arts, a defender of civil liberties, a proponent of birth control, and a free love advocate. Emma explores not only her political life but also the friendships, and tumultuous love affairs that sustained and inspired her. Emma has been performed in New York, Boston, London, and Tokyo. This is its Chicago premier.
A fervently committed ensemble, a crackling pace and an Emma who radiates power and charisma combine to create a rip-roaring, balls-to-the-the-walls production.
–URChicago magazine
Step outside of the political comfort zone of complacency and the entertainment comfort zone of escapism and enter the aesthetically vital zone of confrontational creativity and contemporary consequence. Trap Door's beguiling production of "Emma" proves that historical eye and ear candy can be emotionally delicious as well as fundamentally nutritious. This is one of those "here's something you've been missing" experiences that will inspire you to look at the topic and your world with a greater degree of scrutiny and passion.
Do not miss this critically compelling theatrical triumph. (****)
-Gay Chicago Magazine
Trap Door Theatre's interpretation of "Emma," Howard Zinn's portrayal of a captivating radical, succeeds phenomenally in the company's mission statement of bringing life to difficult stage text…beautifully choreographed, fast-paced scenes, ingenious use of props and space, well-chosen music by the Sex Pistols, Gil Scott- Heron and Jewel, and a DIY black-box ethos that informs the message and elevates it, even frees it, from the script. Vibrant, even electrifying acting across the board, with a particularly dazzling Beata Pilch as Emma.
-Newcity Chicago
---
Benefit for Planned Parenthood!
In honor of the life, spirit and work of Emma Goldman, Trap Door Theatre donated all the proceeds from our October 26th performance of Emma to Chicago Area Planned Parenthood.