How to Explain the History of Communism to
Mental Patients
Jeff Awards Nomination for Original Music in a Play- Danny Rocket
Written by: Matei Visniec
Translated by: Jeremy Lawrence and Catherine Popesco
Directed by: Zoltán Balázs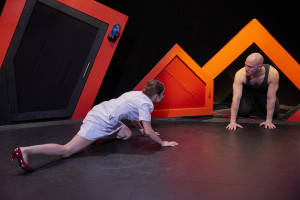 Photo: Bogdan Nastase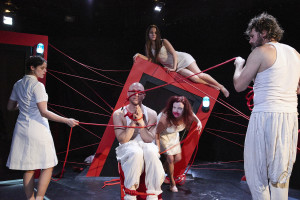 Cast:  Simina Contras, Michael Garvey, Beata Pilch, Dennis Bisto, Pavi Proczko, Ann Sonneville,
RECOMMENDED!
The performers here deliver. Every movement is powerful and attentive.
New City - Jay Van Ort
 Balázs has developed a physical acting method that can build and communicate a story without words. It is a beautiful thing to watch 
Theatre by Numbers-Christopher Kidder-Mostrom
Director Zoltán Balázs's angular, stylized staging is hilarious, perplexing, and harrowing—often all at the same time.
The Chicago Reader - Justin Hayford
Director Zoltán Balázs creates extremely spellbinding vignettes in what amounts to a sort of slow-motion work of contemporary movement art.
Chicago Theatre Beat - Clint May
Supported by
Trust for Mutual Understanding 
 How to Explain The History of Communism to Mental Patients
(REHEARSAL PROCESS) -Video by David Holcombe
                                       Zoltán Balázs (director)                                  Matei Visniec (playwright)
Matei Visniec, playwright, poet and journalist, was born in Romania in 1956, and now lives in Paris. He began writing for the theatre in 1977. Early in his career, Visniec's plays were banned by the Romanian censors. In 1987 he was invited to France by a literary foundation. While there, he asked for and received political asylum. After the fall of communism in Romania, in 1989, Visniec became one of the most performed playwrights in the country. Visniec gained international attention in 1992, with productions of Horses at the Window in France, and Old Clown Wanted at the "Bonner Biennale". Since then, Matei Visniec's work has been produced in France, Germany, United States, Denmark, Austria, Poland, Finland, Italy, Turkey, Brazil, Romania, and Moldavia. Most recently, his play the word progress on my mother's lips doesn't ring true was the winner of the "Best Play in the Off-section" at the Avignon Festival in 2009.
Zoltán Balázs graduated as an actor and director from the University of Theatre and Film Arts in Budapest. He participated in several foreign workshops such as in Anatoly Vasiliev's and Josef Nadj's workshop in Avignon. He studied from Robert Wilson in Paris and he also graduated from the European Theatre Union's directorial course in Stuttgart. In 2001 he founded one of the most important independent theatre, Maladype Theatre, and since he has been the artistic director in Budapest, Hungary. Through his performances he aims to give the audience a theatrical experience which is complex, appeals to emotions and senses and raises the scenery, motion and music to the same level as the lyrics. His main works: School for Buffons by Michel de Ghelderode; The Blacks by Jean Genet; Empedocles by Friedrich Hölderlin; Pelléas and Mélisande by Maurice Maeterlinck; Leonce and Lena by Georg Büchner; The Vampire by Heinrich Marschner; Faust I-II. by J. W. Goethe; King Ubu by Alfred Jarry; Platonov by A.P. Chekov; The Kitchen  by Arnold Wesker; Inferno by Dante; Swan Lake by P. I. Tchaikovsky; Don Carlos by F.Schiller; Master and Margarita by M. A. Bulgakov and Macbeth by W. Shakespeare.The aim of Zoltán Balázs's method – uniquely developed for training actors – is to develop the techniques for moving, dialogue and enhance the sense of body through self-examination. He focuses on the actors' intensive common work and continuous communication with the audience. Therefore the importance to improve the actors' analytical and synthesizing skills; the everyday tone of their speech; and the constant condition of the improvisation based play that gives immediate and spirited reaction to the audience is inevitable.
Set Designer Aaron O'Neill / Lighting Designer Richard Norwood / Costume Designer Rachel Sypniewski / Music Composer Danny Rockett/  Stage Managers Emily Lotspeich and Gary Damico/ Makeup Designer Zsofia Otvos / Graphic Designer Michal Janicki/ Dramaturg Milan Pribisic
Special Talk Back: On THURSDAY, MARCH 17th following the performance, there will be a talk back and reception with director Zoltán Balázs and the cast focusing on the play's theme of ghostly, invisible systems of power.
Wine and cheese reception to follow.
Matei Visniec's How to Explain the History of Communism to Mental Patients is an existentialist drama questioning the relation between personal and political, truth and deceit, real and de-illusional.
In this play's maddening interplay of mirrors and projections, everybody turns into a mental patient or a spy or a leader as each new revolution becomes yet another ideological TRAP.