"SMARTPHONES- A POCKET-SIZE FARCE"
Written and Directed by: Emilio Williams
Cast: Antonio Brunetti, Geraldine Dulex, Jody Kingsley, Chris Popio
July 19 – August 18, 2012
What happens when our lives become more absurd than an avant-garde play?Smartphones is a new comedy by Spanish award-winning playwright and director Emilio Williams. The play is a madcap comedy, both a parody and a tribute to the great theater of the absurd, and the surrealist films of Luis Buñuel, such as "The Exterminating Angel" and "The Discreet Charm of the Bourgeoisie."
Last March the play received its first public reading in Spain at the world-renowned Teatro Español. Luis Maria Anson, a leading cultural critic wrote in the Sunday edition of El Mundo newspaper a raving review: "The author has placed a mirror between Samuel Beckett and Yasmina Reza to reflect the new realities of human relationships. (…) He has threaded together perfectly-pitched dialogues with profound thoughts and social criticism."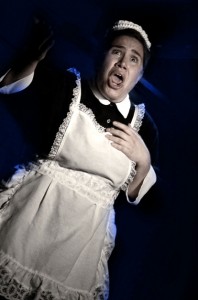 Emilio Williams is increasingly known in his native Spain as one of the most interesting new voices on the alternative stage. Since 2007, his profound comedies have gained him both critical and audience acclaim. His work has been produced in Spain, France and the United States. Earlier in 2010, his play "Tables and Beds" (Camas y Mesas) was selected among 80 works from 12 countries the winner of the 4th Premio el Espectáculo Teatral. In 2011, his farce "Medea's got some issues" opened at the KGB in New York City. This summer another of his plays, "Your problem with men," will receive its world premiere at Teatro Luna in Chicago. He will also be co-directing with Molly Brennan the bilingual version of "That's weird, grandma" for the Barrel of Monkeys.
Set Designer Brian Sidney Bembridge / Lighting Designer Richard Norwood /Costume Designer Tonette Navarro / Original Music Gabriel Dib / Stage Manager Skye Fort / Make up Designer Zsofia Otvos / Graphic Designer Michal Janicki / Fight Coreography Justin Verstraete / P.R. Austin Hassett / Assistant Directors Mariana Leite & Gary Damico
This production was supported by Instituto Cervantes Chicago and International Voices Project.
"Emilio Williams's deft, of-the-moment comedy is worth tweeting about. (…) Williams and his deft cast tweak theatrical conventions and technological obsessions with joy and, indeed, smarts."
-Kris Vire, Time Out Chicago
"Smartphones: A Pocket-Size Farce is a smart, well-executed show with just the right ratio of mockery to substance. Recommended"
-Keith Griffith, Chicago Reader
"Ah, what a refreshing thing a good farce can be on a hot summer day. In a nation with a drought of not just rain but quality satire, the premiere of Emilio Williams' Smartphones: A Pocket-Size Farce delivers a quirky little comedy with a sneakily smart dose of both old and new humor."
-Clint May, Chicago Theater Beat
"One of the funniest and cleverest pieces of absurd theater I have ever seen. (…) I laughed, I gasped, I cringed, I enjoyed every second of it. It's theater of the absurd for the digital age."
-Jake Lindquist, Chicago Stage Style
"The cast delivers the craziness with a calculated combination of choreographed restraint and reckless abandon. (…)This show looks as good as next year's iPhone upgrade. Recommended"
-Venus Zarris, Chicago Stage Review
"The cast is wonderful as a unit, but Jodi Kingsley (…) manages to humanize an absurdist character, and once you've seen that, you start to think that all absurdist comedies might be improved by such a performance. Recommended"
-Lisa Findley, Center Stage