The Bitter Tears of Petra Von Kant
WRITTEN BY: Rainer Werner Fassbinder
TRANSLATED BY: Denis Calandra
Thursday, September 21, 2006 – Saturday, November 4, 2006



Winner of Three Gay Chicago After Dark Awards:
Best Production, Best Ensemble and Best Costumes

"It's the sort of nihilistically humorous and outrageously stylized production that is the Trap Door Theatre signature"
- Windy City Times

"Highly Recommended! Critic's Choice!"
- The Chicago Reader

"Nicole Wiesner is mesmerizing as Petra"
-The Chicago Tribune

"Directors Pilch and Krishna Lefan reinvented this classic on the Trap Door stage with a design team and cast who was infused with incomparable talent and intelligence"
- Gay Chicago Magazine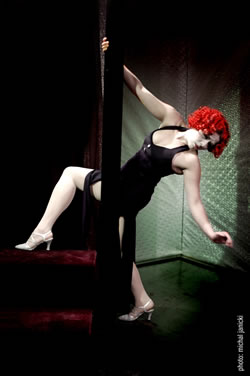 CAST: Marzena Bukowska, Geraldine Dulex, Kim McKean, Beata Pilch, Carolyn Shoemaker and Nicole Wiesner
SET DESIGN: Ewelina Dobiesz
LIGHTING DESIGN: Richard Norwood
SOUND DESIGN: Sam Lewis
COSTUME DESIGN: Beata Pilch
The Bitter Tears of Petra Von Kant…
An obsessive and highly stylized look at the shifting power plays in female relationships and one woman's downward spiral of irrational jealousy and hysteria.
About the Playwright:
Rainer Werner Fassbinder was born on May 31, 1946 in the Bavarian town of Bad Worishofen. His father was a doctor and his mother, Liselotte, a translator. Fassbinder attended the Rudolf Steiner Schools in Augsburg and Munich. He didn't finish school, but worked in various jobs. After studying drama at the Fridl-Leonhard Studio in Munich, he joined the "Action Theater" in 1967. His first play, Katzelmacher, premiered in April 1968. In 1969, Fassbinder made his first feature-length film, Love is Colder than Death. It was booed at the Berlin Film Festival. Fassbinder's breakthrough came with his next film, Katzemacher (1969). It played at the Mannheim Film Festival, where it won the Film Critics' Prize, the Prize of the German Academy for Outstanding Artistic Achievement, among others. His commercial breakthrough was The Merchant of Four Seasons (1971), and his international breakthrough Ali-Fear Eats the Soul (1974). (International Critics Prize at Cannes). In 1971, he was a founding member of the "Filmverlag der Autoren." His biggest success, which brought him the popular acceptance he sought, cam with The Marriage of Maria Braun (1978), part 1 of his FRG-trilogy. The TV-series Berlin Alexanderplatz (1980) and Effie Briest (1974) are two of his best-known adaptations. His last film, Querelle, was shot in 1982. Fassbinder made 41 movies in 14 years, and also worked as an actor, producer, theatre manager, composer, designer, editor, and cameraman. He died in 1982 of an overdose. His death is often considered the end of New German Cinema.