Alžan Pelesic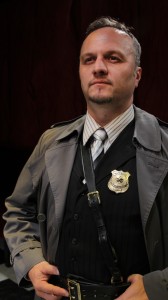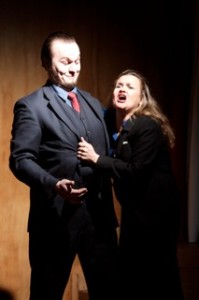 Alžan made his debut wit Trap Door in The Fourth Sister as Yuri/Lonia in 2004. He portrayed Abdul in Beastly Bombing, The Chief of Police in The Balcony, and Stepan in Regarding The Just, performed in Chicago and 5 cities in France. He is also a founding member of the Silent Theatre Company Chicago, and he was last seen there as Scrooge.  
Film credits include: Ship Captain in "Montevideo Bog te Video-Na Putu za Montevideo" (Engl. "Montevideo, My God-On the Way to Montevideo") TV Series-Cobra FIlm Belgrade/Serbia.Ljubinko's Bud in "Falsifikator" (Engl."The Forger") Film-Drina Film Belgrade/Serbia.Šeki in "Top je Bio Vreo" (Engl. "The Cannon Was Hot") Film-Balkan Film Banja Luka/ Bosnia and Hercegovina. Zenga in "Turneja" (Engl."The Tour") Film-Drina/Balkan Film Bosnia/Serbia, Russian Goon in "Fallen Souls" Film-Salvador Barcena Production, Chicago. Šiptar in "Zvezdara" TV Series-Pink TV Belgrade/Serbia.
Theatre credits: Medium in Out at Sea, produced by Chopin Theatre. Shigolsch/Freak on Stilts in Lulu (Chicago, Iowa, 2006 NYC International Fringe Festival-Outstanding Ensemble Play Award, and Victoria Theatre San Francisco; Crazy Al in Noir, Chicago and 2008 NYC International Fringe Festival; World Musician in Vaudeville with the Silent Theatre Company. Stalin/ Zhukov/Vanya in Maria's Fields; Sampson in Romeo and Juliet; Dormouse, Frog Footman, Door, Candelabra, Lori, 2, 5, 7, in Alice with T.U.T.A. Kobak in This Side of Angels with the Breadline Theatre Group. Treitel in Teibele and Her Demon with the European Repertoary Co. Max Tarasov (Understudy) in Superior Donuts with the Steppenwolf Theatre. Creon's Aid in Antigone & City Magistrate in Lysistrata at the Athens Centre Greece. Captain to Fortinbrass in Hamlet with the Buffalo Theatre Ensemble…  Alžan holds a BA in Acting from Columbia College Chicago (2002).
He has  6 years of classical guitar training and over 30 years relationship with his guitar. Besides his native language(s), he is also fluent in German, and in his solo acts he often sings in several languages, and just recently he joined the Bad Teenage Mustache. Alžan is humbled to live, create, and peform among such an excellent group of Artists.