Holly T. Cerney

Holly has worked as an actor and company member at Trap Door Theater since 2004 and served as the company's Grant Manager/Development Director from fall of 2007 and through this year where she is training the next generation of this position. Trap Door credits include The Sheep in The Garden of Delights, Emma in Amerikafka, Babushka in The Fourth Sister, Eva in Eva Peron, the "wife" in the Chicago run of Horses at the Window and the production's subsequent debuts in Lexington Virginia, and throughout Romania, Genevieve in Me Too, I am Catherine Deneuve in the Chicago, Atlanta, Washington D.C. and French tours, the "wife" in They are Dying Out, Sassafrass in Vatzlav  and Sister Anna in John Doe created in partnership with Teatr Witkacy in Zakopane with founding member and Artistic Director Andrzej Dziuk.

Holly returned to Zakopane to showcase at the Theatr Witkacy's 30th anniversary event, "130/30″ in February of 2015. An accomplished cellist, Holly and her wooden side kick have appeared in four of Trap's productions and two staged readings. After an Alaskan migration across the wild tundra, Holly became a Chicago resident in 1999.  She has since had the pleasure of working with many progressive theatre companies in the city including Oracle, Redmoon, Defiant, The Factory, The Griffin, Chicago Dramatists and several others.  Education credits include a Bachelor of Arts in Theatre Arts from the University of Oregon and a Masters in Library Science from Dominican University.  Holly works by day as an adjunct reference and instruction librarian at DePaul University.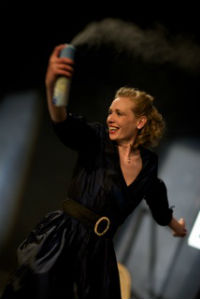 St. Dziuk's staging is funny, frighten-ing, and, thanks to Wesley Walker's Walpurg and Holly Thomas Cerney's Anna, unexpectedly beautiful.
Tony Adler, Chicago Reader
Anchoring the production are Walker and Cerney's raw, revelatory performances. Cerney, more so than the other actors, portrays her character's interior state through body language, including rapid movement, awkward contortions and coiled limbs.
Barnaby Hughes, Chicago Stage Review
It's a strange trip but also strangely exhilarating in its unapologetic indulgence, anchored by hypnotic performances by Wesley Walker as poet Alexander Walpurg, … and by Holly Thomas Cerney as achingly vulnerable Sister Anna…
Kerry Reid, Chicago Tribune
a gutter-regal central performance by Holly Thomas as Eva
Time Out Chicago
Holly Thomas' Eva is a regally demanding, humorously wicked creation…she anchors the production with a statuesque grace and haughty sense of amusement
Chicago Free Press
Beata Pilch, Nicole Wiesner, Carolyn Shoemaker and Holly Thomas anchor and carry the frantic absurdist farce…Trap Door Theatre's ensemble has so much fun it becomes contagious.
Tom Williams -Chicago Critic 
In a play full-to-bursting with striking visual metaphors, the pas de trois among Kahara, Thomas and a cello is first among equals
Kris Vire, Time Out Chicago

Holly Thomas's inclusion of live cello music to her characterization renders lovely additional depth and melancholy
Venus Zarris, Chicago Stage Review
A counterpoint to all of them is wan, delicate Holly Thomas, half naked and bowing her rich-toned cello while John Kahara's husband raves about the creative power of war

Tony Adler, Chicago Reader
Thomas captures Genevieve's implacable belief that she can only find herself by pretending to be somebody else.
Kerry Reid, Chicago Tribune
The entire cast is sharp, but Holly Thomas shows exceptional comic style as a mogul's wife
Tony Adler, Chicago Reader