Leslie Ruettiger
Leslie is honored to be part of the Trap Door family! Leslie graduated from Millikin University with a B.F.A. in Acting and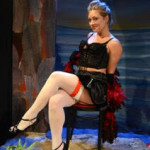 a double major in Spanish. She is currently pursuing her M.A. in Counseling Psychology at The Chicago School of Professional Psychology.
Trap Door credits include Vatzlav (Justine), The Woman Before (Tina), and Universal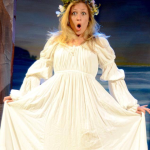 Wolf (Little Red). She has also performed with Broken Nose Theatre, The State Theatre, Redmoon, Lyric Opera, and Hell in a Handbag.
Leslie has taught and directed children's theatre with Studio BE: Youth Revolution and is an associate company member with Broken Nose Theatre.
There's even an innocent Cundegonde-like creature, known to the others as Justice, who ends up betrayed and battered. She's played by the stellar Leslie Ruettiger, who nimbly negotiates both an achingly funny striptease and a pathos-laden denouement as the young daughter of an idealist academic (Mike Steele) – who unwittingly pimps her out.
The Chicago Tribune