Mary-Kate was last seen on the Trap Door stage in The Universal Wolf as Reader, directed by Emily Lotspeich, where she got to not only act, but sing and play several instruments as well! Before that, she participated in a staged reading of No Matter How Hard We Try as Edyta at the International Voices Project, directed by Max Truax.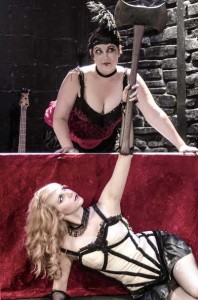 Other notable theatre credits include Julie in the Chicago premier of After Miss Julie (Focal Point Theatre), Helena in A Midsummer Night's Dream (Strangeloop Theatre), Countess Bathory in the World premier of Countess Bathory (We Three).Countess Thalia in Queen Amarantha.and Urania in the World premier of Gone Dark (Otherworld Theatre Company).
Mary-Kate holds a Master's degree in Acting from The Birmingham School of Acting in Birmingham, England. Her upcoming projects include the role of Dejah Thoris in A Princess of Mars and the roles of Mary Louise/Valaria/Ego in Warp!, both with Otherworld Theatre Company. She is so grateful to be a part of the Trap Door Family.