Mike Steele
Mike Steele is a proud new company member of Trap Door Theatre. He was most recently seen at Trap Door as Antonio in The Duchess Of Malfi.  Previous Trap Door credits include Vatzlav, Cookie Play, and the international collaboration John Doe (Based on the texts of Madman and the Nun  by Stanislaw I. Witkiewicz, adapted and directed by Andrzej Dziuk, Guest artist from The Teatr Witkacy in Zakopane, Poland).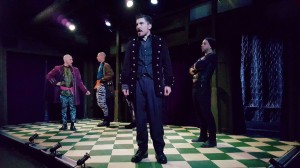 Other recent Chicago credits include Sight Unseen (Adventure Stage), No Beast So Fierce (Oracle Theatre), Matawan (The Ruckus), 20,000 Leagues Under The Sea (Strawdog), and Skriker (Red Tape Theatre).  Also a writer and director, his solo performance and original devised work has been seen at The Defibrillator Gallery, Links Hall, Collaboraction, and The Chicago Fringe Festival.  Mike was the co-founder and artistic director of The Island Theatre (R.I.P.) and holds a B.F.A. from Southern Methodist University where he received The Greer Garson Award For Excellence in Acting.
Antonio in
The Duchess of Malfi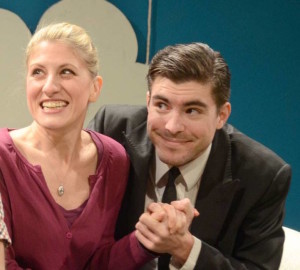 Cookie Play 
directed by resident director Kate Hendrickson
(Lyndsay Kane Truax left, Mike Steele right)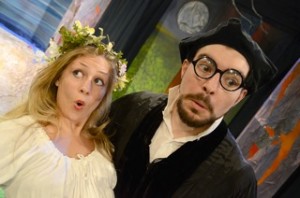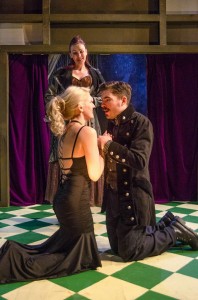 Duchess of Malfi
directed by
Christopher Marino (right)
Vatzlav
directed by Artistic Director Beata Pilch (left)
Mike Steele's Antonio is heart-wounding
Aaron Hunt.  Newcity.  The Duchess Of Malfi.
Prestininzi does a fine job of ensuring his drama has bursts of playfulness.  And the comedic absurdity is primarily produced by Steele and Wisniewski.  The duo contrast their military thug personas with unexpected goofiness.  The two infrequently and impressively break into dance sequences . . . It's these unexpected slapstick moments that lighten the very heavy subject matter
Katy Walsh.  The Fourth Walsh.  Cookie Play
agents Frank (Mike Steele and Carl Wisniewski) have the most room to play, yo-yoing from uptight caricatures of G-men to explosive three-year-olds trapped in adult bodies. They're also the most fun to watch as they ricochet (physically and otherwise) through the show
Jackie Davies.  Theatre by Numbers.  Cookie Play