Simina Contras
Simina is thrilled to be a company member with Trap Door Theatre where she was last seen as Edyta in No Matter How Hard We Try;
Last  season she was also seen on stage at The Trap performing as Katya in How to Explain the History of Communism to Mental Patients;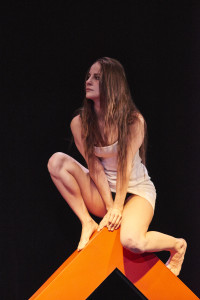 Other credits with Trap include The Duchess of Malfi as Julia and The Fairytale Lives of Russian Girls, as Masha, production directed by Nicole Wiesner for which Simina was honored with a Jeff Nomination for – Outstanding Actress in a Supportive Role - 2016 Jeff Awards (Non Equity Wing). 
Other credits with Trap Door include Blood on the Cat's Neck where Simina was seen performing the alien Phoebe Zeitgeist and multiple roles in Max Truax's production of The Balcony.
Simina had her debout with Trap Door Theatre performing as Ida in the in critically-acclaimed Chicago production and European Tour of Matei Visniec's The Word Progress on my Mother's Lips Doesn't Ring True directed by Istvan Szabo K.
Simina received a BFA in Acting from the University of Sibiu, Romania and was seen on the stages of The National Theatre of Sibiu and the National of Bucharest. She also performed in France, the UK (Edinburgh International Theatre Festival), Germany and others.
Elsewhere in Chicago, since her arrival in 2011, Simina had the pleasure of working with First Folio (The Gravedigger); Oracle Productions (Circle Machine, The Sandman); Theatre Y (Medea); Right Brain Project (Titus Andronicus) and others.
Thankfully the best part of Trap Door's great Fairytale Lives of Russian Girls, Simina Contras, remains an absolutely mesmerizing stage presence, even when it's only her disembodied voice calling out bets on the patients' window-watching game.
Chicago Theater Beat
I would go to any show advertising her participation
Chicago Theater Beat -
How to Explain the History of Communism to Mental Patients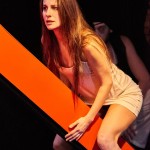 Simina Contras is absolutely marvelous as Masha. Contras can play insanely outrageous with matter-of-fact intelligence and uncanny restraint. 

                                   Stage and Cinema -
Fairytale lives of Russian Girls 
…Contras steals the show even with a bit role! 
Stage and Cinema-
The Balcony
Pilch's remount benefits greatly from Simina Contras's coy turn as Phoebe, an inscrutable, murderous Kewpie doll turned sexpot.
Chicago Reader
Blood on the Cat's Neck
From beginning to end, Phoebe (Simina Contras) skips through the 75-minutes with the aplomb of an intergalactic vampiric Betty Boop 
Stage and Cinema-
Blood on the Cat's Neck
One Response to "Simina Contras"