Playwright Emilio William reflects  on Fantasy Island for Dummies * –Bio below article
American Underground
If you want a snapshot of playwright Ruth Margraff's whimsically perverse brain, buy a ticket for  her new world premiere at Trap Door Theatre, Fantasy Island for Dummies sit down, open the program and read the names of the characters assigned to that always hysterical actress Holly Cerney: Monkey, Fantasy Native, Yogi Tiki Wiki, Party Goer. Clearly, this is not the Fantasy Island of our most tender childhood…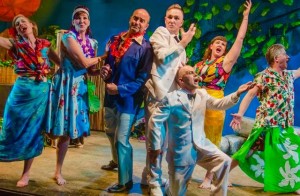 The original Aaron Spelling TV show ran on ABC from 1977 to 1984. Growing up in Spain I watched this show, dubbed into Spanish, and I had no idea that Mr. Roarker and Tatoo had any accent other than my same Castillian accent. At the time, it also totally escaped me that all Aaron Spelling productions were charged with a pretty scary reactionary worldview.
It was the dawn and the zenith of the Reagan era and mainstream America was insisting in promoting a very limited vision of what constituted appropriate cravings for love and fortune. For  love, it had to be, and only be, the ultimate satisfaction and convenience of white straight males, and for fortune, it had to be money, or in some cases fame, never prestige, just fame, and that was that. The American Dream continued to be not the individual pursuit of happiness but, as any Latin American inspired ballroom dance, a clearly defined, highly choreographed series of two steps: one, two, marriage, kids, three, four, car, mortgage, cha cha cha. Spelling-TV was week after week, and show after show, a glossy cautionary tale against any instinct to question or not to conform to a worldview best exemplified by a young Donald Trump.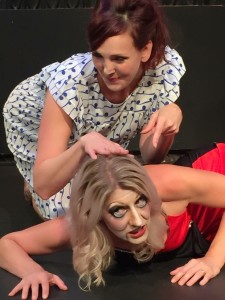 Not understanding any of that, it's interesting that as a kid I gravitated to the opposite forms of subversive American fantasy, always prefering the reruns of old shows like "The Monsters", "The Adams Family", "Bewitched" or even "I love Lucy".  All of these shows that I found hysterical in their reversal of what is suppose to be normal behavior. And it is through similar lenses and topsy turvy chaos that Margraff, director Kate Kendrikson, and the delicious cast of Trapdoorians, brings us to this new, and I'd say improved, Fantasy Island.
A deadpan, simple, word for word reading of the "Fantasy Island" teleplays, just as it happens with the transcripts of the 2016 Presidential Debates, would have generated sufficient laughs on their own right. But a traditional parody like that would have been too easy for this bold creative team. (These are, after all, the folks that in 2012 brought us "Anger/Fly")
The premise of this new theater piece is a mash between a 1980 episode named "Mary Ann and Miss Sophisticate", texts from a women's magazine from the 1960's called "Party Perfect" a precursor to Martha Steward Magazine, and the stories of Innana, an ancient Summarian goddess of love and fertility. Oh, and I forgot, the show is a musical, too.
Emily Lotspiech (as the ventriloquist Mary Anne) and Lyndsay Rose Kane (as her dummy coming to live) are a match made in underground theater heaven. There is no Hades I wouldn't happily share with those two. The threesome wouldn't be complete without Chris Popio playing George (Mary Anne's husband) brilliantly refusing to make unlikable his repulsive character, brought out directly from the basket of deplorables. His happy/unhappy ending is one for the ages, and Popio milks the moment to comic perfection.
Casy Chapman as Mr. Roarke and John Kahara as Tattoo manage to be equally creepy and funny, without resorting at any time to cheap shots. "Smiles, everyone, smiles!" How I wish I could see these two guys play the complete series!
Goddess Holly Cerney shines as Yogi Tiki Wiki, a yoga instructor that teaches yoga and how to throw the perfect party in perfectly synchronized combination. The number is both a Lincoln Park couple's Lulu Lemon wet-dream and biting social commentary of the highest order.
And then, there is the delightful Skye Fort, as a party goer she ponders profound questions such as "Does soy count as a nut?" The perfect cast is made complete by Bob Wilson, Mike Mazzocca and a ukulele.
The production values are surprisingly high. The set design by A.J. Tarzian, the costume designs by Rachel M. Sypniewski, and the music by Pink Velvet land with their visuals and sounds like a grandiose extravaganza.
In summary, this show is so brave, so bold and so nuts that no other theater company in our town would touch it with a ten foot pole. As Ricardo Montalban tells Annette Funicello in the original episode: "This is Fantasy Island. Things are possible here that can occur in no other place." The same is true, once again, for Trap Door Theatre.
*Emilio Williams' plays have been produced in his native Spain, as well as in Argentina, France, Estonia, Mexico, the United Kingdom, and the United States (including productions in  Chicago, New York, Washington DC, and Los Angeles). His most recent comedy Your Problem with Men was produced by Teatro Luna. In 2012, his one woman show Medea's Got Some Issue received "Best International Show" at United Solo Festival, Off Broadway, New York City.  That same year, his comedy Smartphones – a Pocket-Size Farce, received its world premiere at Trap Door Theatre in Chicago. In 2010, his dramedy Tables and Beds, an Unromantic Comedy was selected among 80 plays from twelve countries as the winner of the 4th Premio el EspectáculoTeatral. For more information about Emilio's work please visit www.emiliowilliams.com