Occidental Express
Written by Matei Visniec
Translated by Nick Awde
Additional translation by Daniela Magiaru
Directed by Istvan Szabo K., guest director from Hungary
October 12 – November 18, 2017
This project is supported by the Trust for Mutual Understanding
90 minutes of masterful perplexity… An unsettling diorama of dismaying beauty – Justin Hayford, The Chicago Reader
A testament to the vibrancy and creativity of Eastern European theater. HIGHLY RECOMMENDED. – Jacob Davis, Around the Town Chicago
The cast includes Dennis Bisto, Gary Damico, Michael Garvey, Emily Nichelson, Beata Pilch, Mike Steele and Nicole Wiesner
Szabó directs this thinly woven drama skilfully. He has an outstanding cast, who make the tiny Trap Door stage come alive with poetry and madness. – Nancy Bishop, Third Coast Review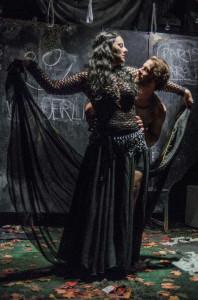 Matei Visniec, playwright, poet and journalist, was born in Romania, and now lives in Paris. He began writing for the theatre in 1977. Early in his career Visniec's plays were banned by the Romanian censors. In 1987 he was invited to France by a literary foundation. While there, he asked for and received political asylum. After the fall of communism in Romania, in 1989, Visniec became one of the most performed playwrights in the country. Visniec gained international attention in 1992, with productions of Horses at the Window in France, and Old Clown Wanted at the "Bonner Biennale". Since then, Matei Visniec's work has been produced in France, Germany, United States, Denmark, Austria, Poland, Finland, Italy, Turkey, Brazil, Romania, and Moldavia. Most recently, his play The Word Progress on My Mother's Lips Doesn't Ring True was the winner of the "Best Play in the Off-section" at the Avignon Festival in 2009.
Born in Romania, István Szabó K. has worked throughout Romania, Hungary and Germany. He graduated from the University of Targu Mures, Romania in 2000. He has served as Artistic Director of Szigligeti Hungarian State Theatre in Oradea, Theatre Director of the Hungarian State Theatre in Timisoara, and the Young Theatre in Piatra Neamt. At the Tomcsa Sandor Theatre in Odorheiu Secuiesc, he held several positions, including Artistic Director, General Manager and the Theatre Director. Mr. Szabó has also worked as the resident director at the Arca Independent Theatre in Bucharest. Currently, he is living as freelancer in Budapest, Hungary. Most notable productions include The Wedding at the Tomcsa Sandor theatre in székelyudvarhely, The Could Child at the Radu Stanca National Theatre in Sibiu, Edward at the Romanian National Theatre in Timisoara, The Temptation at Euro Theater Central in Bonn, Mausoleum and Waiting for Godot at the Hungarian State Theatre in Oradea, Titus anatomy/Fall of Rome at the National Theatre from Debrecen, Play Strindberg at the Vörösmarty Theatre from Székesfehérvár and Julia at the Hungarian Theatre (ex. National) from Budapest. Awards for his directorial work include: The Imagine International Festival for The Wedding, TopFest National Festival for Le Enfant Terribles, the Interethnic Theatre Festival "Press Prize" for Teibale and her Demon, The Contemporary Drama Festival for Attention, the doors are closing! And the Award of Excellency (accorded by Ministry of Culture from Romania – Saláj County Center) for the word progress on my mother`s lips doesn`t ring true, directed at the Trap Door Theatre from Chicago.
Set Design Stefan Roseen / Costume Design Rachel Sypniewski / Lighting Design Richard Norwood / Music Compostion Ovidiu Iloc /Sound DesignDanny Rockett / Make-up Design Zsofia Otvos / Dramaturg Milan Pribisic / Graphic Design Michal Janicki / Stage Manager Skye Fort / Assistant Stage Manager Julia Santha
Stream the full production now on Vimeo!