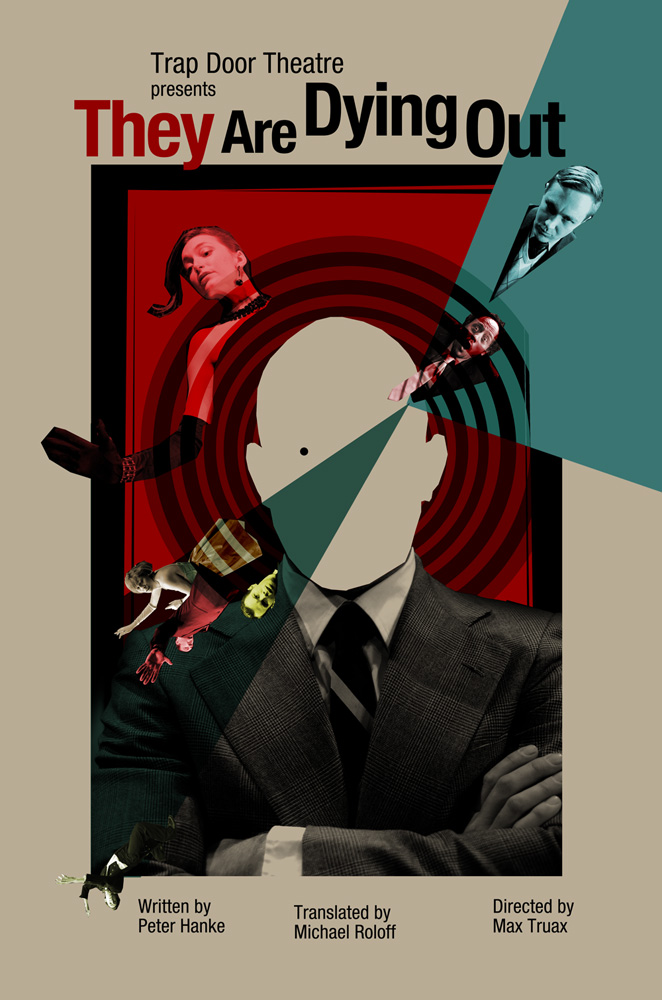 Cast: Antonio Brunetti, Casey Chapman, Jeremy Clark, Kevin Cox, Kasey Foster, Alex Levin, Holly T. Cerney, and Sam Quinn.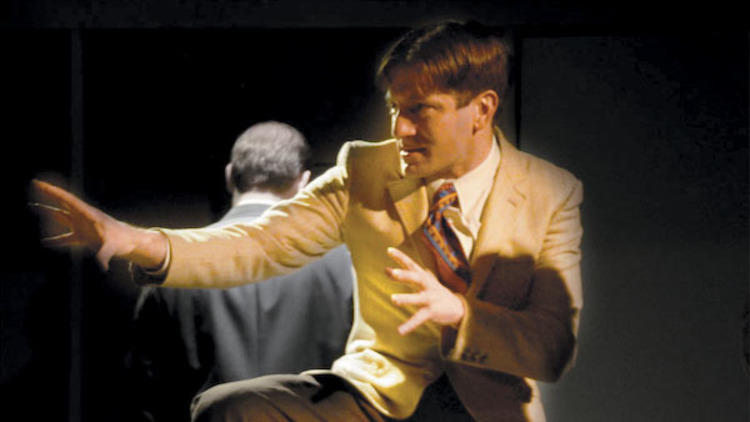 Playwright
Peter Handke is an Austrian journalist, translator, and playwright. His style is largely influenced by the aesthetics and theory of postmodernism, blurring the limitations of literature and genre, mixing styles and disappointing conventional expectations. He is best known for his play Offending the Audience, and is also known for his novels The Goalie's Anxiety, The Penalty Kick, and The Left-Handed Woman.
Set Design: Mike Mroch / Lighting Design: Eric Van Tassell / Costume Design: Tonette Navarro / Sound Design: Jonathan Guillen / Stage Manager: Gary Damico / Production Manager: Allison Raynes / Make-up Design: Zsofia Otvos / Graphic Design: Michal Janicki
They are Dying Out

Written by Peter Handke
Translated by Michael Roloff
Directed by Max Truax
February 16 – March 31, 2012
Riddled with absurdity and farce, Handke's They Are Dying Out is an epic meditation on the corporate mindset and how it infects the souls of those who engage it. Business mogul Hermann Quitt knows that it is impossible for him to live up to his own ideal image. This knowledge makes him an amoral monster who humiliates his wife and mistress, breaks agreements and contracts, betrays and ruins his business associates, and leads him to commit the ultimate crime.
Max Truax directs a hilarious production, at once brilliantly nuanced and completely wild. Recommended!
Tony Adler, Chicago Reader
The eight person cast, led by the powerful work of Kevin Cox, deftly wonders through maze of rapid-fire monologues and wordy personal and philosophical attacks on society, advertising, and corporate greed.
Tom Williams, Chicago Critic
…the ensemble includes fine absurdist turns from the rest of the cast.
Kerry Reid, Special to the Chicago Tribune
High style and dry wit form a devastating merger in Trap Door's production of Peter Handke's 1973 play. Director Max Truax gives us eight expert players with striking faces and voices whose laments about the spiritual costs of doing business are a hypnotic Gregorian chant.
Time Out Chicago
Trap Door's 2012 season was named "The Best String of Theatrical Stunners"
Chicago Reader
Director
Max Truax has been a Resident Director at Trap Door since 2008. For Trap Door, he has directed six critically acclaimed productions, including an operatic interpretation of Heiner Muller's Hamletmachine with original music by long-time collaborator Jonathan Guillen. Max also directed Trap Door's production of A Couple of Poor Polish-Speaking Romanians at the Fun Underground Festival in Arad, Romania and at the Bagatela Theatre in Krakow, Poland. Max served as the Artistic Director of Oracle Productions from 2011 to 2016, where he directed several shows, including No Beast So Fierce, The Mother, Woyzeck, The Ghost Sonata, and Termen Vox Machina. His production of The Mother received 7 Jeff Awards, including awards for Best Production, Best Adaptation, and Best Ensemble. In addition to Chicago, Max has directed for multiple stages in Los Angeles and at the Krannert Center at the University of Illinois Urbana-Champaign. Max studied visual art, performance art, and choreography at Oberlin College, where he founded the site-specific performance company \twelv\ and devised the multi-venue opera BEING NOT NOTHING. Max received his MFA in theatre directing from California Institute of the Arts, where he studied with Travis Preston, Suzan-Lori Parks, and Kevin Kulke. Max currently serves as Artistic Director for Red Tape Theatre, where he has directed Round Heads and Pointed Heads, Yerma, and A Hedda Gabler