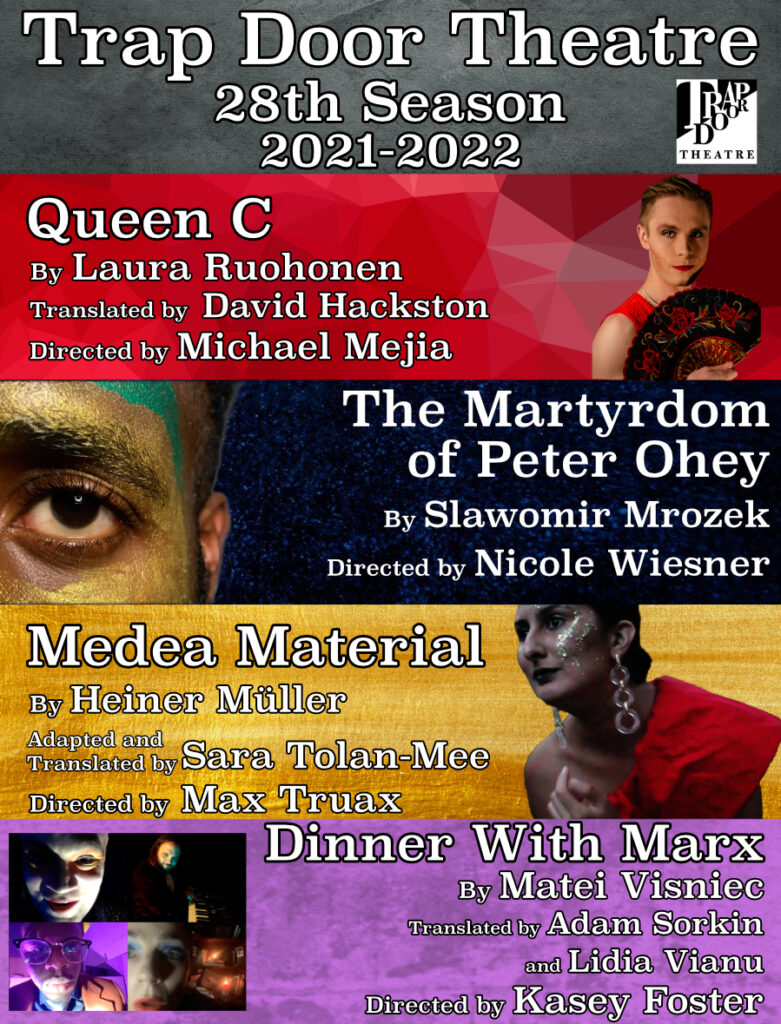 Season Subscription
Don't miss a moment of another incredible year with Trap Door Theatre!
Subscribers now get priority seating!!
Trap Door Theatre is once again offering our popular discounted multi-show pass! Use these passes in any combination for any Trap Door Theatre production with advance reservation.
See 4 shows for just $75 (save up to $25!)
See 8 shows for just $120 (save up to $80!)
Super Subscriber Package $150 (save up to $80!)
Super Subscriber pass includes… * Tickets to 8 Trap Door Shows *, a complimentary concession when you attend and an * Exclusive invitation to selected rehearsals! * Priority Seating for all of the shows
Passes never expire. Passes can be used in any combination anytime for any Trap Door Theatre production. Rentals, tours, or touring companies excluded. Seating is limited — please call ahead to the box office to make advance reservations when using your pass.
Trap Door Theatre is proud to announce its 28th
season

!
With shows directed by Michael Mejia, Nicole Wiesner, Max Truax, and Kasey Foster.
Virtual:

October 2021 Now Streaming!
Written by Matei Visniec
Translated by Adam J. Sorkin and Lidia Vianu
Directed by Kasey Foster
In Dinner With Marx, an international cast of 10 artists present a collection of musical videos inspired by the poetry of Matei Visniec.
In Theatre:
October 2021
Written by Laura Ruohonen
Translated by David Hackston
Directed by Ensemble Member Michael Mejia
A Queen pushes back against being defined by the obligations she was born to fulfill.
Opening February 2022
Written by Slawomir Mrozek
Directed by Ensemble Member Nicole Wiesner
A family's home life turns upside down when a tiger suddenly appears in their bathroom… As more and more absurd characters invade their home, the family must decide whether or not to join the circus.
Medea Material
Opening May 2022
Written by Hiener Müller
Translated and adapted by Sarah Tolan-Mee
Directed by Resident Director Max Truax
Medea Material is a powerful, unrelenting examination of modern society.