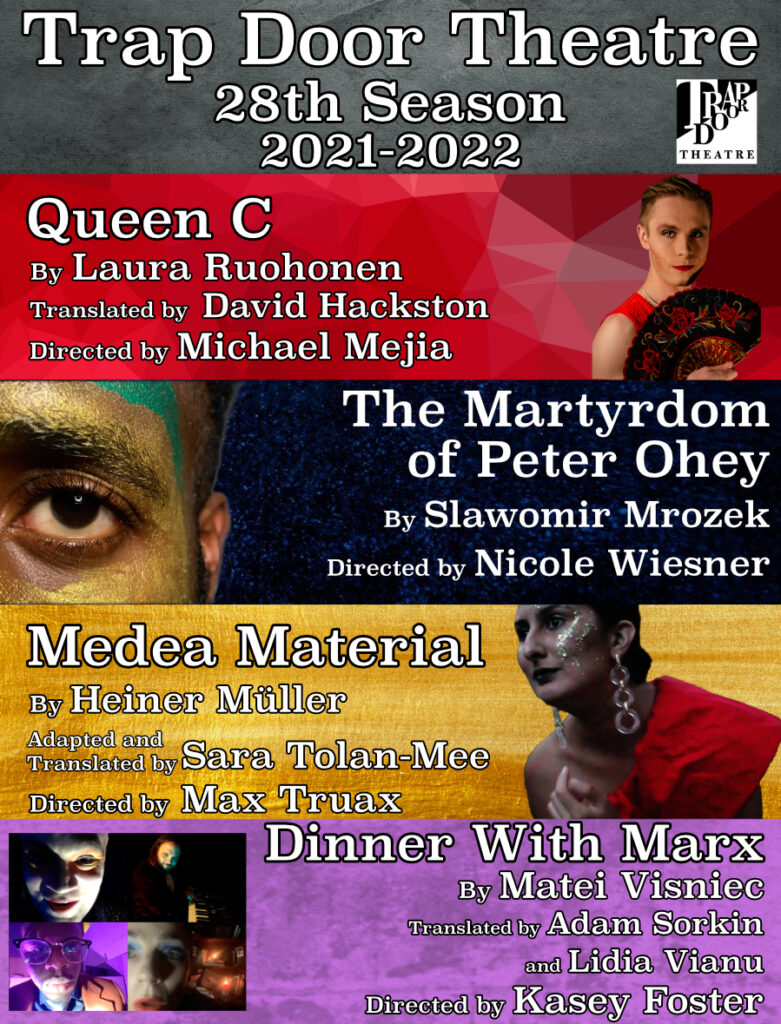 Virtual:

Dinner with Marx
October 2021 Now Streaming!
Written by Matei Visniec
Translated by Adam J. Sorkin and Lidia Vianu
Directed by Kasey Foster
In Dinner With Marx, an international cast of 10 artists present a collection of musical videos inspired by the poetry of Matei Visniec.
Trap Door Theatre is proud to announce its 28th
season

!
With shows directed by Michael Mejia, Nicole Wiesner, Max Truax, and Kasey Foster.
In Theatre:
Queen C
October 2021 Running now!
Written by Laura Ruohonen
Translated by David Hackston
Directed by Ensemble Member Michael Mejia
A Queen pushes back against being defined by the obligations she was born to fulfill.
The Martyrdom of Peter Ohey
Opening January 2022
Written by Slawomir Mrozek
Directed by Ensemble Member Nicole Wiesner
A man loses agency over his own life when a tiger suddenly appears in his bathroom. How much chaos will he allow before he finally cracks?
Medea Material
Opening March 2022
Written by Hiener Müller
Translated and adapted by Sarah Tolan-Mee
Directed by Resident Director Max Truax
Medea Material is a powerful, unrelenting examination of modern society.