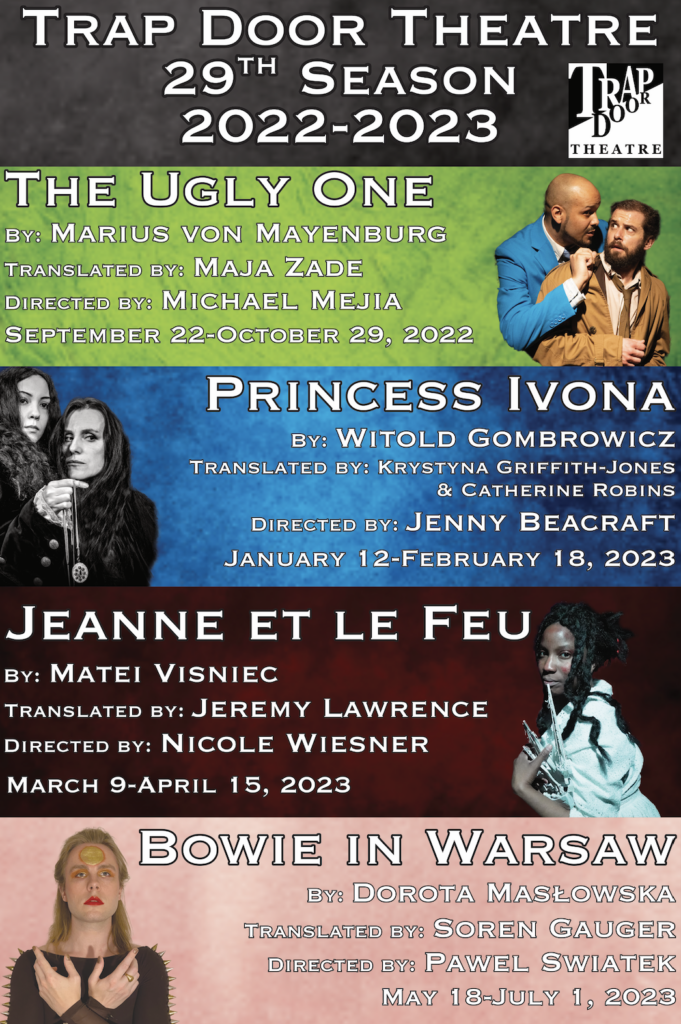 Subscribe to Trap Door's 29th Season
Don't miss a moment of another incredible year with Trap Door Theatre!
Subscribers now get priority seating!!
Trap Door Theatre is once again offering our popular discounted multi-show pass! Use these passes in any combination for any Trap Door Theatre production with advance reservation.
See 4 shows for just $75 (save up to $25!)
See 8 shows for just $120 (save up to $80!)
Super Subscriber Package $150 (save up to $80!)
Super Subscriber pass includes… * Tickets to 8 Trap Door Shows *, a complimentary concession when you attend and an * Exclusive invitation to selected rehearsals! * Priority Seating for all of the shows
Passes never expire. Passes can be used in any combination anytime for any Trap Door Theatre production. Rentals, tours, or touring companies excluded. Seating is limited — please call ahead to the box office to make advance reservations when using your pass.
Trap Door Theatre is proud to present its 29th Season!
With shows directed by Michael Mejia, Jenny Beacraft, Nicole Wiesner, and Paweł Świątek.
Runs September 22 – October 29, 2022
Written by: Marius von Mayenburg
Translated by: Maja Zade
Directed by: Ensemble Member Michael Mejia
Featuring Ensemble Members: Dennis Bisto, David Lovejoy, and Matty Robinson. With additional cast members Alexis DawTyne and Juliet Huneke.
Lette was never concerned with his looks until his peers tell him he's the ugliest man in the world. If a pretty face is all he needs to succeed, and plastic surgery is the solution, will he be willing to go under the knife?
Company Manager Michael Mejia returns to direct famous German playwright Marius von Mayenburg's quick witted comedy on beauty, ambition, and the brutality of capitalism.
Princess Ivona
Runs January 12 – February 18, 2023
Written by: Witold Gombrowicz
Translated by: Krystyna Griffith-Jones & Catherine Robins
Directed by: Guest Director from Spain Jenny Beacraft

Ivona, a woman of few words, is forcibly entangled into the intrigues of a dysfunctional royal court.
Gombrowicz is considered to be one of Poland's most influential novelists and playwrights, and his works are the forerunners of the theater of the absurd. Originally from Chicago, Jenny Beacraft returns from Spain to direct. Gombrowicz's work confronts ideas of personal identity, and the failure of existing value systems. Princess Ivona is a meditation on status, cruelty, and desire.
Jeanne et le Feu
Runs March 9 – April 15, 2023
Written by: Matei Vişniec
Translated by: Jeremy Lawrence
Directed by: Managing Director Nicole Wiesner

Jeanne et le Feu examines the way in which history is written and rewritten through a modern tale of the making of a martyr.
Following the successes of our productions of How to Explain the History of Communism to Mental Patients, Occidental Express, and many other plays written by Matei Vişniec, Managing Director Nicole Wiesner is excited to direct this newly translated Matei piece for Trap Door Theatre. Trap Door has had the honor to tour multiple Matei Vişniec plays throughout Romania, Hungary, and the Republic of Moldova.
Runs May 18 – July 1, 2023
Written by: Dorota Masłowska
Translated by: Soren Gauger
Directed by: Guest director from Poland, Paweł Świątek

Get Tickets to Bowie in Warsaw
The women of Warsaw tremble with the rumor of a strangler on the prowl. Dorota Masłowska creates an atomic-era Polish landscape, which might even inspire a visit from David Bowie himself.
Trap Door is thrilled to invite Polish director Paweł Świątek to direct our third Dorota Masłowska play after our successful productions of A Couple of Poor Polish Speaking Romanians and No Matter How Hard We Try. Dorota Masłowska is one of Poland's most exciting and influential young novelists and playwrights.