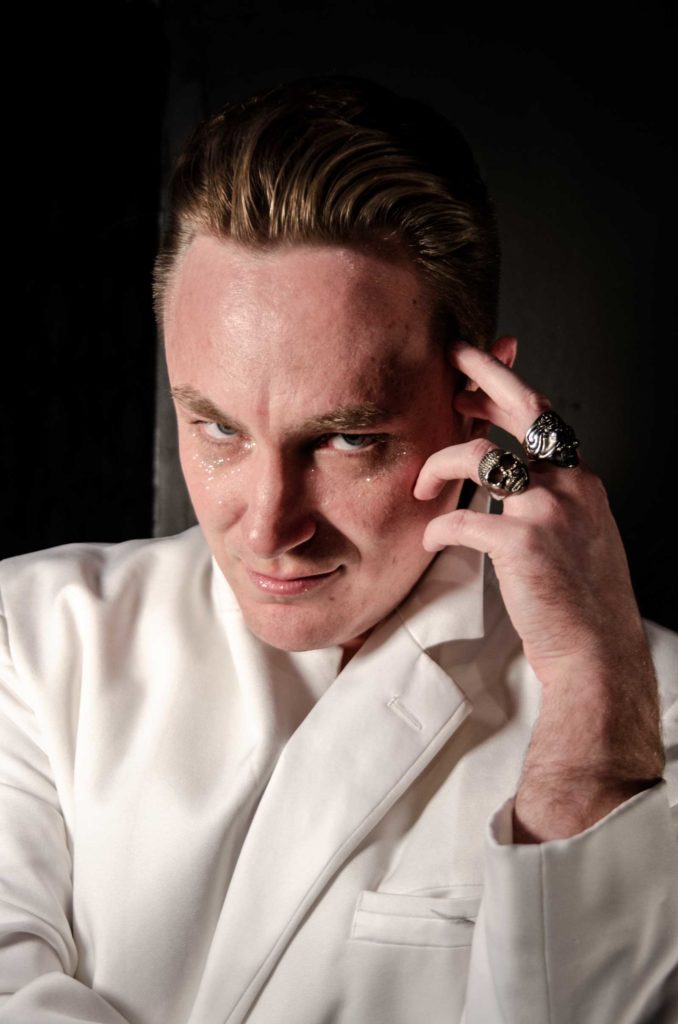 Acting
The Resistible Rise of Arturo Ui
The Duchess of Malfi
La Bete
Anger/Fly
They are Dying Out
12 Ophelias 
Groom / No Darkness Round My Stone
Ensemble member Casey Chapman (he/him/his) joined Trap Door in 2015. He graduated from Winthrop University in Rock Hill South Carolina with a degree in performance. Find more about him on IMDB.
His betrayed lieutenant, Roma is played with fearsome gusto by Casey Chapman.
(Artuo Ui) Kerry Reid,Chicago Tribune
Actor Casey Chapman gives a standout turn as Ui?s chief flunkie Roma. Chapman's performance finds the beating heart at the center of his character.
Alex Huntsberger,Time Out Chicago
Casey Chapman plays a gangland version of Ernst Rohm with sinister comedic pizazz.
Jacob Davis, Around the Town Chicago
The Stand-out performance is Casey Chapman's Ferdinand, clad in all white with bleached, slicked-back hair (think Thin White Duke-era Bowie), makes a stunning first impression as the evil aristocrat. Ferdinand's simmering anger and explosive rage are two of the primary fuel sources powering Duchess. It's to Chapman's credit that this doesn't get monotonous and the dark, mysterious mood he's able to project seems essential tonally for what director Christopher Marino is aiming for with this production.
Tom Lawler, The Fourth Walsh
As the hedonistic, fetishistic, incestuous, lycanthropic Ferdinand, Casey Chapman has the beauty and charisma of which mass murders are made.
Aaron Hunt, NewCity Stage
The show leads to some striking moments especially when we're watching Casey Chapman's tyrant descend from powder-faced aesthete to incestuous, necrophilic wolfman (really!).
Tony Adler, Chicago Reader
Casey Chapman's Ferdinand is a classic hysteric in love with his twin sister.
Kerry Reid, Chicago Tribune
Casey Chapman delivering a smart and comically subtle turn as Elomire's long suffering humpbacked sidekick.
Kerry Reid, Chicago Tribune
It's easy to believe that these actors are the royal favorites, from the first lines of the show Jesse Dornan and Casey Chapman show an elite mastery of verse.
Christopher Kidder-Morstrom, New City
Featuring the impeccable comic timing of Jesse Dornan as Elomire and Casey Chapman as Bejart.
Jena Cutie, Chicago Reader
Casey Chapman ends up carrying the show as part of an electric R&B duo, voices of reason enmeshed in their own unspoken romantic tragedy.
Monica Westin, New City
Jen Ellison, as R, and Casey Chapman, as G, standout as a mesmerizing makeshift chorus, observing and then interacting with Ophelia's affecting journey. Their fascinating performances display rare and remarkable instinct and intelligence. They are the somber spectators of this tragedy as well as its hysterical comic camp relief.
Venus Zarris, Chicago Stage Review
It?s a gas watching the cast, along with the grand comedy of Casey Chapman?s nose-picker of a little boy.
Nina Metz, Chicago Tribune
Casey Chapman is particularly astonishing as the child.
Tony Adler, Chicago Reader
Casey Chapman blazes with articulated despondency as Karl Heinz-Lutz.
Venus Zarris, Chicago Stage Review