25/25 Festival

A celebration of 25 years of Trap Door Theatre

Directed by Beata Pilch
April 11 – April 20, 2019

Featuring work from directors Kate Hendrickson, Kay Martinovich, Michael Pieper, Catherine Sullivan, Beata Pilch, Max Truax and Nicole Wiesner, and more…
This production made possible with support from the Chicago Saints.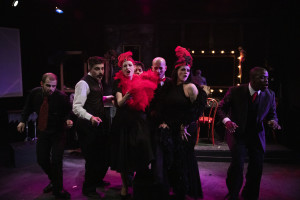 Trap Door Theatre is proud to celebrate 25 years of excellence by offering a showcase of 25 of our favorite moments on our Bucktown stage. The event consisted of 25 selected scenes from Trap Door's history, directed by our collaborating artists. Trap Door's mission of seeking out challenging and obscure works has been a solid commitment from founder and artistic director Beata Pilch. She remains true to her vision by continuing to research contemporary playwrights and directors and giving them a voice on both sides of the ocean. Trap Door has been honored with invitations from many major international festivals throughout Europe. This performance is dedicated to all the artists who have passed through the door and have dedicated their time and talent. Thanks to our generous supporters, loyal patrons, and talented artists, Trap Door has managed to produce 115 shows in 25 years.
Together, this brilliant ensemble manages the impossible. —Venus Zarris
The cast includes Dennis Bisto, Antonio Brunetti, Holly Cerney, John Kahara, Leslie Ruettiger, Ann Sonneville, Mike Steele, and Keith Surney.
The production crew includes assistant director and musician Gary Damico, set designer Stefan Roseen, lighting designer Richard Norwood, costume designer Rachel Sypniewski, sound designer Michael Mejia, makeup designer Zsófia Ötvös, graphic designer Michal Janicki, dramaturg Milan Pribisic, and event coordinator Anna Klos.
The Jeff Awards honored Trap Door Theatre with a "2019 Non-Equity Special Award" for 25 years of excellence.
The Jeff Awards has been honoring outstanding theatre artists annually since it was established in 1968. Trap Door Theatre was presented with the "2019 Non-Equity Special Award" to honor the company's 25th birthday.