Support Trap Door Theatre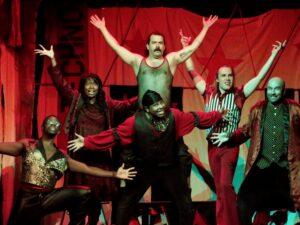 Trap Door Theatre has been a hub for artistic exploration – bringing first translations, unique scripts and standout performances for 29 years. Whether in our 41 seat storefront theatre in Chicago, or on tour across Europe, Trap Door delights in bringing a bit of the avant garde to the stage.
While ticket sales cover a small portion of our operations, we rely heavily on the support of individuals, foundations and organizations to help sustain our artistic ambitions. Support at any level helps us pay our rent, hire incredible artists and create memorable productions for years to come.
Donate Online
Make an online donation through Paypal at the link below.
Make a Recurring Online Gift
Recurring gifts have an incredibly positive impact on Trap Door's financial wellbeing. You can select "Make this a monthly donation" at the donation link above to select a recurring online gift to Trap Door Theatre.
Shop Supporting Trap Door Theatre
Support Trap Door while you shop online! A portion of the sales from your online purchases will be donated to Trap Door Theatre!
Activate Amazon Smile for Trap Door Theatre.
Send a Check by Mail
Mail a check to:   Trap Door Theatre
 1655 W Cortland
 Chicago, IL 60622
Need Help Making a Donation?
Email Development Director, Lauren Fisher, and she will reach out to you personally. Trap Door Theatre is grateful for all types of generous support, and we are more than happy to help walk you through the options of support!
MORE WAYS TO GET INVOLVED
Become a Production Sponsor
Take a production from the page to the stage by becoming a Production Sponsor with a gift of $10,000. Please contact Development Director, Lauren Fisher to learn more about this opportunity. 
Join the Board of Trustees
Join a devoted group of Trustees to support the work of Trap Door Theatre by providing mission-based leadership and strategic governance. We are looking for all types of professionals and cultural leaders to join the team. If you are interested in learning more, email Development Director, Lauren Fisher.
Trap Door Theatre is a 501(c)3 organization and all donations are tax deductible.