Contact us
Phone: (773) 384-0494
Address:
Trap Door Theatre
1655 W. Cortland St.
Chicago, IL 60622
For box office, audience services, and subscriptions inquiries, contact:
Trap Door Box Office: boxofficetrapdoor@gmail.com
For artistic, space rental, playwright submission inquiries, contact:
Artistic Director Beata Pilch: trapdoortheatre@sbcglobal.net
For donation and development inquiries, contact:
Development Director Lauren Fisher: Lauren@trapdoortheatre.com
Actors can submit audition inquiries and headshots/resumes to:
Casting and Submissions: trapdoorcasting@gmail.com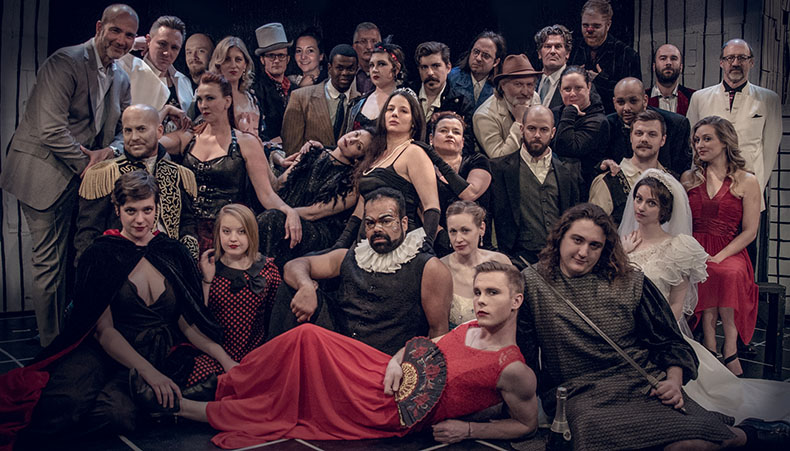 – they are the foremost purveyors avant-garde theater in Chicago.
Venus Zarris
Trap Door Theatre has become the go-to company in town for presenting smart and uncompromising contemporary European work.
Kerry Reid, The Chicago Tribune
Where is Trap Door Theatre?
– Hidden down a narrow walkway, next to a bar, behind a restaurant, on a side street in Bucktown is a black trap door that opens into the extremes of theatrical imagination. You could drive by it and easily miss this purgatorial paradise of the sublime surreal.
Venus Zarris, Gay Chicago Magazine
Actors
Trap Door Theatre holds season general auditions in fall at our space in Bucktown. We hold invited-only callbacks for each production 3-4 months in advance of the show's opening date. We place all public audition notices for Season Generals in PerformInk and League of Chicago Theatres. Headshots for our files are accepted year-round. Cover letters are appreciated. Please send your materials to the following address:
Trap Door Theatre
1655 West Cortland St
Chicago, IL 60622
Designers
We accept directors' proposals, accompanied by a resume, as well as resumes from scenic designers, stage managers, lighting designers, sound designers, and all other artistic and technical personnel at the address above.
Become a board member
We're looking for a few theatre lovers to join our board of directors. Please contact Beata Pilch, our box office, or your message in the "contact us" form above for information.