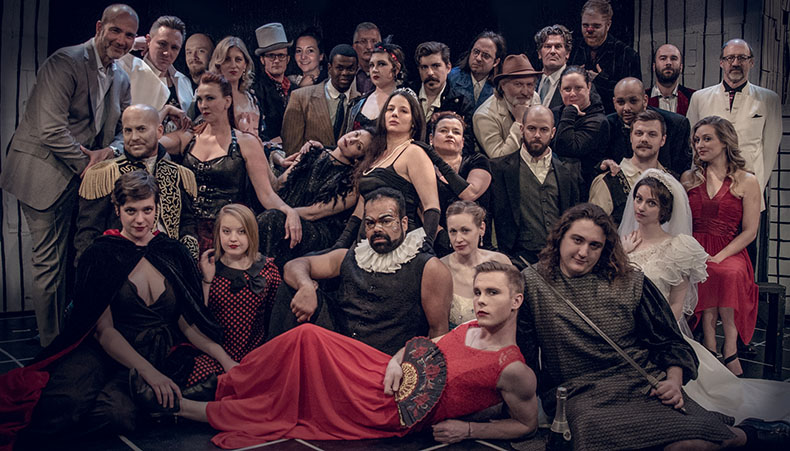 Trap Door's mission
Trap Door Theatre is committed to seeking out challenging and obscure works. Whether a forgotten European classic, an international project rarely seen in the United States, or an untarnished piece of American literature, Trap Door seeks diverse voices and presents them through innovative expression. We mix established and imaginative techniques to illustrate the absurdities of living in today's society.
---
Trap Door's history
Founded in 1990, Trap Door began as a nomadic troupe, thrilling the European theaters of Stockholm, Berlin, Zakopane, and Paris with its grass-roots, avant-garde expressionism. On these stages, the trademark style of myth, ritual, and revolution first crystallized.
Trap Door has been honored with several After Dark and Orgie awards and in 1996, earned its first of many Jeff recognitions for co-founder Sean Marlow as Best Actor in his powerhouse role in Jean Genet's, The Maids. Since its inception, the theater's unique work has earned ongoing support from local, national, and international philanthropic and cultural organizations including The Chicago Saints, The Illinois Arts Council, The Mayer & Morris Kaplan Foundation, The Richard Driehaus Foundation, The Alphawood Foundation, The Bucktown Community Organization, The French Embassy, The Romanian Embassy, The U.S. Embassy in Romania, The Trust of Mutual Understanding, The Elizabeth F. Cheney Foundation, The Reva and David Logan Foundation, The National Endowment for the Arts, The Goethe Institut, and The Swiss Benevolent Society Chicago.
"Keep your eye on the people at Trap Door," wrote Chris Jones, reviewing Trap Door's inaugural production of Madman and the Nun at Chopin Theatre in the summer of 1994. Trap Door then took its tradition of touring European theatres and festivals and transferred it to Chicago's off-loop theatre scene, making its Bucktown home in a former machine shop, which is now a 45-seat blackbox down a long gangway on Cortland Street.
In 1996, the Cultural Services of the French Embassy arranged and sponsored an excursion throughout France for Artistic Director Beata Pilch to seek out French texts and connect with local actors, playwrights, and directors. On this influential visit, Pilch was introduced to Matei Visiec, which set in motion an ongoing artistic partnership that still thrives and has given wings to Trap Door's international identity.
In 2004, Trap Door was honored with the esteemed tant donn's Award to produce the U.S. premiere of Fernando Arrabal's avant-garde homage to Bosch, The Garden of Delights, as part of the French art festival Playing French. Arrabal even attended the production.
The 2006 Romanian tour marked Trap Door's first opportunity to take work on the road. Matei Visniec's Old Clown Wanted traveled to Romania to perform in three theater festivals and to New York to participate in Act French. This began Trap Door's dual identity of siphoning work both to and from Europe, as it committed to producing one internationally focused work annually by either venturing abroad or hosting a visiting guest director (or both!).
In 2009, the company returned to Romania to present Visniec's Horses at the Window at the National Theatre in Bucharest and at the Sibiu International Theatre Festival, before touring at the Tenth National Symposium of Theatre in Academe at Washington and Lee University in Lexington, Virginia. Trap Door also produced the U.S. premiere of Me Too, I am Catherine Deneuve in 2009, which is written by the French playwright Pierre Notte and was guest directed by Valery Warnotte. After a sold-out run in Chicago, it went on to shine in Atlanta and Washington D.C. The production was invited for a five-week, four-city tour of France in 2010. During that trip, Pilch was a resident for the Cit Internationale des Arts Program, enabling her to elicit an even stronger connection to France and its performing arts scene.
Judith: A Parting of the Body, produced in 2014, brought long-time artistic associate and principle actress Nicole Wiesner back to Trap Door. Wiesner left her equity contract to participate in the production directed by TUTA artistic director Zeljko Djukic. Since, she has gone on to direct award-winning works and brought home a Jeff Award for Best Actress for her astounding performance in The First Ladies, also directed by Zeljko Djukic.
Trap Door opened its 21st season in 2015 with a project in the making since the company's inception: an alliance with the theater's original inspiration, the Witkacy Teatr in Zakopane, Poland. Together with Founder and Artistic Director Andrzej Dziuk, the company created an adaptation of Stanislaw I. Witkiewicz's The Madman and the Nun, titled John Doe. The piece was workshopped in Zakopane before returning to Chicago for a full run. That February, Trap Door returned to perform the piece as part of the Witkacy Teatr's 30th anniversary, an event that also celebrated the 100th anniversary of Witkiewicz's death.
2015 also marked Trap Door's first work produced and performed entirely abroad in Barcelona. Pilch revisited Blood on the Cat's Neck by Rainer Werner Fassbinder with an English speaking cast from around the world, while in residence at the cabaret space Tinta Roja.
Since then, Pilch continues to stage productions under Trap Door's identity abroad featuring local talent. The company has produced more than 100 shows between the two continents, including dozens of American and world premieres, as well as more than ten European tours across six countries. From playing in the park at the Bucktown Arts Festival to the streets of Krakow to sold-out houses in major international theatre festivals, Trap Door has extended artistic partnerships across the country and Europe. In 2019, Trap Door became the first American company ever to play in the Republic of Moldova.
Trap Door's increasing list of guest directors includes Romanian Radu Alexandru-Nica in 2009, Valery Warnotte from Paris in 2010 for Me Too, I am Catherine Deneuve and in 2017 for Regarding the Just, and Hungarian/Romanian director Istvan K. Szabo from Romania in 2012 to lead Matei Visniec's the word progress on my mother's lips doesn't ring true and again in 2017 for Visniec's Occidental Express. Victor Quezada-Perez, a clowning master, composer, musician, director, and the founder of Cie Umbral Theatre in Paris, was hosted in 2013 to direct Max Frisch's The Arsonists and again in 2017 for the Jeff winning The Resistible Rise of Arturo Ui by Bertolt Brecht. Artistic director of Hungary's Maladype Theatre Zoltan Balzas brought the work of Matei Visniec to life with How to Explain the History of Communism to Mental Patients in 2016. Aleksi Barriere from France joined the company to workshop and create Letter of Love: The Fundamentals of Judo, based on texts by Fernando Arrabal and Yves Klein. Polish playwright and musician Dorota Maslowska visited in 2016 to see the U.S. premiere of her production, No Matter How Hard We Try.
Trap Door's distinct image, captured through the graphic designs of company member Michal Janicki, has been featured in publications, including on the cover of Theatre of War and Exile.
An ongoing project, Pilch and her production team have been working on House of Gods, a documentary about meeting a man who lives along the Camino de Santiago de Compostela in northern Spain. The work is in final edits.