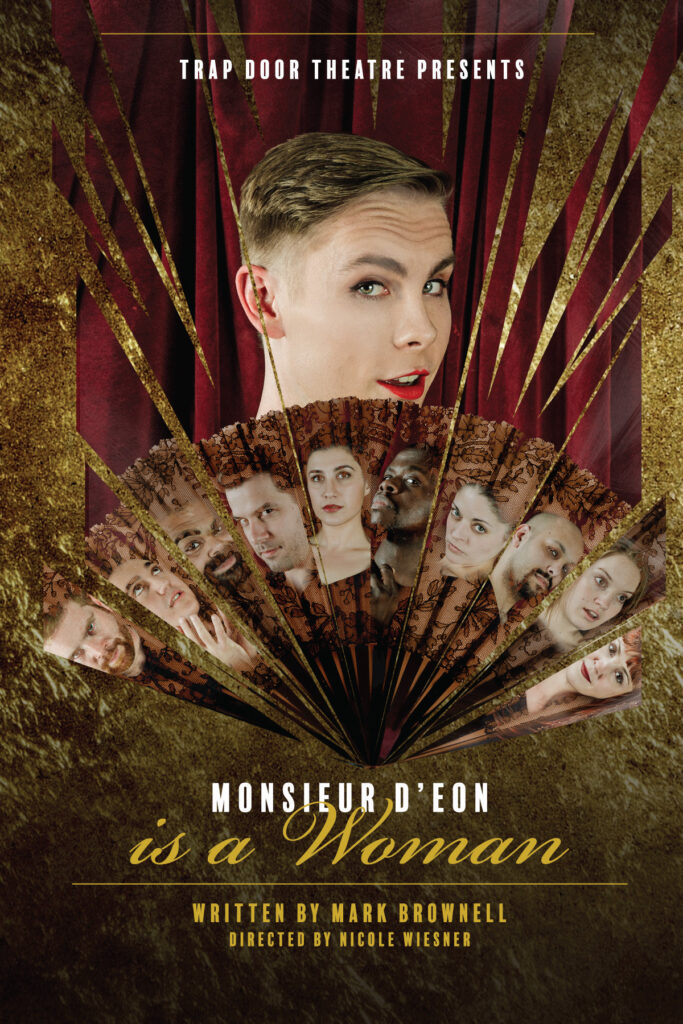 Cast: Maryam Abdi, Dennis Bisto, Ty Easley, Bill Gordon, Miguel Long, Emily Lotspeich, Michael Mejia, Ann Sonneville, Keith Surney, Nora Lise Ulrey, and featuring David Lovejoy as D'eon
Playwright
Mark Brownell is a Toronto-based playwright and co-artistic director of the Pea Green Theatre Group with his wife and partner Sue Miner. He was nominated for a Governor General's Literary Award for his play, Monsieur d'Eon. He also received a Dora Mavor Moore Award for his libretto Iron Road and a Dora Mavor Moore Award Nomination for Medici Slot Machine. In 2010 he was also the recipient of the infamous Harold Indie Theatre Award. Other award-winning work includes The Barbeque King, The Martha Stewart Projects, Playballs, High Sticking-Three Period Plays, The Chevalier St. George, The Storyteller's Bag and The Weaving Maiden.
Assistant Director: Skye Fort/ Set Design: J. Michael Griggs / Lighting Design: Richard Norwood / Costume Design: Rachel Sypniewski / Sound Design: Danny Rockett / Fight Design: Almanya Narula / Assistant Fight Design: Bill Gordon / Make-Up Design: Zsófia Ötvös / Graphic Design: Michal Janicki / Dramaturge: Milan Pribisic / Stage Manager: Anna Klos/ Renaissance Man: Gary Damico
Monsieur D'eon is a Woman
Written by Mark Brownell
Directed by Nicole Wiesner
May 24 – July 7, 2018

The show was nominated for 2 Jeff's awards for "Best Costumes" and "Best Fight Choreography".
Monsieur D'eon is a Woman is a madcap romp following the extraordinary life and adventures of the Chevailere D'eon, an eighteenth century French diplomat, soldier, spy and a celebrated figure for Transgender and Women's rights.
To cram Chevalier d'Eon's life into just ninety minutes requires a lot of inventive staging and an unflagging pace. Fortunately for Chicago audiences, Trap Door Theatre and ensemble director Nicole Wiesner are well-versed in just that sort of presentation, with hilarious and often fascinating results.
Jacob Davis, Around the Town Chicago
It's raucous fun, cheerfully sexed up in director Nicole Wiesner's salacious production.
Justin Hayford, The Chicago Reader
David Lovejoy's scintillating and multi-faceted Chevalier, fittingly, seems both of the world of the court and apart from it. Lovejoy (who uses the pronouns "ze/hir/hirs") brings an almost zen-like quality at times to the role, but also imbues the Chevalier with a rock-ribbed moral conscience.
Kerry Reid, Chicago Tribune
Director
Nicole Wiesner (she/her/hers) joined the Trap ensemble in 1999 and currently serves as the Managing Director. Her directing credits for the company include Minna,The Fairytale Lives of Russian Girls, Phèdre, Monsieur D'Eon is a Woman, The Old Woman Broods, and The White Plague. Some of her favorite Trap acting credits include First Ladies (dir. Zeljko Djukic, Joseph Jefferson Citation: "Outstanding Actress"); OVERWEIGHT, unimportant: MISSHAPE (dir. Yasen Peyankov); and the title roles in The Bitter Tears of Petra Von Kant; Nana (dir. Beata Pilch) and Alice in Bed. (dir. Dado). Regionally, she has appeared at the Goodman Theatre in 2666, directed by Robert Falls and Seth Bockley; Shining City directed by Robert Falls; and Passion Play, directed by Mark Wing- Davy (After Dark Award, "Outstanding Performance"), at Steppenwolf Theatre in The Book Thief (dir. Hallie Gordon), South of Settling (dir. Adam Goldstein) and Dublin Carol (Dir. Amy Morton); as well as Lookingglass Theatre, Court Theatre, Next Theatre, Yale Repertory Theatre, Huntington Theatre, Epic Theatre.