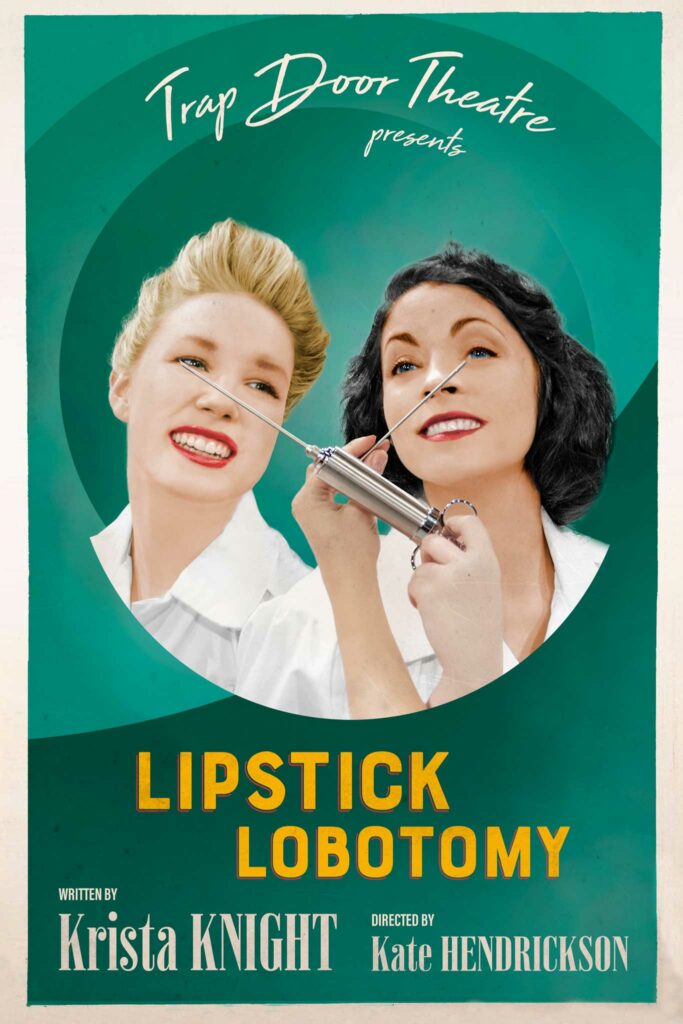 Cast: Dennis Bisto, Abby Blankenship, Natara Easter, Ann James, Eleanor Katz,
Emily Lotspeich, Michael Mejia, Kirk Osgood, Ann Sonneville, Michaela Voit, Bob Wilson,
Bernadetta Zawiejska
Playwright
Krista Knight is a playwright, performance/video artist, and femme-stigator. She is a Juilliard Lila Acheson Wallace Playwrights Fellow (2016-2018), Page 73 Playwriting Fellow (2007), MacDowell Fellow (2008), Shank Playwriting Fellow at the Vineyard Theatre (2011-2012), Chance Theater Resident Playwright (2020), and Vanderbilt Writer-in-Residence (current). Plays include "Lipstick Lobotomy" (2019 Kilroys List), "Don't Stop Me"  (new musical with Dave Malloy), "Kirk at the SF Airport Hyatt" (NYTW's Summer Residency, Vineyard reading), "Primal Play" (New Georges), the punk rock adaptation of Medusa "Hissifit" (Cradle Theatre, Rhodes College). She got her BA from Brown University, MA in Performance Studies from NYU and MFA in Playwriting from UCSD. Visit  kristaknight.com for more details.
Assistant Director/Choreographer Miguel Long / Rehearsal SM Tara Malpass / Production SM Anna Klos / Dramaturg Milan Pribisic / Set Designer Jacqueline Frole / Light Designer Richard Norwood / Sound Designer Mike Mazzocca / Sound Designer Joey Harbert / Costume Designer Rachel Sypniewski / Fight and Intimacy Director Bill Gordon / Assistant Fight Choreographer Ari Kraiman / Dialect Coach Tiffany Bedwell / Props Designer Jon Beal / Make-Up Designer Zsofia Otvos / Graphic Designer Michal Janicki.
Lipstick Lobotomy
Written by: Krista Knight
Directed by: Kate Hendrickson
February 13, 2020 –  March 21, 2020 (closed early due to COVID19 Pandemic)
In the world premiere of "Lipstick Lobotomy," John F. Kennedy's little sister, Rosemary Kennedy, and the playwright's Great Aunt Ginny develop a friendship at an exclusive high-end sanitarium for women in the fall of 1941. The women undergo the peculiar cutting-edge treatments on offer by a society desperate to find the cure for womanhood in this incisive comedy.
Lipstick Lobotomy isn't a comfortable play, especially since we know what ends up happening to Rosemary, but Hendrickson and Trap Door make Knight's homage to her great aunt a powerful and important one.
Karen Topham, Chicago Onstage
Director Kate Hendrickson has assembled a phenomenal cast. Ann Sonneville and Abby Blankenship not only disappear into their characters, but are deeply in tune with each other.
Karen Topham, Around the Town Chicago
what remains in our memories afterward ( besides a deep suspicion of medical science ) is the empathy generated by Ann Sonneville and Abby Blankenship in the roles of the forlorn damsels whose thwarted potential might have brought them peace and contentment in a more enlightened world.
Mary Shen Barnidge, Windy City Times
What starts out as an over-the-top comic skewering of social mores gains a tragic gravity as the "cure" for the women's illnesses comes into sharper focus.
Dmitry Samarov, Chicago Reader
The world premiere production is a sensitive look at peculiar psychomedicine and treatment of women 80 years ago…inventively staged and choreographed on Trap Door's small stage.
Nancy Bishop, Third Coast Review
Director
Kate Hendrickson is a Chicago-based director focused on premiering new plays by radical American playwrights. Over the years, Hendrickson has developed and sustained long-term collaborative relationships with several playwrights. Most recently, she directed the Midwest premiere of "We Are Pussy Riot (or everything is P.R.)" by Barbara Hammond for Red Tape Theatre. She is a resident director at Trap Door Theatre, where she has directed world premieres of "Fantasy Island for Dummies" and "Anger/Fly" by Ruth Margraff and "Cookie Play," "Chaste" and "Beholder" (Jeff Award for Best New Work, After Dark Award for Best Original Music), by Ken Prestininzi. Hendrickson also directed Midwest premieres of Prestininzi's "AmeriKafka," Howard Zinn's "Emma" (After Dark Award for Best Ensemble), and "12 Ophelias" by Caridad Svich. Additional work includes the International Voices Project, Pivot Arts' Multi-Arts Festival, and Links Hall's Physical Fest Chicago.