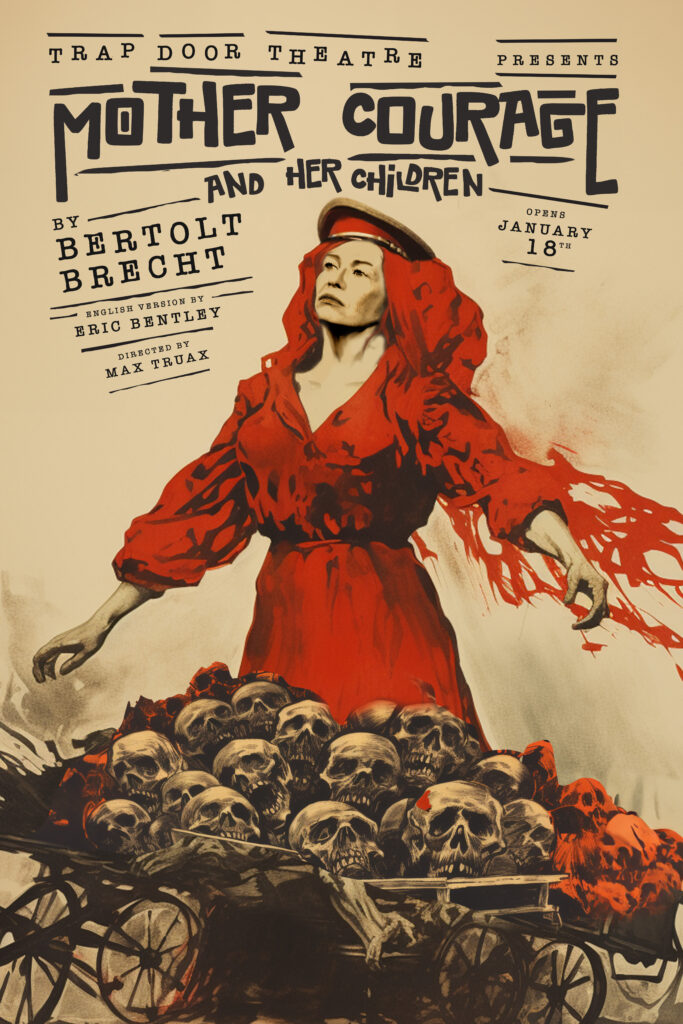 Cast: Rashaad Bond, Holly Cerney, Bill Gordon, Caleb Lee Jenkins, Nena Martins, Joan Nahid, Tricia Rogers, and Kevin Webb.
Playwright
Bertolt Brecht (1898-1956) was a poet, playwright, and theatrical reformer who approached theatre as a social and political forum. The First World War had a major effect on his political and artistic outlook. He studied medicine, but before long he neglected his studies in favor of writing for local Munich theaters and cabarets. In 1921 he moved to Berlin, a more sophisticated and bohemian city, where his reputation grew quickly. He worked briefly for the directors Max Reinhard and Erwin Piscator, and with the composer Kurt Weill wrote the satirical The Threepenny Opera (1928) after John Gay's The Beggar's Opera. In 1933, his books were burned, and his citizenship was withdrawn by the Nazis as he was exiled from Germany. Between 1937 and 1948, while in exile, he writes his best-known and most often produced plays Mother Courage and Her Children, The Life of Galileo, The Good Woman of Setzuan, The Resistible Rise of Arturo Ui and The Caucasian Chalk Circle, and his most important theoretical work for theatre, A Short Organum for the Theatre. His concept of the Epic Theatre and Drama is based on detachment which is to remind the spectator that what is been presented is a demonstration of human behavior, not an illusion of reality. After the Second World War, in 1949 Brecht returned to divided Germany choosing East Berlin as his artistic home where he founded the famous the Berliner Ensemble company. He died there in 1956 and was buried in the cemetery at Charlottenburg in a plot adjacent to W. F. Hegel. "Two dialecticians have come to a common resting point." (Daniel Gerould)
Assistant Director: Jonathan Quigley / Costume Design: Rachel Sypniewski / Lighting Design: Richard Norwood / Set Design: Michael Griggs / Music Composer: Jonathan Guillen / Sound Design: Dan Poppen / Prop Design: David Lovejoy / Graphic Design: Michal Janicki / Stage Manager: Kasia Olechno
Mother Courage and her Children
Written by Bertolt Brecht
Translated by Eric Bentley
Directed by Max Truax
January 18 – February 24, 2024
Mother Courage becomes a parasite of war as she, hell bent on her own survival, celebrates the Thirty Years War as the source of her prosperity. Considered one of the greatest plays of the 20th century, wartime virtues become fatal to their possessors in this stark, anti-capitalist, and music filled play.
Resident Director Max Truax returns to direct this epic play, having previously tackled Brecht's iconic work with his adaptations of Round Heads and Pointed Heads and The Mother.
Runs: 8 p.m. Thursdays, Fridays and Saturdays.
Admission: $30 with 2-for-1 admission on Thursdays.
Where: Trap Door Theatre is located at 1655 W. Cortland St.
Group tickets: Special group rates are available. For information, call (773) 384-0494 or email boxofficetrapdoor@gmail.com. 
Director
Max Truax (he/him) has been a Resident Director at Trap Door since 2008. For Trap Door, Max directed several critically acclaimed productions, including Medea Material, No Matter How Hard We Try, The Balcony, They Are Dying Out, Hamletmachine, A Couple of Poor Polish-Speaking Romanians, and No Darkness Round My Stone. His production of A Couple of Poor Polish-Speaking Romanians went on to perform in both Poland and Romania. Max served as Artistic Director for Oracle Productions, where he directed No Beast So Fierce, The President, The Mother, Woyzeck, Ghost Sonata, and Termen Vox Machina. His production of The Mother received 7 Jeff Awards, including awards for "Best Production", "Best Adaptation", and "Best Ensemble". He also served as Artistic Director for Red Tape Theatre, where he directed Brand, A Hedda Gabler, and Round Heads and Pointed Heads. Max studied visual art, performance art, and choreography at Oberlin College and received his MFA in theatre directing from California Institute of the Arts.