How to Explain the History of Communism to Mental Patients
June 2017
Hungary & Romania
Written by Matei Visniec
Translated by Jeremy Lawrence and Catherine Popesco
Directed by Zoltán Balázs
Guest Director from Hungary
Trap Door was invited to perform in three international theatre festivals, and venues throughout the region.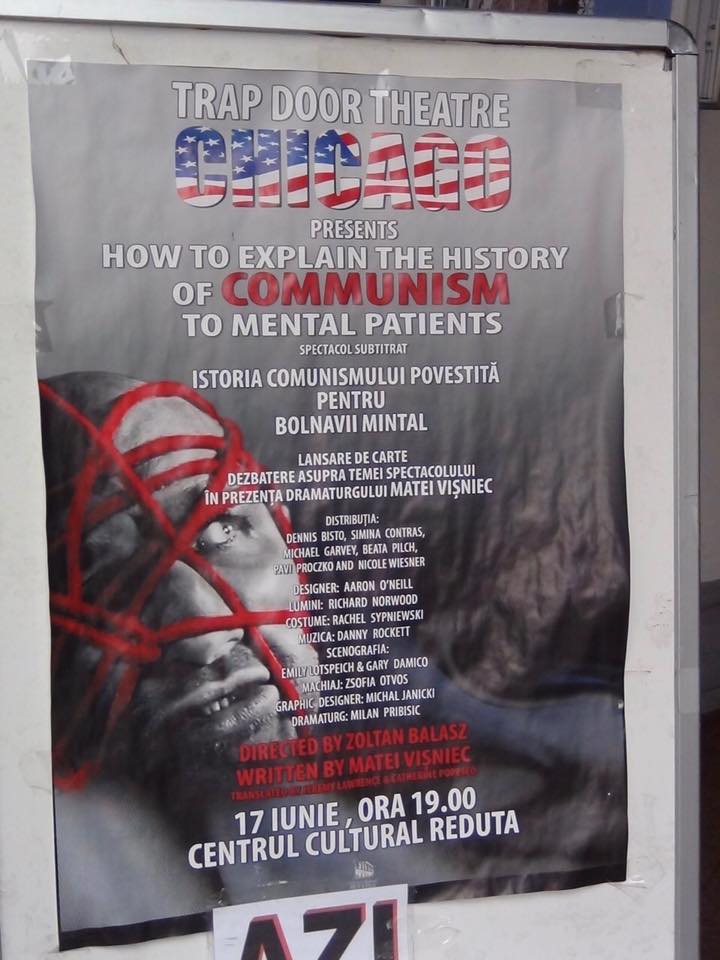 Tour Cast and Crew: Dennis Bisto, Simina Contras, Gary Damico, Michael Garvey, Emily Lotspeich, Richard Norwood, Beata Pilch, Pavi Proczko, and Nicole Wiesner.
PERFORMANCE SCHEDULE
Hungary
June 8: Budapest
Puppet Theatre In collaboration with Maladype Theatre
Romania
June 10: Nicolae Balcescu Land Forces Academy, Sibiu
June 12: Teatrul Gong (Sala parter), Sibiu
International Theatre Festival of Sibiu
June 15: Baia Mare
International Theatre Festival ATELIER
–Zoltan Balasz was awarded Best Director at the 24th Atelier International Theater Festival.
June 17: Cultural Center REDUTA, Brasov
June 21: Miturile Cetatii, Constanza
International Theatre Festival