Me Too, I'm Catherine Deneuve

December 2010
Atlanta Georgia, USA
April 2011
Washington D.C., USA
April / May 2012
France

Written by Pierre Notte
Translated by David Bradby
Directed by Valery Warnotte
Guest Director from France

During the French tour, Trap Door Theatre's Artistic Director Beata Pilch, was honored with a three month working artistic residency in Paris made possible by the Program Cite Internationale des Arts. During her residency, Pilch networked with French actors, playwrights and directors to seek out and workshop a new production, of French origin and affiliation, to bring to Chicago.
Our first stop was to the seaside town of Dieppe for the French premiere of Trap Door's production Me Too, I am Catherine Deneuve at Le Drakkar, the National Theatre of Dieppe on April 6th.  The sold-out show was extremely well received and was followed by a special talk-back with director Valery Warnotte, and playwright Peirre Notte followed by a vibrant reception to conclude the evening
From Dieppe, Trap Door loaded the show into the designated tour van, and headed across the country to the town of Mulhouse on the German/ Alsace border to perform at the cultural center of the city, the La Filature National Theatre of Mulhouse.  .   These were also met with sold-out audiences followed by question and answer sessions with Warnotte and Notte.  A highlight of the already bright visit was a special dinner with Warnotte's mother and father at a favorite local restaurant of his.
In the First Arrondissement, in the heart of Paris, looking onto the legendary Rue de Rivoli that leads to the Louvre was the tiny theatre Les Déchargeurs.  In humble contrast to the National Theatres of Dieppe and Mulhouse the moody, warm and charismatic stage at Les Déchargeurs was about half the size of the Trap Door Theatre. The production ran April 17th through the 28th this the actors housed at the Cite Internationale Universitaire at the University of Chicago's international campus. Artistic Director Beata Pilch was accommodated at her place of residence, in the 4th Arrondissement at the Cité Internationale des Arts, just a short walk from the theatre.
Just a quick ride from the city, was the quaint suburb of Vélizy with its not-so-quaint neighbor, Versailles.  Home of the L'Onde Theatre et centre d'art,   Vélizy was the final locale for Trap Door's last two performances in France of Me Too, I am Catherine Deneuve and was the largest space yet. A final heartfelt speech from Artistic Director Beata Pilch followed with the sincere appreciation from the cast marked the end of an amazing five weeks.  Between the applause and the finality of it all, it was difficult to exit the stage!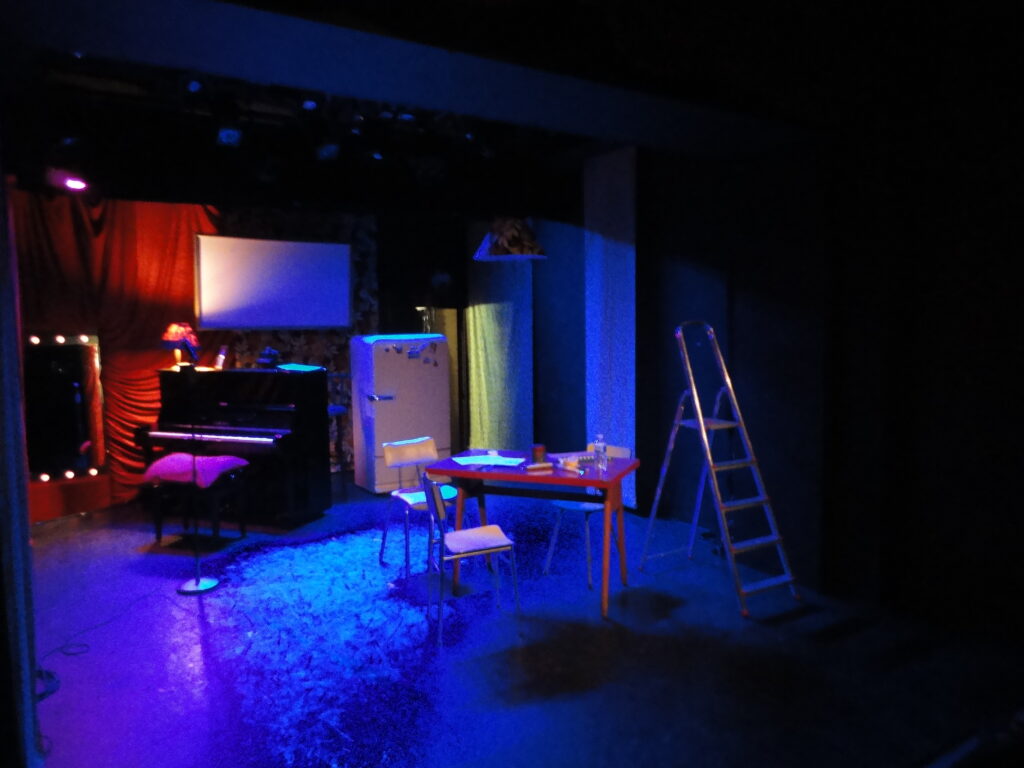 Tour Cast: Holly (Thomas) Cerney, Gary Damico, John Kahara, Beata Pilch, & Sadie Rogers.
Tour Crew: Richard Norwood, Michael Garvey & Nicole Wiesner.
PERFORMANCE SCHEDULE
France (2012)
April 6: Le Drakkar (National Theatre of Dieppe), Dieppe
April 11, 12, & 13: La Filature National Theatre, Mulhouse
April 17- 28: Les D'chargeurs, Paris
May 3, & 4: L'Onde Theatre et centre d'art, Velizy
United States:
December 11, 2010: The Woodruff Arts Center, Atlanta
April 22 & 23, 2011: Source Theatre, Washington DC