Alice in Bed
Written by Susan Sontag
Directed by Dado
January 11 – February 18, 2007
"The atmosphere in director Dado's bold staging for Trap Door Theatre is febrile and fantastic….A smart and heartfelt portrait of the interior life of a highly intelligent and desperately thwarted woman…" – Chicago Tribune
"Dado and her cast give the evening a sense of surreal whimsy even as Nicole Wiesner makes Alice's depression and anguish disturbingly clear. Engaged, multilevel performances underscore the characters' passions yet preserve a deep sense of mystery…" -Chicago Reader
"Highly theatrical and visual…Count on Trap Door to give us what no one else does…" -Windy City Times
Cast: Melissa Cook, Noah Durham, Karen Foley, John Gray, Carolyn Hoerdemann, Kim McKean, Doug Vickers, Nicole Wiesner, Jenni Zohn, Elston Adelaide Zohn Tortuga

ASSISTANT DIRECTOR: Melissa Cook FILM DESIGN: Carrie Holt de Lama SET DESIGN: Ewelina Dobiesz LIGHTING DESIGN: Richard Norwood COSTUME DESIGN: Karen Kawa SOUND DESIGN: Joe Court PROP DESIGN: Julia Klein

Alice in Bed … A dramatic fantasy that merges the life of Alice James, the brilliant sister of William and Henry James, with the heroine of Lewis Carroll's Alice in Wonderland. It is a play about the triumphs and limitations of imagination and escape.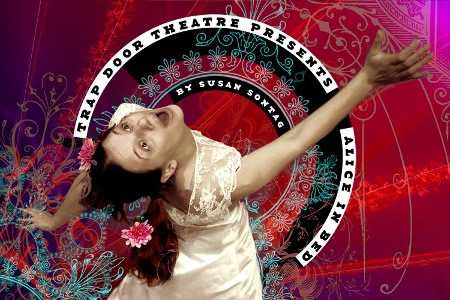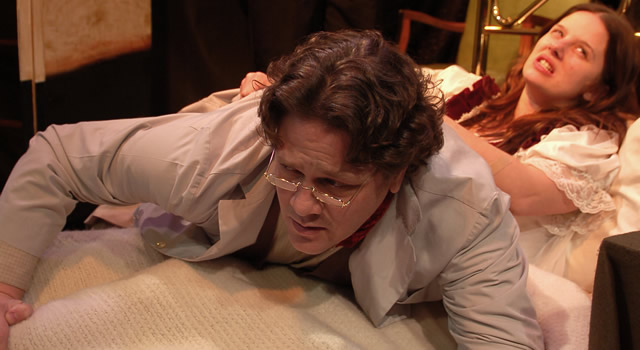 Susan Sontag is a University of Chicago graduate with a B.A. in philosophy, challenges the moral precepts she set out in her 1978 landmark essay, Illness as Metaphor, and discovers patterns of prostration in the imaginary and actual lives of nineteenth-century women in her first play, Alice in Bed (1993). It is a play that explores the metaphorical implications of lives repressed into illness and the pathology of mental illness. Like Alice James, Sontag died of breast cancer. Her books include four novels, The Benefactor, Death Kit, The Volcano Lover, and In America; a collection of short stories, I, etcetera; several plays, including Alice in Bed and Lady from the Sea; and eight works of nonfiction, starting with Against Interpretation and including On Photography, Illness as Metaphor, Where the Stress Falls, and Regarding the Pain of Others. Ms. Sontag wrote and directed four feature-length films: Duet for Cannibals (1969) and Brother Carl (1971), both in Sweden; Promised Lands (1974), made in Israel during the war of October 1973; and Unguided Tour (1983), from her short story of the same name, made in Italy. Ms. Sontag also directed plays in the United States and Europe; her most recent theatre work was a staging of Beckett's Waiting for Godot in the summer of 1993 in besieged Sarajevo, where she spent much of the time between early 1993 and 1996 and was made an honorary citizen of the city. A human rights activist for more than two decades, Ms. Sontag served from 1987 to 1989 as president of the American Center of PEN, the international writers' organization dedicated to freedom of expression and the advancement of literature, from which platform she led a number of campaigns on behalf of persecuted and imprisoned writers Ms. Sontag died in New York City on December 28, 2004.
Dado directs and acts throughout the city of Chicago. She most recently directed The Wizard of Oz for Emerald City Theater and Hellcab for Famous Door. Other directing credits include Thanatos and Michael Hannen's world premeire adaptation of Fyodor Dostoevsky's The Possessed for Prop/National Pastime Productions, Tracers for Mary-Archie Theater (Jeff Citation for direction). In 2006 she was the recipient of an After Dark Award for Best Director with Huddersfield and recipient of The Goodman Theatre's Michael Maggio Directing Fellowship.