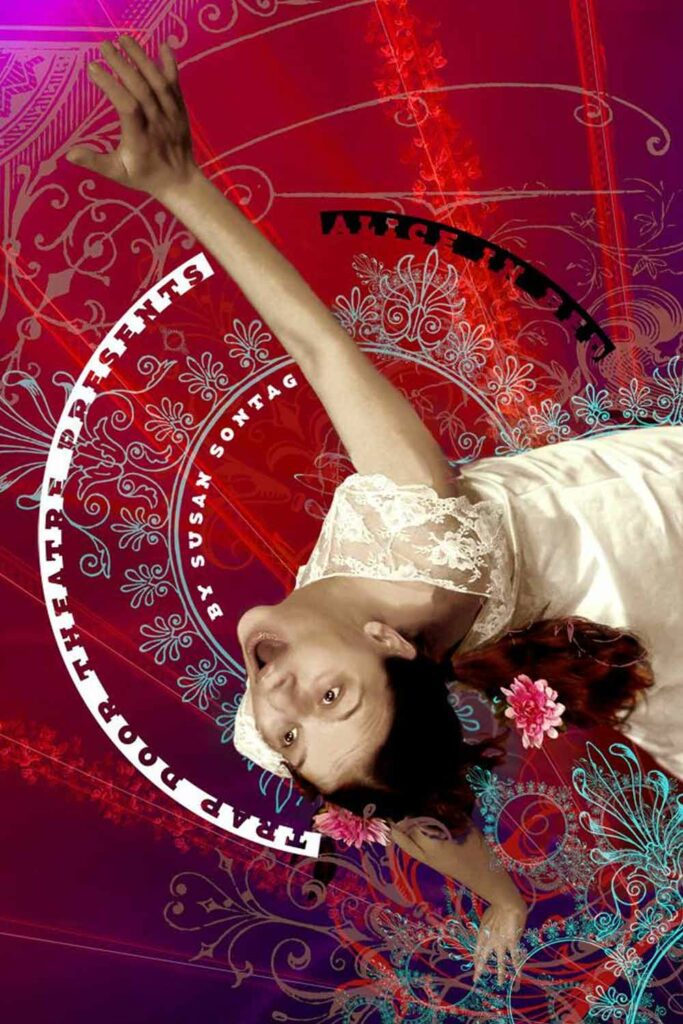 Cast: Melissa Cook, Noah Durham, Karen Foley, John Gray, Carolyn Hoerdemann, Kim McKean, Doug Vickers, Nicole Wiesner, Jenni Zohn, Elston Adelaide, and Zohn Tortuga.
Playwright
Susan Sontag is an American playwright, essayist, novelist, philosopher, and director. She has written such plays as Alice in Bed and Lady from the Sea, and directed multiple feature-length films, including Duet for Cannibals and Brother Carl.
Assistant Director: Melissa Cook / Set Design: Ewelina Dobiesz / Film Design: Carrie Holt de Lama / Sound Design: Joe Court / Costume Design: Karen Kawa / Lighting Design: Richard Norwood / Properties: Julia Klein / Graphic Design: Michal Janicki
Alice in Bed

Written by Susan Sontag
Directed by Dado
January 11 – February 18, 2007
A dramatic fantasy that merges the life of Alice James, the brilliant sister of William and Henry James, with the heroine of Lewis Carroll's Alice in Wonderland. It is a play about the triumphs and limitations of imagination and escape.
The atmosphere in director Dado's bold staging for Trap Door Theatre is febrile and fantastic… A smart and heartfelt portrait of the interior life of a highly intelligent and desperately thwarted woman…
Kerry Reid, Chicago Tribune
Dado and her cast give the evening a sense of surreal whimsy even as Nicole Wiesner makes Alice's depression and anguish disturbingly clear. Engaged, multilevel performances underscore the characters' passions yet preserve a deep sense of mystery…
Justin Hayford, Chicago Reader
Highly theatrical and visual… Count on Trap Door to give us what no one else does.
Jonathan Abarbanel, Windy City Times
Director
Dado is a visual artist and theater practitioner in the Chicagoland area. She is interested in value perceptions and how they inform empathic systems. Dado is an ensemble member of A Red Orchid Theatre in Chicago. A lot of her work, both formal and experimental, happens at A Red Orchid. She has recently directed The Room by Harold Pinter, The Mutilated by Tennessee Williams, Simpatico by Sam Shepard, and Megacosm by Brett Neveu. Dado is a trained actor (University of Southern California, Los Angeles Theater Academy), a director and visual artist, (UChicago DOVA), as well as an educator. She has appeared in many theaters and on tv/film. She has also been a Maggio Fellow for directing, She has received a Jeff Citation as well as an After Dark Award. She teaches often at DePaul University and UIC.