Alice in Bed
Written by: Susan Sontag
Directed by: Dado
January 11 – February 18, 2007
"The atmosphere in director Dado's bold staging for Trap Door Theatre is febrile and fantastic… A smart and heartfelt portrait of the interior life of a highly intelligent and desperately thwarted woman…" – Chicago Tribune
"Dado and her cast give the evening a sense of surreal whimsy even as Nicole Wiesner makes Alice's depression and anguish disturbingly clear. Engaged, multilevel performances underscore the characters' passions yet preserve a deep sense of mystery…" – Chicago Reader
"Highly theatrical and visual… Count on Trap Door to give us what no one else does…" – Windy City Times
Cast: Melissa Cook, Noah Durham, Karen Foley, John Gray, Carolyn Hoerdemann, Kim McKean, Doug Vickers, Nicole Wiesner, Jenni Zohn, Elston Adelaide, Zohn Tortuga

ASSISTANT DIRECTOR: Melissa Cook FILM DESIGN: Carrie Holt de Lama SET DESIGN: Ewelina Dobiesz LIGHTING DESIGN: Richard Norwood COSTUME DESIGN: Karen Kawa SOUND DESIGN: Joe Court PROP DESIGN: Julia Klein

A dramatic fantasy that merges the life of Alice James, the brilliant sister of William and Henry James, with the heroine of Lewis Carroll's Alice in Wonderland. It is a play about the triumphs and limitations of imagination and escape.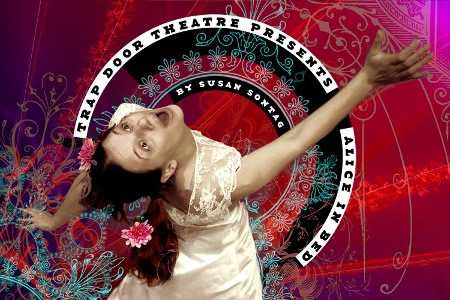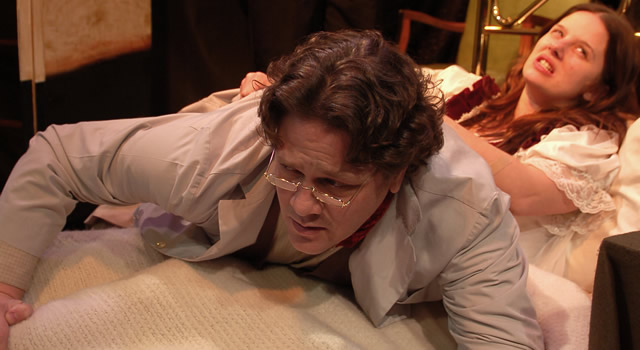 ABOUT THE PLAYWRIGHT:
Susan Sontag is an American playwright, essayist, novelist, philosopher, and director. She has written such plays as Alice in Bed and Lady from the Sea, and directed multiple feature-length films, including Duet for Cannibals and Brother Carl.
ABOUT THE DIRECTOR:
Dado is a visual artist and theater practitioner in the Chicagoland area. She is interested in value perceptions and how they inform empathic systems. Dado is an ensemble member of A Red Orchid Theatre in Chicago. A lot of her work, both formal and experimental, happens at A Red Orchid. She has recently directed The Room by Harold Pinter, The Mutilated by Tennessee Williams, Simpatico by Sam Shepard, and Megacosm by Brett Neveu. Dado is a trained actor (University of Southern California, Los Angeles Theater Academy), a director and visual artist, (UChicago DOVA), as well as an educator. She has appeared in many theaters and on tv/film. She has also been a Maggio Fellow for directing, She has received a Jeff Citation as well as an After Dark Award. She teaches often at DePaul University and UIC.