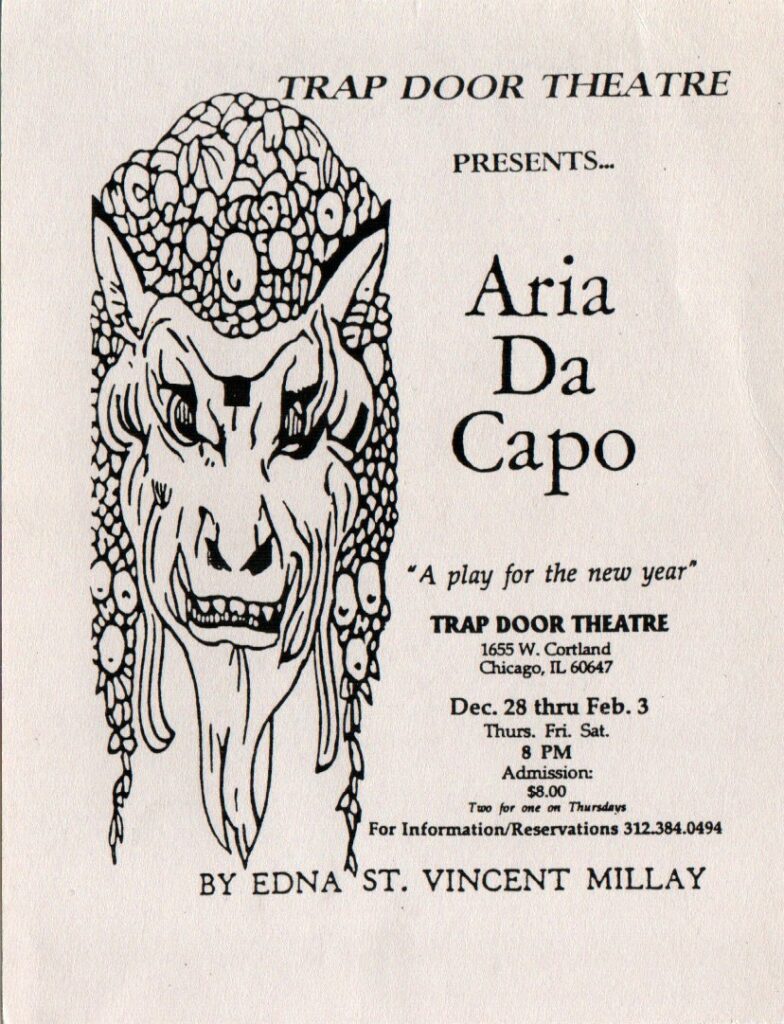 Cast: John Guzzardo, Casey Hayes, Louie Hondros, Beata Pilch and Carolyn Shapiro.
Playwright
Edna St. Vincent Millay was born in Rockland, Maine, on February 22, 1892. In 1912, Millay entered her poem Renascence to The Lyric Year's poetry contest, where she won fourth place and publication in the anthology. This brought her immediate acclaim and a scholarship to Vassar College, where she continued to write poetry and became involved in the theater. In 1917, the year of her graduation, Millay published her first book, Renascence and Other Poems (Harper, 1917). At the request of Vassar's drama department, she also wrote her first verse play, The Lamp and the Bell (1921), a work about love between women. After graduating from Vassar, Millay moved to New York City's Greenwich Village, where she lived with her sister Norma in a nine-foot-wide attic. Millay published poems in Vanity Fair, the Forum, and others while writing short stories and satire under the pen name Nancy Boyd. She and Norma acted with the Provincetown Players in the group's early days, befriending writers such as poet Witter Bynner, critic Edmund Wilson, playwright and actress Susan Glaspell, and journalist Floyd Dell. Millay published A Few Figs from Thistles (Harper & Brothers, 1920), a volume of poetry which drew much attention for its controversial descriptions of female sexuality and feminism. In 1923, Millay was awarded the Pulitzer Prize for The Ballad of the Harp-Weaver (Flying Cloud Press, 1922). In addition to publishing three plays in verse, Millay also wrote the libretto of one of the few American grand operas, The King's Henchman (Harper & Brothers, 1927). Edna St. Vincent Millay died at the age of fifty-eight on October 18, 1950, in Austerlitz, New York.
Aria Da Capo

Written by Edna St. Vincent Millay
Directed by Sean Marlow
December 1995

A one act expressionist morality play telling the story of how friends become bitter enemies by playing rivals in a play within the play.
The fearless Trap Door players perform Millay's view with conviction and spirit.
Richard Christiansen, Chicago Tribune
Aria Da Capo is an intelligent, difficult dramatic construction with few bells and whistles and it is well done by the Trap Door team.
Katey Sullivan, The Copley News Service
Director
Sean Marlow was the co-founder of the Trap Door Theatre. Originally from Atlanta, GA, he received his Bachelor of Fine Arts in acting from U.S. International University in San Diego, CA. and continued with his graduate studies at the University of Missouri-Kansas City. In the early years of Trap Door, he has acted, directed and designed over a dozen shows.
Lighting Design: Richard Norwood / Set Design & Costume Design: Sean Marlow