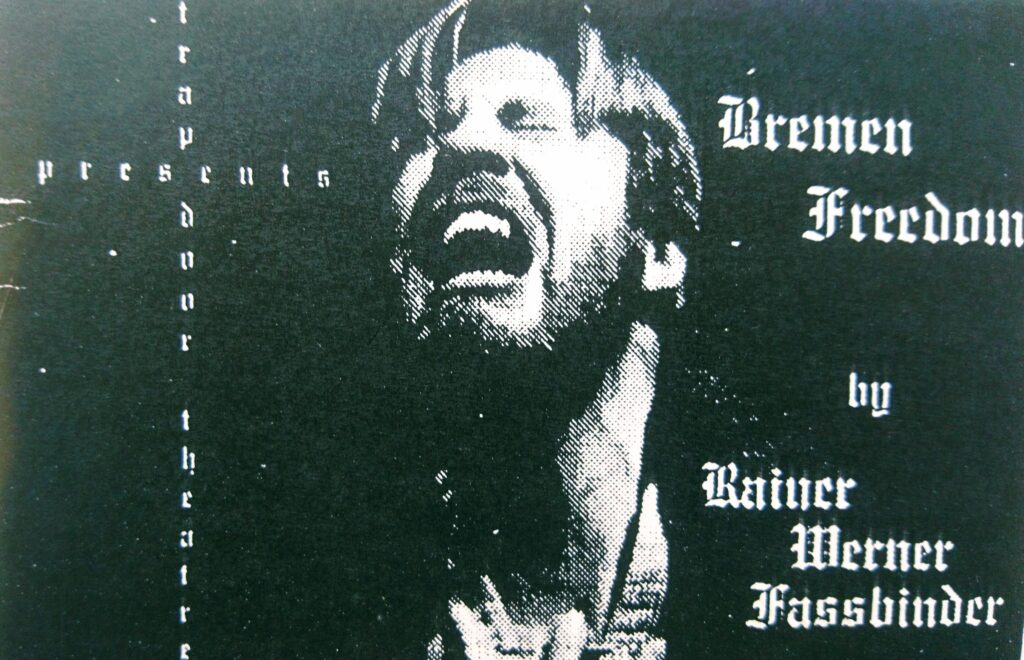 Cast: Beata Pilch, Alan Malone, Eric Johner, Clay Calvin, Fran Martone, Dan Slyman, Mary Anne Bowman, Adam Ludwig, Mark Vanasse, John Gray, Martin Bedoian, and Michael Colucci.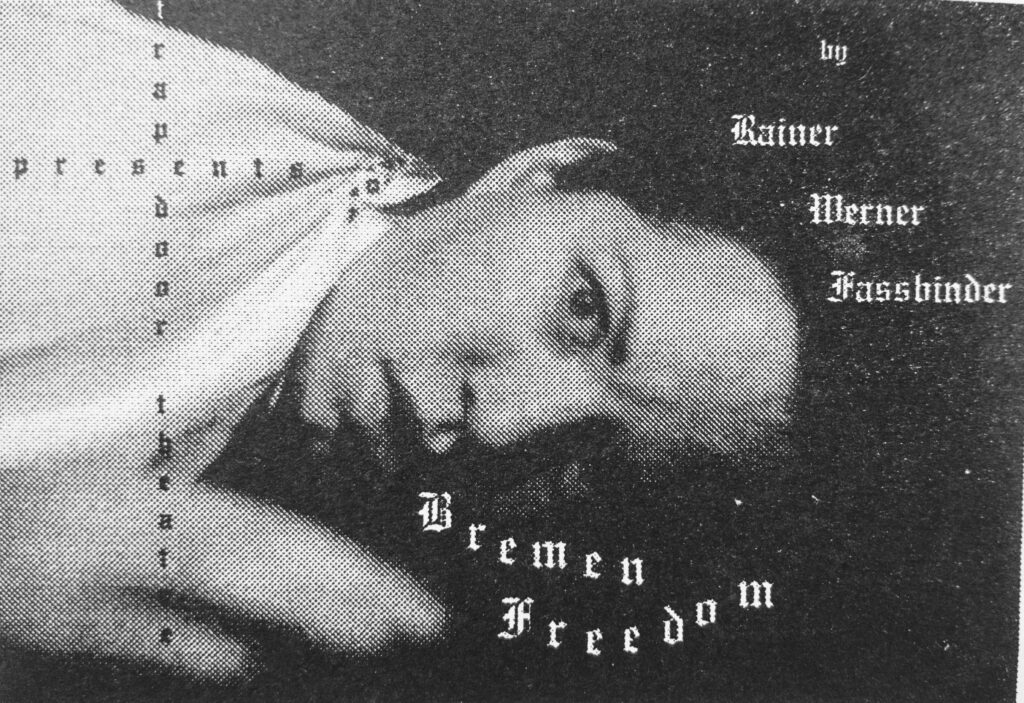 Playwright
Rainer-Werner Fassbinder was best known for his powerful, offbeat, messy films. He made forty films by the time he died of a drug overdose at thirty six. He began his work in the theatre in the late sixties, as a twenty-two year old. He acted, directed, (loosely) adapted classics by Buchner, Goethe, Sophocles, Goldoni and others, wrote several of his own plays, and in a few years emerged as the leader of a group of performers who worked with him until his death in 1982. Fassbinder's plays, like the films, are about varieties of alienation. The images Fassbinder created for the stage, and in films, linger as grotesque and brutal, possessing a strange, improbable truth…In a way, Fassbinder made a career out of despair-selling his own and others' misery in endless variations, operating according to a system he did not create. Other works included in his controversial anti-theater plays are: Bremen Freedom, Blood on the Cat's Neck, Katzelmacher,and The Bitter Tears of Petra von Kant.
Stage Manager: Chris DeMaria / Lighting Design: Richard Norwood / Set Design: Sean Marlow
Bremen Freedom

Written by Rainer Werner Fassbinder
Translated by Denis Calandra
Directed by Kay Martinovich
Opened December 1997

Based on a historical event, Fassbinder's play, Bremen Freedom, pertains to subject matter in the realist tradition: A 19th century woman systematically eliminates the men and women who would keep her in her proper place. Based on a true story in Bremen, Germany, of one of the greatest murders committed by a woman fighting to be free in a man's world by poisoning all who enter it.
Before Thelma and Louise, there was Geesche Gottfried.
Martinovich's cast, both Trap Door regulars and new faces, is excellent, especially Beata Pilch"
Jack Helbig, The Chicago Reader
Trap Door demonstrates once again its nerve and competence in work few others would dare perform"
Chris Jones, The Chicago Tribune
Director
Kay Martinovich is Head of Performance and Associate Professor in Acting at Northern Illinois University in DeKalb. She works as a professional theater director and acting coach based in Chicago. She directed an online reading of the new play Mentors by Kristin Palmer and starring Austin Pendletown. Other recent credits include The Father at Remy-Bumppo Theatre, the Jeff-nominated Naked at Trap Door Theatre, Deirdre of the Sorrows at City Lit Theatre and the Jeff-award winning La Bete by David Hirson at Trap Door. She was Associate Artistic Director of Irish Repertory of Chicago where she directed the American premieres of Marina Carr's By the Bog of Cats… and Brian Friel's The Yalta Game. Her work has been seen at numerous Chicago theaters including Trap Door, City Lit, Mary-Arrchie, Lifeline, American Blues, The Gift, Buffalo Theatre Ensemble, Live Bait, Emerald City, Circle Theater, Apple Tree, Famous Door, Chicago Dramatists and regional theaters in Wisconsin, Indiana, and Oklahoma. She is a proud member of the Society of Stage Directors and Choreographers (SDC).