Chaste: An Awful Comedy
Written by Ken Prestininzi
Directed by Kate Hendrickson
May 13 – June 26, 2010
Cast: Antonio Brunetti, John Kahara, Sara Tolan Mee, and Tiffany Joy Ross
| | |
| --- | --- |
| | Trap Door Theatre is proud to announce that last spring's critically acclaimed world premiere of Chaste (written by Ken Prestininzi and directed by Kate Hendrickson) has received "Best of 2010" nods in the Chicago Tribune, Chicago Sun Times, and the Huffington Post. This is the second time Trap's collaborative team of Hendrickson and Prestininzi have received "Best of the Year" acknowledgments, having previously garnered them for their 2008 Jeff Award-winning production of Beholder! |
Director Kate Hendrickson and playwright Ken Prestininzi tapped into the mesmerizing and maddening with AmeriKafka, while their intimate and bold Beholder garnered several awards, including the 2008 Jeff Award for Best New Work. Now these two longtime collaborators seek out the ecstatic in Chaste.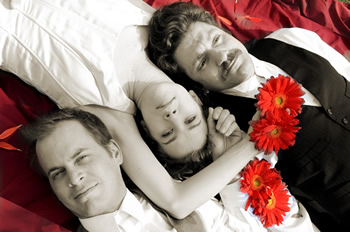 Chaste is the third in a series of Prestininzi plays (all premiered at Trap Door under Hendrickson's direction) taking inspiration from the lives of German-speaking thinkers and artists: Franz Kafka in AmeriKafka, Rainer Maria Rilke & Paula Modersohn-Becker in Beholder, and now Friedrich Nietzsche in Chaste. In 1882 Paul Ree introduced his friend Nietzsche to a young Russian woman named Lou Salome (a novelist, essayist, and thinker who would later become a muse and colleague to both Rilke and Freud). The three formed a plan to live together as a chaste trio dedicated to a life of the mind. Calling up and distorting this history, Chaste wildly imagines what would have happened if they had realized their dream. In this chaste ménage a trios, Nietzsche bets the triumph of his will against the incomparable desires of a virginal girl. Despite their promises to bring out the most brilliant in each other, a primal battle for love and domination begins. Their unchecked ambition and reckless intimacy surprises all three. Pygmalion never had it so bad, nor Red Riding Hood so good, as they do in this perverse comedy of their own devising.
"Devilishly smart, sardonic and emotionally rich… Tiffany Joy Ross, in a comic tour de force, stalks through the house buttoned to the chin in black and muttering imprecations …One doesn't need to know much — or anything — about the historical background of the trio to enjoy Kate Hendrickson's high-octane staging. Joseph Riley's set — a series of platforms with trapdoors and inclines — embodies the intellectual gymnastics…" Highly recommended! Kerry Reid, Chicago Tribune
"Ken Prestininzi's intriguing play, "Chaste," now in its world premiere at Trap Door Theatre, captures the insanity, pain — and yes, the uttercomic madness too — that is endured …as a very young and intellectually precocious Salome (Sarah Tolan Mee), attempts to establish a "marriage of minds and souls" …directed by Kate Hendrickson in a boldly stylized way marked by the enormous physical dynamism of her actors. …There is much to savor here in the four performers' forceful, no-holds-barred portrayals. As Salome, Mee is a genuine find — with physical, vocal and emotional talent to spare. A talent to watch. Brunetti's crazed, often infantile and wildly neurotic Nietzsche is both wonderfully crazed and ultimately touching. Kahara expertly suggests the sensitive insider who ends up an outsider. And Ross makes hay as the braying, witchlike (and very lonely) Elisabeth. Nevena Todorovic's Victorian era costumes are exquisite… Joseph Riley's expressionistic set suggests that the characters' passions, whether expressed or suppressed, are anything but chaste and exceptionally chaotic." Hedy Weiss, Chicago Sun Times
"It's hard to think of a theatrical team more in sync than director Kate Hendrickson and playwright Ken Prestininzi. For their third outing at Trap Door Theatre, they turn an arcane historical curiosity …into a heady, intoxicating swirl of screwball comedy, philosophical debate, and lecherous fever dream." Highly Recommended. Justin Hayford, Chicago Reader
"…Cruelly funny! The lofty-minded trio, plus Nietzsche's castrating sister Elizabeth, manhandles each other across the blank surfaces of Joseph Riley's fittingly difficult set. As Lou, Sarah Tolan Mee imbues her character's didactic feminism with a narcissist's consuming vivacity, and Antonio Brunetti's pathetic genius Nietzsche has the haunted hopefulness of a losing gambler. Stylistic gambles such as a dream sequence that mashes up fairy tales, verse and violence work thanks to Hendrickson's gutsy direction." Melissa Albert, Time Out Chicago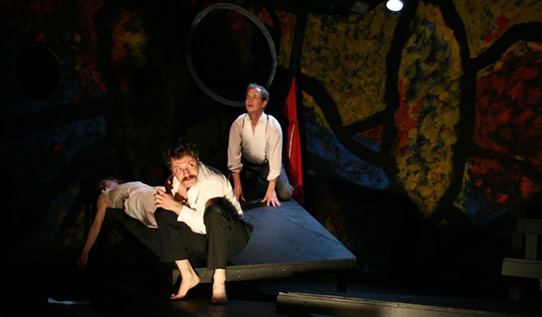 "An extraordinarily entertaining play about three abnormally awkward and hyper-intelligent thinkers who are stuck in a house and trapped in a love triangle. Prestininzi's script is poetic without being overwrought. He conveys the madness and the intelligence of these three individuals without ever romanticizing their pursuit of an enlightened life through chastity. It's like watching three freakishly smart teenagers fight for the affections of one another. The actors all play their roles with a fiery passion. Director Kate Hendrickson …has a keen eye for stunning stage pictures. The lunacy that love inspires within these three lunatics, as told by a talented writer through a talented cast, makes for a four-star play!" Keith Ecker, Chicago Theatre Blog
"The ultimate lust triangle when creative minds share a roof but not a bed. CHASTE illustrates the reality of celibate artistry as horny madness [and] exploits the absurd lunacy of libido over intellect. Antonio Brunetti (NeNe Friedrich Nietzsche) masterfully portrays writer's block… Sarah Tolan Mee (Lulu Salome)… quickly becomes the energetic, shiny-faced, narcissist. John Kahara (Paul Ree) is perfect as the peacemaker. Tiffany Ross (Elisabeth Nietzsche) plays the prim sourpussed sister brilliantly." -Katy Walsh, The Fourth Walsh / Chicago Now
Hendrickson and Prestininzi began working together in the early 1990s when Hendrickson commissioned Prestininzi to write The Hole, a new play inspired by Dostoyevsky's Notes From Underground. They've sustained their collaborative relationship for over 15 years, and under the auspices of Trap Door Theatre, it is thriving. In their work, Hendrickson and Prestininzi spark each other to make precise leaps of imagination, intellect and emotion in order to invite and instigate palpable human connections with the theatrical choices they make. Together they form a director/playwright team of shared reverie, theatrical vision and the belief in the persuasion of intimacy and commitment.

Assistant Director Jen Ellison / Sound Designers Jason Meyer & Shane Oman / Lighting Designer Gina Patterson / Set Designer Joseph Riley / Stage Manager Gary Damico / Costume Designer Nevena Todorovic / Makeup Designer Zsófia Ötvös / Graphic Designer Michal Janicki

Kate Hendrickson is a resident director at Trap Door Theatre where her particular focus is on premiering new plays by radical American playwrights. She has developed and sustained long-term collaborative relationships with several playwrights, steering multiple world premiere productions to critical and popular success. Together with Margraff and the Trap Door ensemble Hendrickson created ANGER/FLY which was recognized in the Chicago Reader "Best Of" edition as part of a Trap Door season presenting the "best string of theatrical stunners." Other Trap Door credits include Cookie Play, Chaste and Beholder (Jeff Award for Best New Work, After Dark Award for Best Original Music), by Ken Prestininzi. Chaste received "Best of the Year" nods in the Chicago Tribune, Chicago Sun-Times, Chicago Stage Review, and the Huffington Post. Kate also directed Midwest premieres of Prestininzi's AmeriKafka, Howard Zinn's Emma (After Dark Award for Best Ensemble), and  12 Ophelias by Caridad Svich.