Core of the PUDEL:
Gutting the Legend of Faus
Conceived and directed by Thom Pasculli
April 26 – June 2, 2013
"Pasculli's piece triumphs… through a stunning physical vocabulary". "Trap Door Theatre has become the go-to company in town for presenting smart and uncompromising contemporary European work"….visceral and daring." Kerry Reid, Chicago Tribune
"This is the kind of theatre that magically makes you think afterward about what it meant." Tony Frankel, Stage and Cinema
"Recommended!" Laura Molzahn, Chicago Reader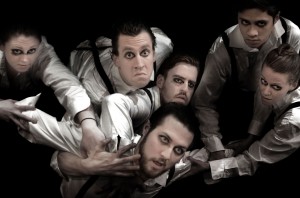 Core of the PUDEL guts an ancient German legend to discover the heart of the matter. The legend is familiar – Faust and his overwhelming obsession to know everything drives him to sell his soul to Mephistopheles in exchange for complete intellectual enlightenment. He believes he gets the better end of the bargain, but when he loses his heart to the beautiful Gertrude, the devil convinces him otherwise. Through actor-driven authorship and dynamic physical action, Core of the PUDEL violently dissects the original text to examine the destructive act of purely intellectual investigation and reveal the core of the quandary: how do you measure the value of a person's soul?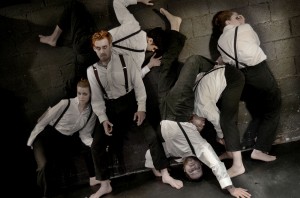 Cast/ Co-creators: Nigel Brown, Katie Dingle, Al Evangelista, Cooper Forsman, Cortney McKenna, Kendra Miller, Paul Scudder, Lauren Vogel   Set Designer Joanna Iwanicka/ Lighting Designer Michael Christman/ Sound Design Danny Rockett / Costume Designer Clare Kemock/ Stage Manager Gary Damico / Graphic Design Michal Janicki