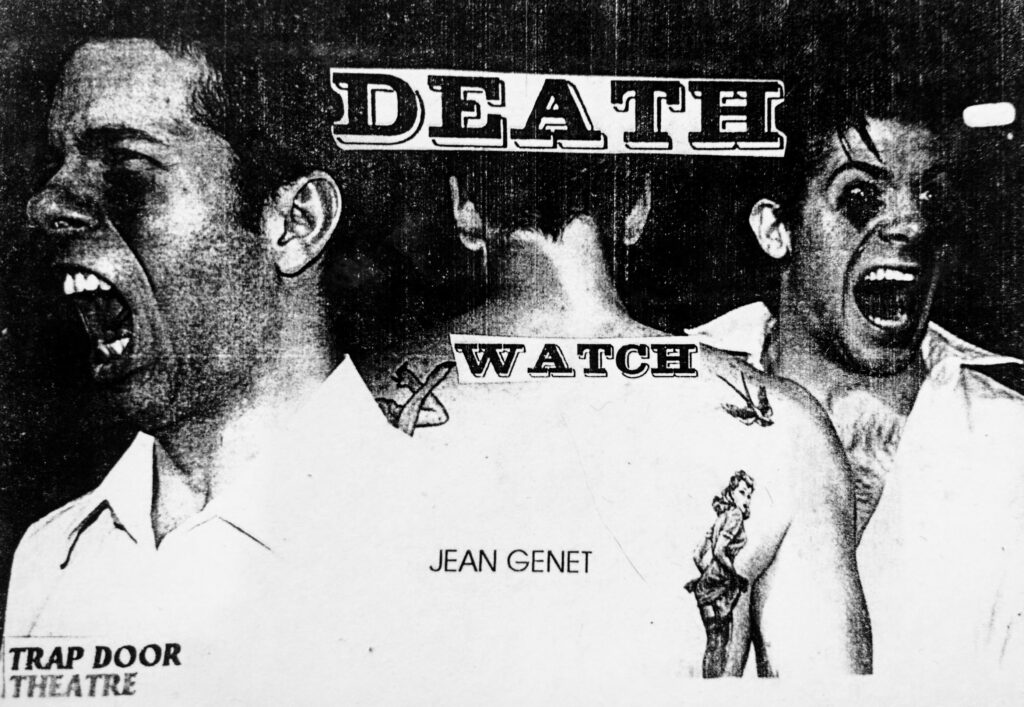 Cast: Michael C. Estanich, Mark Makers, Steve Meyer, Chris Popio, and Bob Rusch.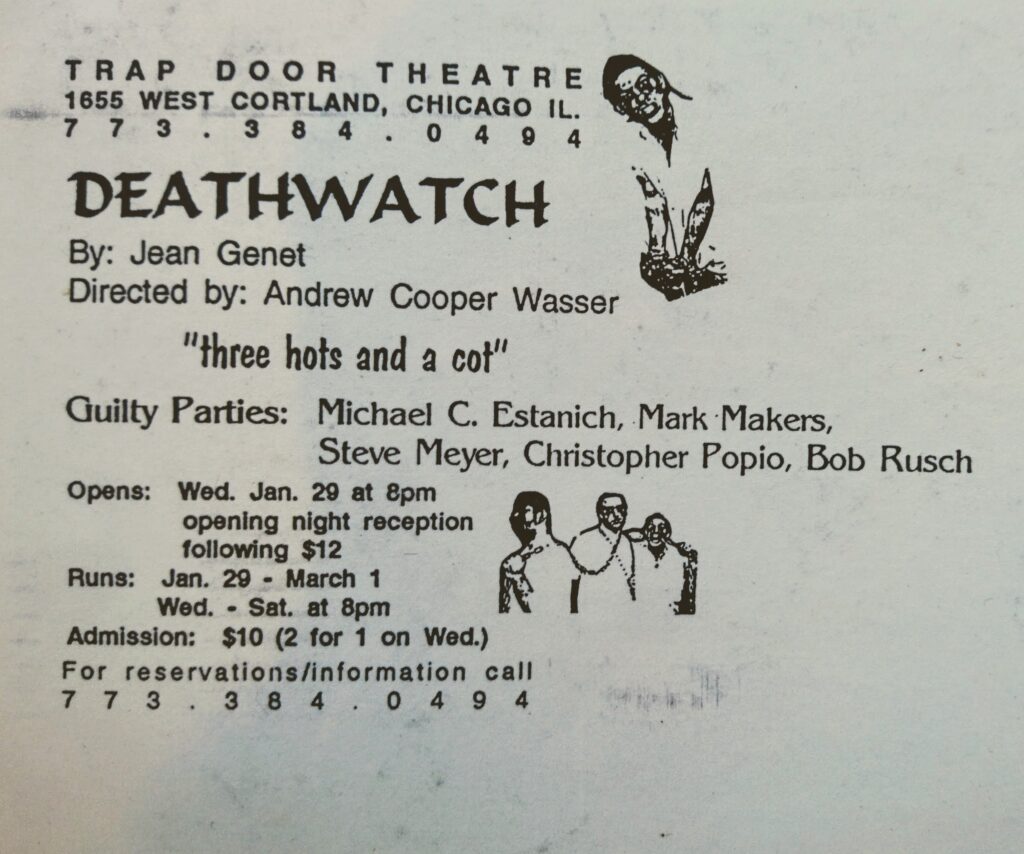 Playwright
Jean Genet – Deathwatch is one of Jean Genet's first plays ever written. It was scribbled on the back of paper bags while doing life in prison. French criminal and social outcast turned writer who, as a novelist, transformed erotic and often obscene subject matter into a poetic vision of the universe and, as a dramatist, became a leading figure in the avant-garde theatre, especially the Theatre of the Absurd. He was also a playwright, poet, essayist, and political activist. Early in his life he was a vagabond and petty criminal, but he later took to writing.
Stage Manager: David Nicksic / Lighting Design: Richard Norwood / Set Design: Andrew Cooper Wasser / Costume Design: Andrew Cooper Wasser
Deathwatch

Written by Jean Genet
Translated by Bernard Frechtman
Directed by Andrew Cooper Wasser
January 29 – March 1, 1997

Three young criminals share a cell in maximum security prison, each struggling for mastery, each playing deadly games of deception and control, locked in a vicious surreal dance of execution and death. In his theatre, Genet's characters play being themselves, struggling to be themselves, trapped in a dream they rebel at, but cannot end.
Trap Door director-visual designer Andrew Cooper Wasser and his young cast find an intriguing and effective balance, turning realistic mannerisms of movement and speech into stylized gestural rituals.
Albert Williams, The Chicago Reader
Director
Michael S. Pieper has been developing and teaching his method of acting in the Midwest and west coast since 1988. Michael headed up the Acting Program at the Second City Training Center for the last 22 years. He received his Masters of Fine Arts in Directing from the United States International University of San Diego where he also was on the faculty for eight years. He was the Artistic Director of the North Coast Conservatory Theatre in San Diego, the Resident Director/Artistic Associate at the Trap Door Theatre and Artistic Director of the Boxer Rebellion Theatre, both in Chicago. Michael has directed over 98 productions and acted in over 40 productions.