Eva Peron

Written by Copi

Translated by Anni Lee Taylor

Directed by Beata Pilch

Opened December 2007

Extended run until February 2008

This wild comedy about love, submission, greed, and conspiracy revolves around Evita's hysteria and anxiety during the final hours of her life. Copi, a potent influence in France's Theatre of the Absurd movement, presents the revered icon as a spoiled and neurotic woman who cannot be satisfied by the people around her.
Highly Recommended by Chicago Reader, TimeOut and New City!
Winner of Newcity Chicago's award for "Top Five Guilty Pleasures of 2007″
"a gutter-regal central performance by Holly Thomas (Cerney) as Eva" -Time Out
"the sharp, mercurial cast maneuver through Copi's demanding script with mischievous grace" -Chicago Reader
"the punk-rock stuff of Andrew Lloyd Webber's nightmares" -Timeout Chicago
"Nobody this side of Lake Michigan, does nihilistic debauchery with the howling, hyper sexualized panache of the Trap." -UR Chicago Magazine
Crew: Sam Lewis, Sound Designer Richard Norwood, Lighting Designer Angela Ogle, Costume Designer Milan Pribisic, Dramaturgy Merje Veski, Set Designer Carrie Holt de Lama, Film Director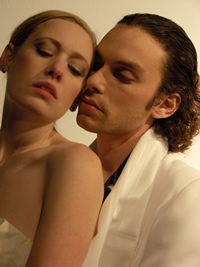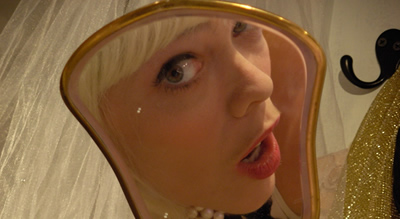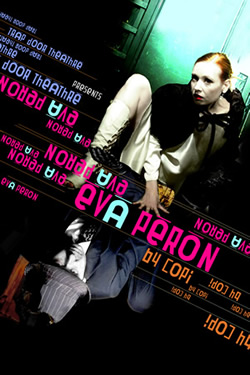 About the Playwright: Raul Damonte Botana (Nov. 20, 1939 – Dec. 14, 1987), better known by the nom de plume Copi (an Argentinism for "chicken"), was an Argentine writer, cartoonist, and playwright who fled his native Buenos Aires to settle and spend most of his career in Paris in the mid-1960s. He was soon a potent influence in France's "theater of the absurd" movement. Copi has been one of the most talked about dramatists on the French scene since the advent of Arrabal and the theatre of panic. Writing in French, his plays are set on the borderline of reality and delirium, historical fact and imaginative interpretation of historical events and people. Such charismatic stars as Eva Peron and Greta Garbo appear in his plays, which all have a quality of racy, often manic, pace in their development, intended to shock the bien-pensant, but opening up new insights into what the mind sees. Copi used his writing and the performance of gender in his work as an act of transgression, and personal revolution in response to the unacceptance of his sexuality by his own cultural and political climate. Copi's plays have a minimum of stage direction so they can be produced according to the styles and inhibitions of different theatres. Copi died in 1987 of AIDS. His farewell gesture was a striking last play, "Une visite inopportune," set in a hospital ward where a doomed transvestite arranges for a spectacular funeral as he expires.