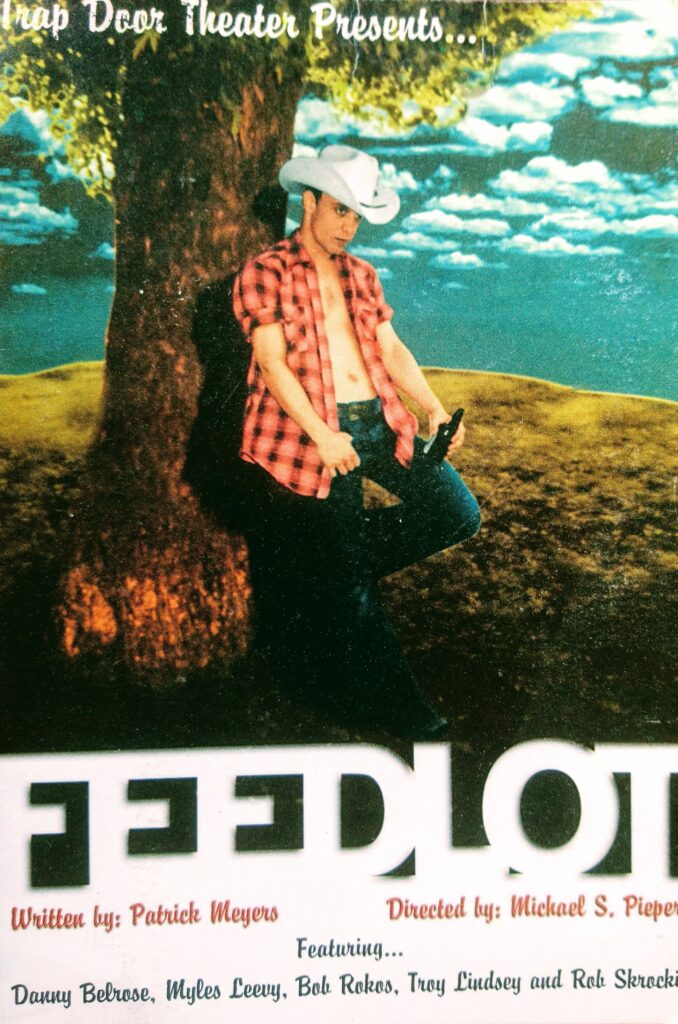 Cast: Danny Belrose, Myles Leevy, Troy Lindsey, Bob Rokos, and Rob Skrocki.
Playwright
Patrick Meyers is an American playwright. He has written such plays as Feedlot and K2.
Director
Michael S. Pieper has been developing and teaching his method of acting in the Midwest and west coast since 1988. Michael headed up the Acting Program at the Second City Training Center for the last 22 years. He received his Masters of Fine Arts in Directing from the United States International University of San Diego where he also was on the faculty for eight years. He was the Artistic Director of the North Coast Conservatory Theatre in San Diego, the Resident Director/Artistic Associate at the Trap Door Theatre and Artistic Director of the Boxer Rebellion Theatre, both in Chicago. Michael has directed over 98 productions and acted in over 40 productions.
Feedlot

Written by Patrick Meyers
Directed by Michael S. Pieper
June 9 – July 10, 1999

A macho Vietnam Veteran taunts a young college student and exorcises the nagging fear rooted in men.
A misfit cowboy avenges his sisters' death by taking a feedlot hostage.
Two men's haunting journey into a nightmare if manipulation, sex, and control.
Five guys, a grain elevator, and cattle.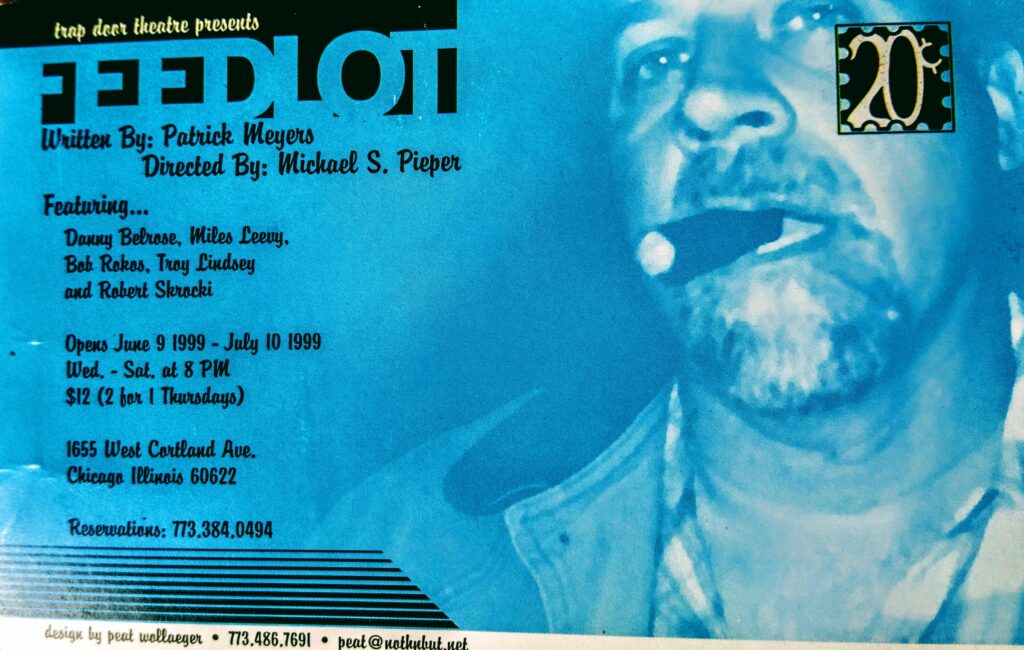 Whenever I go to Trap Door Theatre, I know I can expect the unexpected. This is a company determined to venture where other companies would fear to tread, and Feedlot is yet another strong example of how that fearlessness pays off in spades.
Jeff Rossen, Gay Chicago Magazine
Trap Door is known for attacking complex, subversive works with gusto, and this production only adds to that reputation.
Nick Green, The Chicago Reader
Stage Manager: Kevin Byrne / Lighting Design: Richard Norwood / Set Design: Michael S. Pieper / Sound Design: Bob Rokos / Costume Design: Ensemble / Graphic Design: Peat Wollaegher / Fight Choreography: Danny Robles