THE GARDEN OF DELIGHTS
BY: Fernando Arrabal
TRANSLATED BY: Tom and Helen Gary Bishop
DIRECTED BY: Beata Pilch
Opened October, 2004
"Director Beata Pilch and her Trap Door collaborators give themselves over to the task with a sense of no-holds-barred exorcism."
-Hedy Weiss, The Chicago Sun Times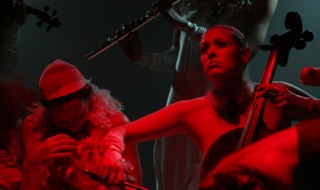 CAST: Carissa Diest, Cheryl Golemo, John Kahara, Kim McKean, Sarah McMaster, Bethany Perkins, Beata Pilch, Carolyn Shoemaker, Holly Thomas, Wesley Walker, Carl Wisniewski and featuring Virginia Worley as Lais.
ASSISTANT DIRECTOR: Nicole Wiesner
SET DESIGN: Ewelina Dobiesz
MUSIC COMPOSITION: Sean Griffin
LIGHTING DESIGN: Richard Norwood
SOUND DESIGN: Bob Rokos
VIDEO DESIGN: Carrie Holt de Lama
The Garden of Delights…
The Garden of Delights depicts the fascinating story of a famous actress and her schizophrenic journey to self discovery. Through fantastical interactions with animals she keeps locked in cages and memories of people from her childhood, The Garden of Delights explores the lesbian tendencies of strong adolescent attachments and the sadomasochistic experience of adult love.
ABOUT THE PLAYWRIGHT:
Fernando Arrabal (The Playwright) Fernando Arrabal was born in Melilla (Spanish Morocco) on August 11, 1932, shortly before War was to tear his country apart. His father, an officer of the Spanish army, was sentenced to death at the beginning of the War for being opposed to the military coup. He was imprisoned by Franco, and escaped on November 4, 1941 and disappeared forever. Fernando Arrabal was brought up by his mother in a rigidly Catholic atmosphere. Now a voluntary exile from Spain, he has lived in Paris since 1955 and, writing in French, he has emerged as one of Europes front-rank dramatists. He has published 12 novels, nearly 70 plays, and epistles. He has directed 7 full-length films and founded the Panic Movement in 1962. His work reflects his abhorrence of political repression, bourgeois complacency and war. His plays are often abstract and savagely ironic, employing sadism or blasphemy to shock the senses. Although he is one of the most controversial writers of his time, he has received many international prizes and distinctions. .

This production is partially sponsored by Etant Donnes: The French American Fund for the Performing Arts and The Association Beaumarchais.