Hamletmachine
Written by Heiner Müller
Translated by Carl Weber
Directed by Max Truax
Music composed by Jonathan Guillen
January – February 2011
No theater company in Chicago can combine madness and conceptualism better than Trap Door, and "Hamletmachine" is a near-perfect vehicle to showcase their genius. -New City (Monica Westin)
No one calculates chaos and masters madness with more purpose, conviction, theatrical artistry and artistic integrity than Trap Door Theatre. -Venus Zarris, Chicago Stage Review
Truax makes Trap Door Theatre's HAMLETMACHINE a well-oiled deadly sexy fantasy. -Katy Walsh, The Fourth Walsh
Recommended! -Hedy Weiss, The Chicago Sun -Times
Cast: Antonio Brunetti, Lyndsay Rose Kane, Rich Logan, Sadie Rogers, Tiffany Joy Ross, David Steiger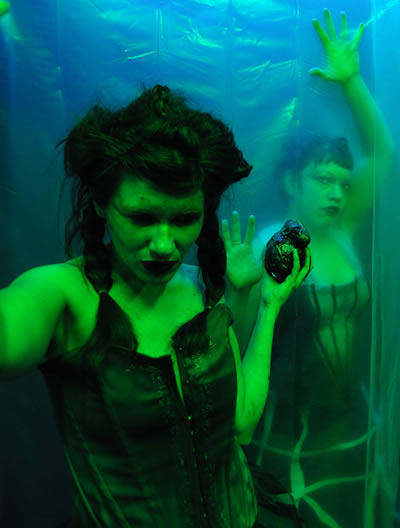 There's something rotten in Denmark. This is the basis for Hamletmachine, Heiner Muller's seminal postmodernist meditation on the decay of an individual's national pride. Hamlet's conflict arises not out of familial betrayal, but out of a festering disappointment, he feels toward a country he once loved. What happens to the individual's sense of self when his country betrays him? In this world, Hamlet becomes fragmented, and his relationships with others come to embody various aspects of his national identity – he feels betrayed by the Denmark that has been at one time or another his mother, his father, his friend, his lover and his self. When Hamlet engages these living metaphors directly, the consequences are as harrowing as they are cathartic.
Playwright Heiner Müller is one of the foremost German dramatists of the 20th century. Described as the theatre's greatest living poet since Samuel Beckett, Müller was a dramatist, poet, writer, essayist and theatre director. Written in 1977, Hamletmachine is loosely based on Hamlet by William Shakespeare. The script is approximately 9 pages long, and wide open to interpretation. Müller himself once staged a 7 hour production of Hamletmachine.
Trap Door's production is spearheaded by resident director Max Truax, whose exceptional artistic vision brought two hit shows to Trap Door: No Darkness Round My Stone (winner of the prestigious etant donne award) and A Couple of Poor Polish Speaking Romanians. Truax, along with composer Jonathan Guillen, is staging Hamletmachine as a modern opera.
Composer & Sound Designer: Jonathan Guillen / Production Designer: Richard Norwood / Stage Manager: Barry Branfrod / Costume Designer: Nevena Todorovic / Graphic and Video Designer: Michal Janicki / Production Manager: Caitlin Boylan / Makeup Design: Zsófia Ötvös