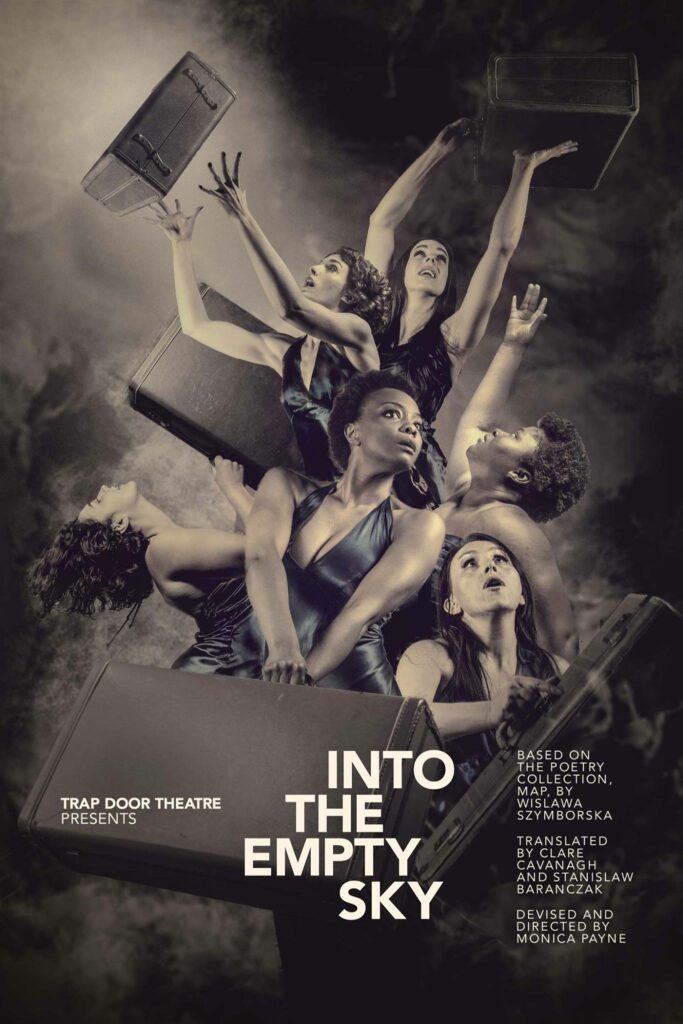 Cast: Maryam Abdi, Tiffany Addison, Marzena Bukowska, Rashida Curtis, Halie Ecker, Mike Mazzocca, and Kelsey Shipley.
Playwright
Wisława Szymborska was born July 2nd, 1923 in Kornik, Poznań province in Poland. Between 1945 and 1948 she studied Polish, Literature, and Sociology at the Jagiellonian University in Cracow. She made her debut in March 1945 with the poem Looking for Words published in a supplement to the daily newspaper "Dziennik Polski". From 1953 to 1981 she worked on the Cracow-based weekly magazine "Życie Literackie", where she ran the poetry column and the book review column "Lektury nadobowiązkowe" (later resumed as "Gazeta o Książkach" in the supplement to Gazeta Wyborcza). Szymborska published 13 collections of poetry that has been translated into over forty languages. She also translated poetry herself, mainly from French and German. In 1991 she received the Goethe Prize. In 1995 she won the Herder Prize, and in May of that same year, she was awarded the honorary degree honoris causa by Adam Mickiewicz University in Poznań. In 1996, Wisława Szymborska received the Polish PEN Club award and the Nobel Prize for Literature. In 2001 she became an honorary member of the American Academy of Arts and Letters, and in 2011 she was awarded the highest Polish National Decoration and the Order of the White Eagle. Wisawa Szymborska died on February 1st, 2012 in Cracow.
Set Design: Eleanor Kahn / Lighting Design: Richard Norwood / Costume Design: Rachel Sypniewski / Sound Design & Composition: Mike Mazzocca/ Make-Up Design: Zsofia Otvos/ Graphic Design: Michal Janicki / Dramaturg: Milan Pribisic / Stage Manager: Kristin Davis
Into the Empty Sky
(Based on the poetry collection, MAP)
Written by Wisława Szymborska
Translated by Clare Cavanagh & Stanisław Barańczak
Directed and Devised by Monica Payne
May 11 – June 17, 2017

Jeff Nominated for "Best Ensemble" and "Best Original Music" by Mike Mazzocca
Into the Empty Sky, devised and directed by Monica Payne, draws from a selection of Wisława Szymborska's poems as the catalyst for this new work. Szymborska, a beloved Polish poet and Nobel laureate, tended to view her subjects, both large and small, from an unusual, pragmatic, and wry perspective. Into the Empty Sky features six women trapped in a purgatorial landscape; unsure of their surroundings, haunted by the past, and trying desperately to escape.
Szymborska …communicate(d) her generation's experience of the war and life behind the Iron Curtain in a manner that was a …chilling (,) cerebral approach to her own pain. "Into the Empty Sky" pays worthy tribute to her. HIGHLY RECOMMENDED.
Jacob Davis, Around the Town Chicago
Everything about the show's design…puts the viewer in a contemplative mood. HIGHLY RECOMMENDED.
Dmitry Samarov, The Chicago Reader
"Into the Empty Sky" offers an oddly reassuring road map for negotiating that terrain in uncertain and perhaps-terrifying times. RECOMMENDED.
Kerry Reid, Chicago Tribune
Director
Monica Payne is a theatre and film director, whose work intersects bold physicality, deep emotion, and collective ritual. She is the founder of Theatre Lumina, an ensemble devoted to cross-cultural collaboration and international exchange. Her projects include devised work, literary adaptations, and new plays, as well as short films and music videos. Her most recent new piece, Song of Home, toured internationally in February of 2020. Payne has directed throughout the U.S., including New York, Los Angeles, Chicago, New Orleans, and Pittsburgh. She is a Resident Director at Trap Door Theatre and is a member of SDC, The Lincoln Center Director's Lab, and Director's Lab West. Previously an actress, she has worked with many prestigious ensembles, including Steppenwolf Theatre Company. Payne holds an MFA in Directing from the UCLA School of Theatre, Film, and Television, and has been a Meisner-based acting teacher for many years. She has taught for The School at Steppenwolf, Steppenwolf Classes West, The Latino Theatre Company, The Robert Mello Studio, The Artistic Home, and her own studios in L.A. and Chicago. At the college level, she has taught at UCLA, Carnegie Mellon, and Point Park University, where she also served as the Head of Graduate Acting. She is currently an Assistant Professor at Tulane University (New Orleans), where she is Head of Performance and Head of Directing.