Judith: A Parting from the Body
Written by Howard Barker
Directed by Zeljko Djukic
January 23 – March 8 , 2014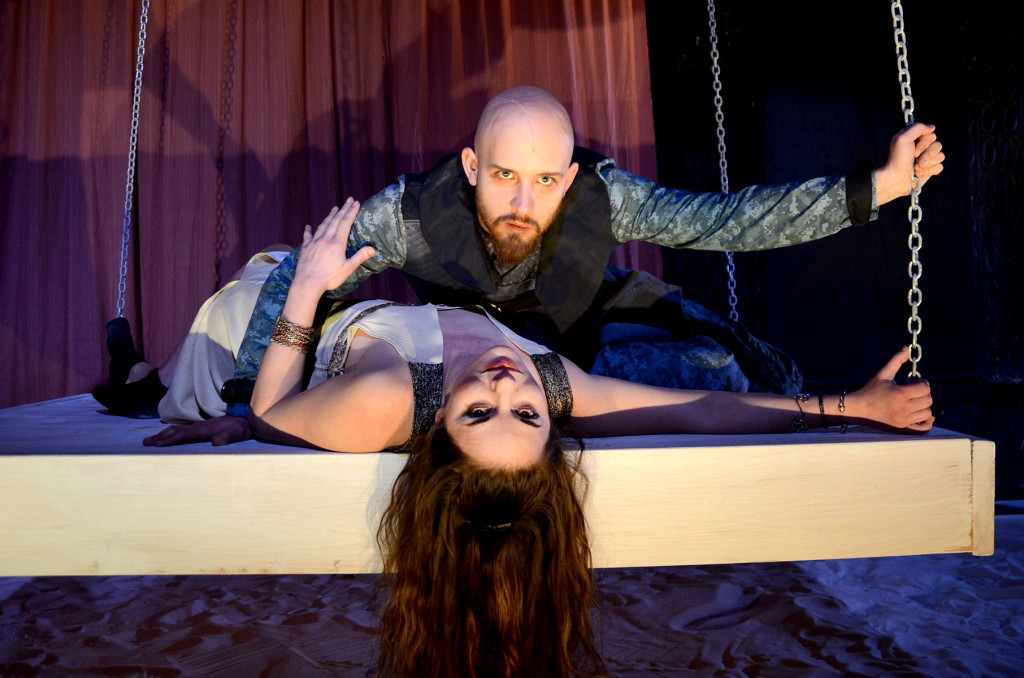 "Howard Barker's oblique exploration of the apocryphal Book of Judith gets a bewitching Trap Door production… " – TimeOut Chicago, 4 STARS
"Nicole Wiesner and Kevin Cox are superb as tactical equals Judith and Holofernes." – Chicago Reader, HIGHLY RECOMMENDED
This project was sponsored in part by The Elizabeth F. Cheney Foundation
Cast: Kevin Cox, Stacie Beth Green, Nicole Wiesner
In Howard Barker's Judith, his re-telling for "the Theatre of Catastrophe" of the apocryphal Book of Judith, the beautiful widowed heroine offers her body as a sacrifice to the enemy's general Holofernes in order to save her country only to end up as woman in love "who kills the thing she loves."
Woman's body as a commodity; sacrifice as a path to ecstasy; death and love as the battleground of a general and a beautiful widow offering self-annihilation for the price of her country's sovereignty; seduction in the time of destruction–all of this and more is on display in Howard Barker's Judith, his re-telling for "the theatre of catastrophe" of the apocryphal Book of Judith.
Howard Barker (Playwright) Howard Barker's first play was performed at the Royal Court Theatre Upstairs in 1970. Subsequently, his works were played by the Royal Court, Royal Shakespeare Company, The Open Space Theatre, Sheffield Crucible, and the Almeida. He is currently Artistic Director of The Wrestling School. A company established to disseminate his works and develop his theory of productions. His work is played extensively in Europe. In translation, in The United States and in Australia. He writes regularly for radio, both in England and Europe. He is the author of plays for marionettes and has written three librettos for opera/. Howard Barker is the author of two works of theory, and five volumes of poetry. He is also a painter. His work is held in national collections in England (V&A, London) and Europe.
Zeljko Djukic (Director) Zeljko Djukic is a theatre director and the founder of the Chicago theatre company TUTA. He studied at the Belgrade Drama Arts School and the University of Maryland at College Park. His productions at TUTA include: The Dumb Waiter by Harold Pinter, Baal and The Wedding by Bertolt Brecht, Romeo and Juliet by William Shakespeare, Uncle Vanya by A.P. Chekhov, It's Only the End of the World and Rules for Good Manners in the Modern World by Jean-Luc Lagarce. In 2009 he directed Tony Kushner's Homebody/Kabul at National Theatre in Belgrade Serbia. For Trap Door he directed Werner Schwab's First Ladies. Djukic is currently teaching acting and directing at UIC. He is a recipient of the Fulbright Scholar Award for 2013.
Assistant Director Neil Fontano / Stage Manager Rachel Holland/ Set Designer Joey Wade / Lighting Design Keith Parham / Costume Design Natasha Dukich / Sound Design Christopher Kriz / Prop Design Merje Veski / Make-Up Design Zsófia Ötvös / Graphic Design Michal Janicki