Katzelmacher
MARCH 2003
Written by Rainer Werner Fassbinder
Translated by Denis Calandra
Directed by Krishna LeFan and Beata Pilch
"The laudably fast-paced and provacative production of "Katzelmacher" directed with nerve and verve by Beata Pilch and Krishna LeFan, is the best Fassbinder outing here to date."
-Chris Jones, The Chicago Tribune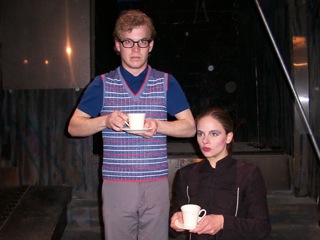 Katzelmacher…
…a derogatory term for an immigrant worker, the implication being that his sexual behavior is that of a tom cat.
…Watch as a crippling small town mentality perpetuates itself into the routine violence of an already alienated foreigner.
ABOUT THE PLAYWRIGHT:
Rainer-Werner Fassbinder was best known for his powerful, offbeat, messy films. He made forty films by the time he died of a drug overdose at thirty six. He began his work in the theatre in the late sixties, as a twenty-two year old. He acted, directed, (loosely) adapted classics by Buchner, Goethe, Sophocles, Goldoni and others, wrote several of his own plays, and in a few years emerged as the leader of a group of performers who worked with him until his death in 1982. Fassbinder's plays, like the films, are about varieties of alienation. The images Fassbinder created for the stage, and in films, linger as grotesque and brutal, possessing a strange, improbable truth…In a way, Fassbinder made a career out of despair-selling his own and others' misery in endless variations, operating according to a system he did not create. Other works included in his controversial anti-theater plays are: Bremen Freedom, Blood on the Cat's Neck, Katzelmacher, and The Bitter Tears of Petra von Kant.
ABOUT THE DIRECTOR:
Krishna LeFan last worked in Los Angeles where he directed the NAACP nominated Main Liner for Theatre Royale as well as Guerrilla Terrorist Theater. He also work shopped and directed TRY with a cast of high-risk continuation high school students. Some of Krishna's favorite performing experiences were for Chicago Shakespeare Theater, The Pasadena Playhouse, The Open Fist in Hollywood, CA, Steppenwolf, Trap Door, San Francisco Shakespeare Festival, Berkeley Rep and Theatre Artaud where he was raised. Beata Pilch is the Co-Founder and Artistic Director of the Trap Door Theatre.