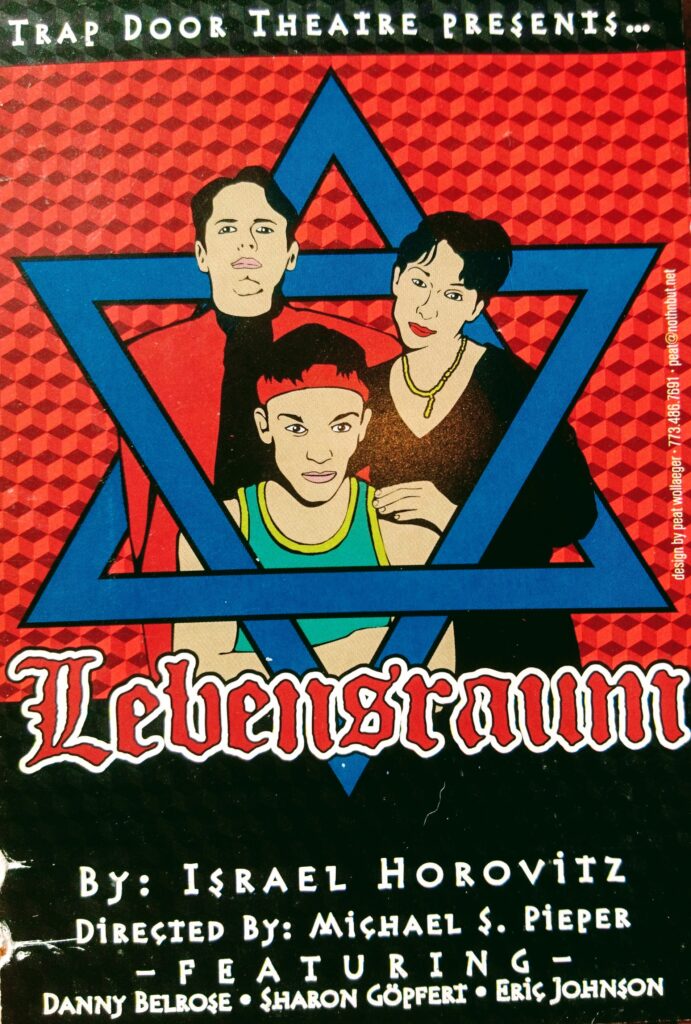 Cast: Danny Belrose, Sharon Gopfert, and Eric Johnson.
Playwright
Israel Horowitz is an author of more than fifty produced plays, of which several have been translated and performed in as many as thirty languages, worldwide. Horovitz has won numerous writing awards, including the OBIE, the EMMY, the Prix de Plaisir du Theatre, The Prix du Jury of the Cannes Film Festival, The Prix Italia, The Christopher Award, The Drama Desk Award, The Elliot Norton Prize, a Lifetime Achievement Award from B'Nai Brith, an honorary Doctorate in Humane Letters from Salem (Massachusetts) State College, and many others. Horovitz was a founder and artistic director of Gloucester Stage Company, and of The New York Playwrights lab. Among Horovitz's best-known plays are The Indian Wants The Bronx, Line, Rats, It's Called The Sugar Plum, Morning, The Primary English Class, The Wakefield Plays, The Chopin Playoffs, and the Growing Up Jewish trilogy. Horovitz was visiting France, frequently, where he often directed French-language productions of his plays. He is the most-produced American playwright in French theatre history. Horovitz died on November 9, 2020 from cancer in Manhattan.
Stage Manager: Kevin Byrne / Lighting Design: Richard Norwood /  Sound Design: Bob Rokos / Set Design: Michael S. Pieper / Costume Design: Michael S. Pieper / Graphic Design: Peat Wollaegher Photography: Troy Lindsey
Lebensraum

Written by Israel Horowitz
Directed by Michael S. Pieper
March 4 – April 9, 2000

Joseph Jefferson Award for "Best Ensemble"
"Best Actress in a Supporting Role" -Sharon Gopfert
"Best Actor in a Supporting Role" -Eric Johnson
Winner of an After Dark Award: "Outstanding Production"
Three actors play some 50 characters in this stunningly theatrical drama following a family that accepts Germany's offer of work and citizenship to 6,000,000 Jews. Germany Chancellor extends an invitation to six million Jews to come live and reestablish a Jewish Community in Germany, and help reduce as much as possible the immeasurable shame Germans feel each day for what they did to their Jewish neighbors.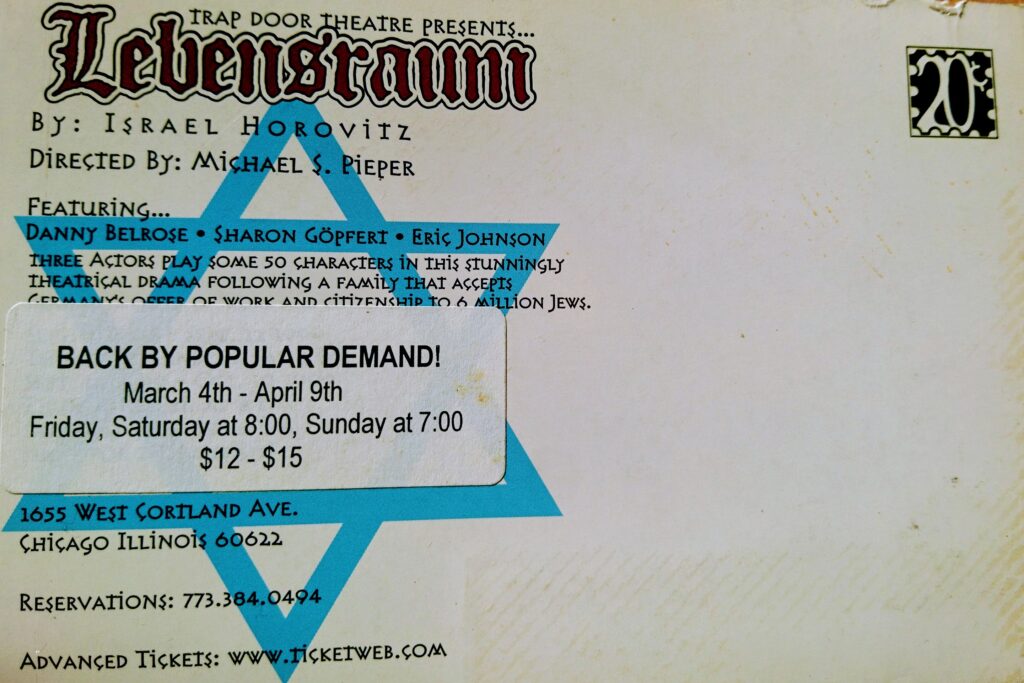 Trap Door is known for its gritty humanistic works, but never has this daring and aggressive company delivered an examination of life as gripping and as sharply etched as Lebensraum. It is their finest work to date and one of the year's very best.
Jeff Rossen, Gay Chicago Magazine
Director
Michael S. Pieper has been developing and teaching his method of acting in the Midwest and west coast since 1988. Michael headed up the Acting Program at the Second City Training Center for the last 22 years. He received his Masters of Fine Arts in Directing from the United States International University of San Diego where he also was on the faculty for eight years. He was the Artistic Director of the North Coast Conservatory Theatre in San Diego, the Resident Director/Artistic Associate at the Trap Door Theatre and Artistic Director of the Boxer Rebellion Theatre, both in Chicago. Michael has directed over 98 productions and acted in over 40 productions.