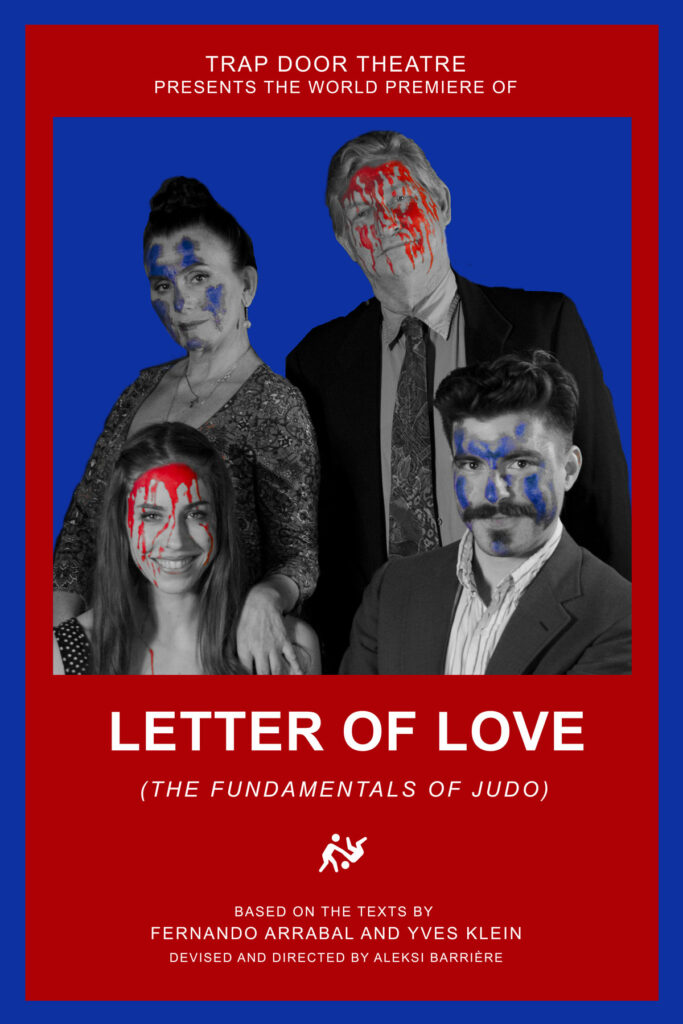 Cast: Marzena Bukowska, Halie Ecker, Mike Steele and Bob Wilson
Playwright
Fernando Arrabal is a Spanish-born French playwright, novelist, actor and filmmaker. He started writing in the early 1950s and went to study drama in Paris, where he remained. After an early, anti-war, satirical period, in the mid-1960s Arrabal turned to what became known as Panic Theatre. For Arrabal, panic is characterized by "confusion, humor, terror, chance and euphoria", he saw Life as Memory and Man as Chance and the artist's duty is to unite "the mechanics of memory and the rules of chance" to create stimulating, fascinating works of art. The best known play from this productive phase is The Architect and The Emperor of Assyria (1967) through which he digged out the hidden corners of the human psyche. Arrabal also wrote and directed several films including Long Live Death! (1971), based on his first novel, Baal Babylon and Automobile Graveyard (1983), based on his play of the same title.
Artist
Yves Klein (1928-1962) was a French artist and an important figure in post-WW2 European painting and performance art. He was a pioneer in performance art and a forerunner of minimal and pop art. As artist Klein was determined to find a means for a "spiritual pictorial space" and it was this quest for the far side of the infinite that led him eventually to live actions and performances and to his famous proclamation: "My paintings are now invisible." For Klein, art was a view of life–he made paintings by pressing his nude models as living brushes rolled in blue paint against the canvas. The purpose was to reach transparency of the artistic process and deliver painting as public, performance art. Apart for his then shocking performances in the major European art galleries and his monochromatic (blue) paintings, he is now best remembered for his radical "immaterial pictorial sensibility." One of his most famous "live" paintings, Anthropometries of the Blue Period has been spliced into a famous "shockumentary" Mondo cane (1962). At the age of 25 he became a master at judo and received the 9th degree black belt. He later wrote a book on judo entitled The Fundamentals of Judo. He died of a heart attack at age 34.
Set Design: Meng Shui / Lighting Design: Richard Norwood / Costume Design: Rachel Sypniewski / Make-Up Design: Zsofia Ötvos / Dramaturge: Milan Pribisic / Graphic Design: Michal Janicki / Stage Manager: Anna Klos / Assistant Stage Manager: Elise Pousset
Letter of Love

(The Fundamentals of Judo)
Based on the texts by Fernando Arrabal and Yves Klein
Translated by Pollux Hernúñez & Aleksi Barrière
Devised and Directed by Aleksi Barrière (Guest Director from Paris, France)
March 22, 2018 – April 28, 2018
We are invited to partake in a judo fight, a game of chess, a reading of tarot cards. This war against war is theatre as seen by poet Fernando Arrabal and painter Yves Klein: a struggle against the prisons built by the dictators of the bodies and of the minds, even when they are our own mothers. A struggle where each punch and hold will be an embrace – an act of love. Letter of Love is the most autobiographical work of Fernando Arrabal. This text is a letter of love, reproach and reconciliation that covers the last years of the mother's life.
It's quite remarkable that the actors are all able to deliver their lines so clearly while being flipped and grappled with. The show is intense…HIGHLY RECOMMENDED 
Jacob Davis, Around the Town Chicago
…this piece will challenge what you thought theatre should be, and show you all the possibilities it truly has… HIGHLY RECOMMENDED 
Taryn Smith, Picture this Post
Director
Aleksi Barrière was born in 1989 in Paris. He majored in philosophy at the Sorbonne in Paris and in stage directing at the Theatre Faculty of Prague, after collaborating as an assistant with directors Sarah Méadel and Peter Sellars. He has worked as a dramaturge and scenographer with multimedia art groups such as T&M and Image Auditive, and has been invited to direct projects at the Staatsoper Hamburg, the Grimeborn Festival, the Paris Conservatory and the READ Festival in Helsinki. Nevertheless, most of his work is developed within the music & theatre collective La Chambre aux échos, which he founded and co-directs with Clément Mao-Takacs. Also a writer and a translator, his words have been set to music by various composers and published in reviews and art books. His work as a scholar, like his artistic projects, explores the grey areas between music and theatre.