The Locketeer
Written by: Elias Canetti
Translated by: Carol Stewart
Adapted and Directed by: Catherine Sullivan
 January 25th – March 03, 2018
presented with support from the Elizabeth F. Cheney Foundation
The Locketeer is an adaptation of Elias Canetti's play from 1956, The Numbered, wherein a nameless future state claims its power by imposing life spans on its citizens. This competition for status causes social paranoia and a tragicomic refusal of facts. The adaptation was devised with the ensemble.
This physicality and expressiveness of this cast of ten under the superb direction of Catherine Sullivan IS what gives THE LOCKETEER its considerable draw. – Amy Munice, Picture this Post
…the endlessly inventive Trap Door has the advantage of being experienced producing the works of central/eastern European makers from the past century… Sullivan's method of demonstrating the consequences of this is ingenious. – Jacob Davis, Around the Town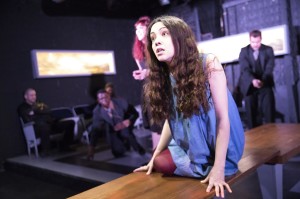 Cast: Dennis Bisto, Abby Blankenship, Marzena Bukowska, Holly Cerney, Sami Ismat, Emily Lotspeich, Joan Nahid, Zachary Nicol, Keith Surney and Bob Wilson.

Elias Canetti (Playwright) was born in 1905 in Bulgaria, grew up in Vienna, Austria in the 1920s, and escaped to England at the beginning of WW2 in 1939. He died in Switzerland in 1994.  Canetti wrote all his literary works (novel, essays, plays, travel journals, social studies and the three tomes of autobiography) in German.   As Sephardic Jew he experienced anti-semitism first had which inspired his famous study on mass psychology, Crowds and Power (1960).  His first and only novel Auto-Da-Fé (1935) is about totalitarian thinking and the psychopathology of power.  His plays, The Wedding (1932), Comedy of Vanity (1933/34) and Life-Terms (1964), are the least know part of his literary oeuvre.  They are satires developed around one central idea/theme without plot or any conventional, linear development.  They are founded on "acoustic masks," the Canetti's term for a character's language reservoir, as language is both the main element of dramatic structure and a "great traitor" of human character.  Canetti won the Nobel Prize for Literature in 1981.
THE LOCKETEER from Catherine Sullivan on Vimeo.
Catherine Sullivan (Director) has created film, theater and installation work with numerous collaborators and ensembles nationally and internationally. The performers in her works are often coping with written texts, stylistic economies, re-enactments of historic performances, gestural and choreographic regimes, and conceptual orthodoxies. Her true medium is the ensemble itself. Solo exhibitions, collaborations, performances and films have been presented at venues such as UCLA Armand Hammer Museum, Los Angeles; Walker Art Center, Minneapolis; The Renaissance Society at the University of Chicago; Museum of Contemporary Art, Chicago; Whitney Museum of American Art, New York; Metro Pictures, New York; Galerie Catherine Bastide, Brussels, Galerie Christian Nagel, Cologne; Secession, Vienna; Tate Modern, London; Opéra de Lyon, Lyon; Volksbühne, Berlin; Cricoteka, Krakow; Trapdoor Theatre, Chicago; the Whitney, Moscow and Gwangju biennials; Berlin International Film Festival and International Film Festival Rotterdam. Her work is held in public and private collections including Museum of Contemporary Art, Los Angeles; Whitney Museum of American Art, New York; Tate Modern, London; Thyssen-Bornemisza Art Contemporary, Vienna; Rubell Family Foundation, Miami and Geotz Collection, Munich. Notable awards include The Louis Comfort Tiffany Foundation, Herb Alpert Award in the Arts, Deutscher Akademischer Austausch Dienst, United States Artists Walker Fellowship and a Chicago Dancemaker's Forum Lab Artist Award. She holds a BFA in acting from California Institute of the Arts and an MFA in post-studio art from Art Center College of Design. She is an associate professor in the Department of Visual Arts at the University of Chicago.
Set Designer J. Michael Griggs / Lighting Design Richard Norwood/ Costume Design Rachel Sypniewski/ Sound Design Mike Mazzocca/ Make-Up Design Zsófia Ötvös / Props Design Ann Sonneville/Graphic Design Michal Janicki/ Dramaturg Milan Pribisic/ Stage Manager Kristin Davis