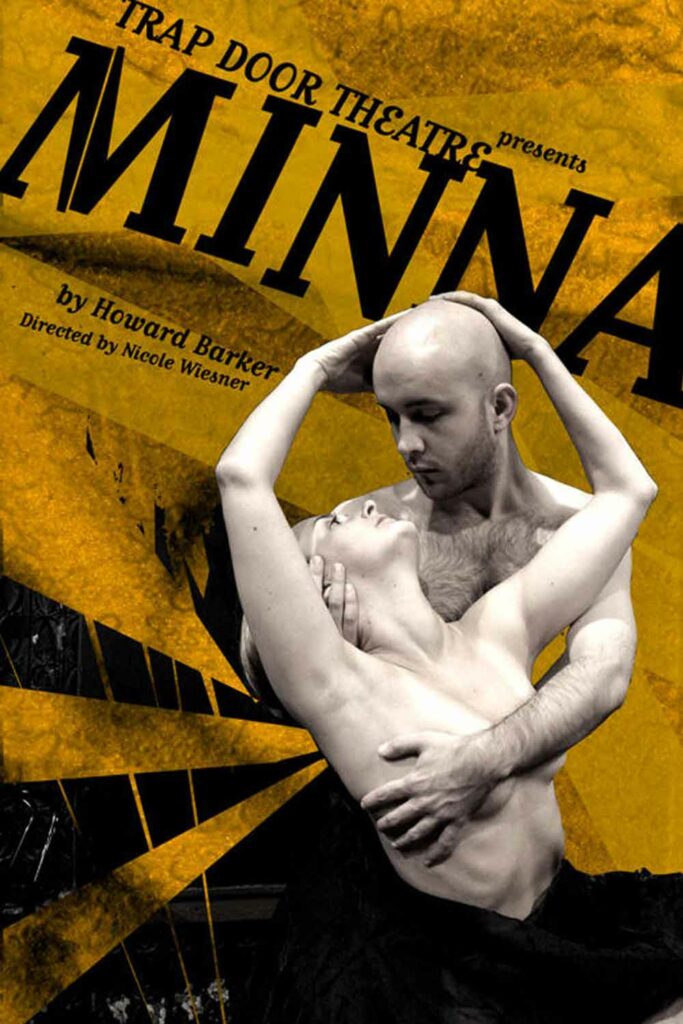 Cast: Kevin Cox, Gary Damico, Geraldine Dulex, John Gray, David A Holcombe, John Kahara, Amber Lageman, Pamela Maurer, Kinga Modjeska, Sadie Rogers, Derek Ryan, and Carl Wisniewski.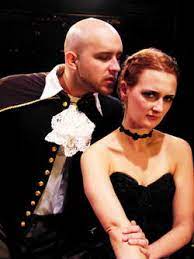 Playwright
Howard Barker is a British playwright, screenwriter, poet, painter, and essayist. Barker's plays led him to create the term "Theatre of Catastrophe", which explores violence, sexuality, the desire for power, and human motivation. He has written such plays as Victory, Scenes from an Execution, and many more. He has authored plays for marionettes, three librettos for opera, five volumes of poetry, and two works of theory.
Assistant Director: Carolyn Hoerdemann / Stage Manager: Barry Branford / Choreographer: Lyndsay Kane / Makeup Designer: Zsófia Ötvös / Costume Designer: Beata Pilch and Nevena Todorovic / Sound Designer: Jonathan Guillen / Lighting Designer: Richard Norwood / Set Designer:  Ewelina Dobiesz / Graphic Design & Photos: Michal Janicki
Minna
Written by Howard Barker
Directed by Nicole Wiesner
January 2 – February 13, 2010
Set in a mythical world that swings between the 18th Century and the 1950's, Minna is Howard Barker's ferocious view of war and sexual politics. Minna Von Barnhelm is the light and airy heroine of Lessing's Enlightenment-era comedy, but in Barker's nightmarish world, her single minded pursuit of atrocity compels her to commit atrocity herself.
A hallucinatory parade of images on the theme that human beings are rational, intelligent creatures prone to irrational, brutish behavior. Barker's MINNA is violent, grotesque, wantonly sexual, and absurd… and in the hands of first-time director Nicole Wiesner, it's also thought-provoking, visceral, and darkly funny. The ensemble's passionate but precise performances are supported by imaginative set, costume, and sound design that immerse actors and audience alike in a vivid dream world.
Albert Williams, Chicago Reader 
Nicole Wiesner's laudably intense and physically thorough rendition… is staged with a great deal of imagination.
Chris Jones, Chicago Tribune 
Dark…kinky… a richly evocative landscape of fear.
Hedy Weiss, Chicago Sun-Times
Wiesner creates bracing stage pictures in this stylish production.
Kris Vire, Time Out Chicago 
Never at a loss for parameter stretching and boundary challenging material, Trap Door Theatre presents a captivating production of Minna. It'd is just the kind of pot that Trap Door stirs with beguiling results and director Nicole Wiesner brilliantly creates this nightmarish reality with both visual lyricism and explosive whimsy in this haunted house of catastrophic madness. A compelling spectacle of dramatic lunacy.
Venus Zarris, Chicago Stage Review
A jaw-droppingly complex piece of theater…bewilders and amazes on so many levels… a bucking bronco of a play that tries hard to shake the audience. Come prepared for the absurd, and hold on tight. It's well worth it.
Keith Ecker, Chicago Theater Blog
If the actors in this Trap Door production dared to let us in on the joke for an instant, Barker's tantrum would collapse like a circus tent in wet snow. Fortunately, director Nicole Wiesner and her athletic cast have had years of expertise at this brand of roll-on-the-floor-and-stick-out-your-tongue social analysis, diving feet-first into each isolated moment…a prodigious spectacle supplied by the ensemble of physical and verbally agile players.
Mary Shen Barnidge, Windy City Times
Under the innovative direction by Nicole Wiesner, Minna evolves as a weirdly enticing theatrical experience. The cast, especially Geraldine Dulex (Minna) and Kevin Cox (Tellheim) throw themselves into the weird world of estranged lovers, violence and sexual adventure. But the bravery, intensity and sheer energy carried the day. The staging and powerful performances will impress. Take a chance on this Theatre of Catastrophe production– it'll stir you up.
Tom Williams, Chicago Critic
Director
Nicole Wiesner (she/her) joined the Trap ensemble in 1999 and currently serves as the Managing Director. Her directing credits for the company include Minna,The Fairytale Lives of Russian Girls, Phèdre, Monsieur D'Eon is a Woman, The Old Woman Broods, and The White Plague. Some of her favorite Trap acting credits include First Ladies (dir. Zeljko Djukic, Joseph Jefferson Citation: "Outstanding Actress"); OVERWEIGHT, unimportant: MISSHAPE (dir. Yasen Peyankov); and the title roles in The Bitter Tears of Petra Von Kant; Nana (dir. Beata Pilch) and Alice in Bed. (dir. Dado). Regionally, she has appeared at the Goodman Theatre in 2666, directed by Robert Falls and Seth Bockley; Shining City directed by Robert Falls; and Passion Play, directed by Mark Wing- Davy (After Dark Award, "Outstanding Performance"), at Steppenwolf Theatre in The Book Thief (dir. Hallie Gordon), South of Settling (dir. Adam Goldstein) and Dublin Carol (Dir. Amy Morton); as well as Lookingglass Theatre, Court Theatre, Next Theatre, Yale Repertory Theatre, Huntington Theatre, Epic Theatre.