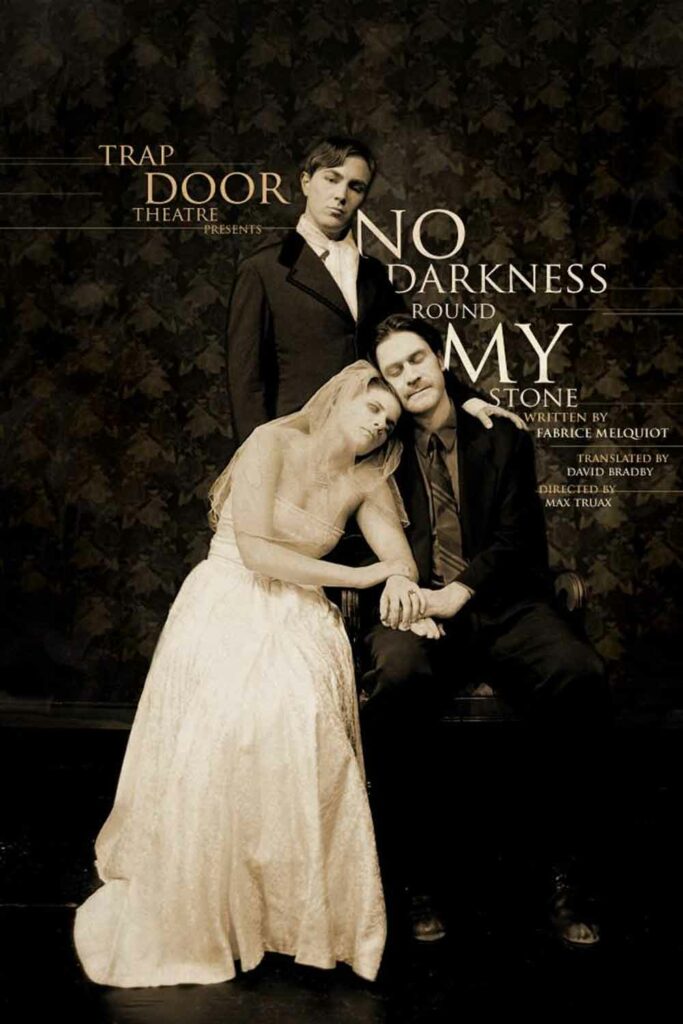 Cast: Casey Chapman, Cassandra Kaluza, Kevin Lucero Less, Tiffany Joy Ross, David Steiger, and Bob Wilson.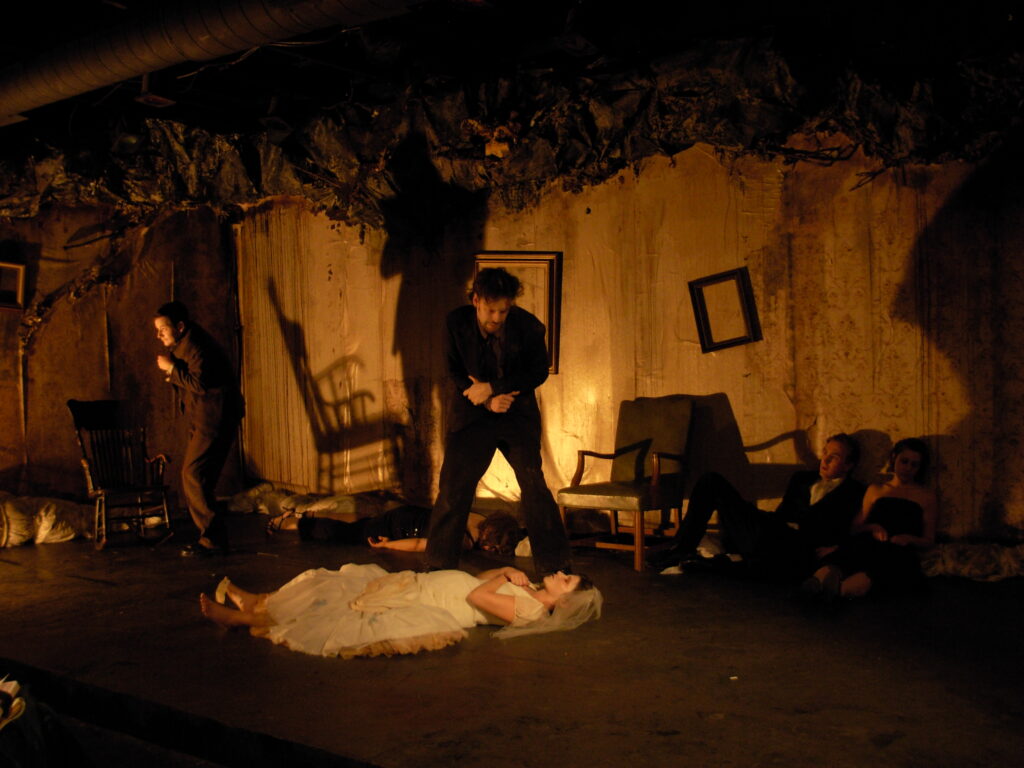 Playwright
Fabrice Melquiot is a French playwright, poet, actor, novelist and director. He began his career as an actor but began to write when he published two children's texts, Les Petits Melancoliques and Les Jardins deBeaumon. He has written many plays aimed at young audiences. He has written such plays as The Devil on All Sides, Kids, and Bouli Miro.
Assistant Director: Laura Smith / Set Design: Ewelina Dobiesz / Sound Design: Sam Lewis & Jesse McCabe / Costume Design: Beata Pilch & Iris Bainum-Houle / Lighting Design: Richard Norwood / Graphic Design: Michal Janicki
No Darkness Round my Stone

Written by Fabrice Melquiot
Translated by David Bradby
Directed by Max Truax
September 4 – October 11, 2008
New City Magazine "Top Five Shows of 2008"
Performink "Best Production of 2008"
Windy City Times "Best Scenic Design" – Ewelina Dobiesz
Trap Door Theatre proudly presented the world premiere of the English translation of No Darkness Round My Stone by French playwright Fabrice Melquiot. A poet in spirit and practice, Melquiot's work is marked by noted lyricism and unpretentious accessibility. In No Darkness Round My Stone, Melquiot gives us a comedic and empathetic look at the everyday life of grave robbers. Mixing hyper-realism with surrealism, and banality with complexity, No Darkness Round My Stone examines the human desire to be different from what we are and the remarkable buoyancy of hope.
An impossibly entertaining production
Monica Westin, New City Chicago
No Darkness Around My Stone is a spellbinding, poignant, chilling and profound mix of existential destitution and sweet tenderness. Do not miss this unique opportunity to experience a challenging, chilling, peculiar and incomparably haunting production.
Venus Zarris, Chicago Stage Review
No Darkness Round My Stone is a theatrical triumph of the first order.
Tom Williams, ChicagoCritic.com
Director
Max Truax has been a Resident Director at Trap Door since 2008. For Trap Door, he has directed six critically acclaimed productions, including an operatic interpretation of Heiner Muller's Hamletmachine with original music by long-time collaborator Jonathan Guillen. Max also directed Trap Door's production of A Couple of Poor Polish-Speaking Romanians at the Fun Underground Festival in Arad, Romania and at the Bagatela Theatre in Krakow, Poland. Max served as the Artistic Director of Oracle Productions from 2011 to 2016, where he directed several shows, including No Beast So Fierce, The Mother, Woyzeck, The Ghost Sonata, and Termen Vox Machina. His production of The Mother received 7 Jeff Awards, including awards for Best Production, Best Adaptation, and Best Ensemble. In addition to Chicago, Max has directed for multiple stages in Los Angeles and at the Krannert Center at the University of Illinois Urbana-Champaign. Max studied visual art, performance art, and choreography at Oberlin College, where he founded the site-specific performance company \twelv\ and devised the multi-venue opera BEING NOT NOTHING. Max received his MFA in theatre directing from California Institute of the Arts, where he studied with Travis Preston, Suzan-Lori Parks, and Kevin Kulke. Max currently serves as Artistic Director for Red Tape Theatre, where he has directed Round Heads and Pointed Heads, Yerma, and A Hedda Gabler.