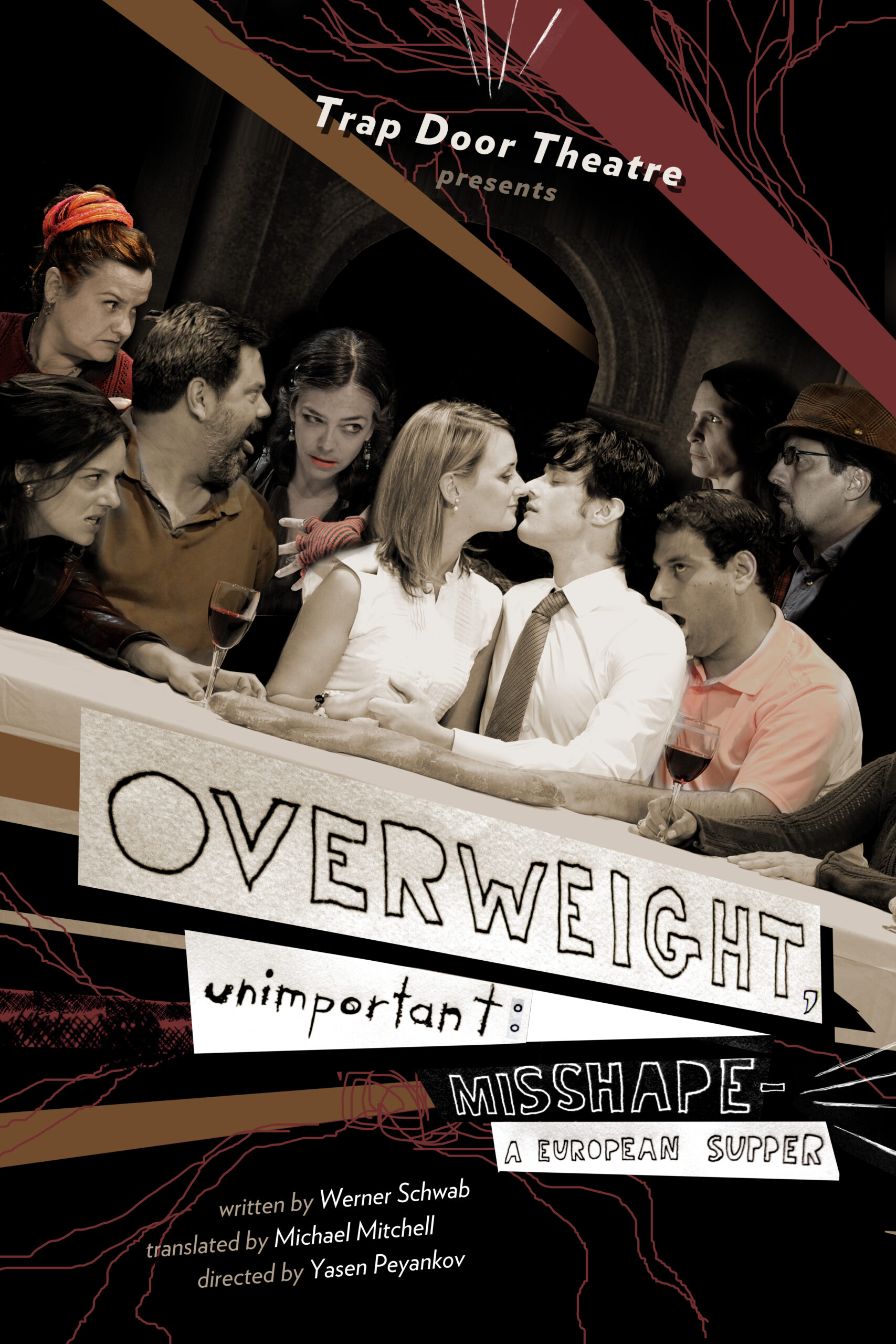 Cast: Kirk Anderson, Dado, Géraldine Dulex, Andy Hager, Carolyn Hoerdemann, David A. Holcombe, Beata Pilch, H.B. Ward, and Nicole Wiesner.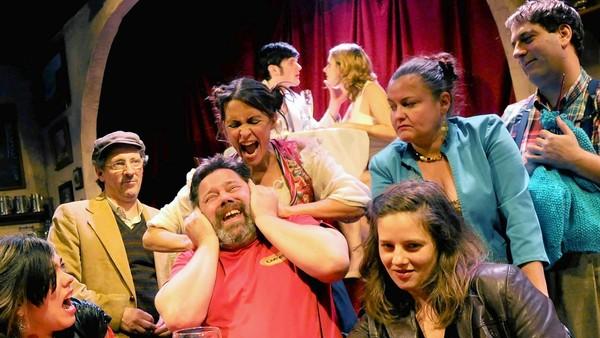 Playwright
Werner Schwab was born in Graz, Austria on February 4, 1958. Schwab graduated from the School of Artistic Craft of Graz and in 1978 he began studying to be a sculptor at the Viennese Academy of Fine Arts. He later moved with his wife to a remote farm in the southwest of Styria where he wrote his first four plays that were published in 1991 in a collection called Faekaliendramen (The Feces Dramas). Between then and his death four years later he wrote sixteen plays, eight of which were produced during his lifetime, making his career one of the briefest, most spectacular and most controversial in contemporary German-language theatre. Trap Door produced the Jeff Award Winning production of Schwab's first play, First Ladies, directed by Zeljko Djukic; and in 2005 the award-winning American premiere of People Annihilation or My Liver is Senseless, directed by Tracy Letts.
Dramaturg: David Steiger / Set Design: Joey Wade / Lighting Design: Richard Norwood / Costume Design: Lena Sands / Sound Design: Gregor Mortis / Stage Manager: Allison Raynes / Make-up Design: Zsófia Ötvös / Specialty Props: Meredith Miller / Graphic Design: Michal Janicki
OVERWEIGHT, unimportant: MISSHAPE
A U.S. Premiere
Written by Werner Schwab
Translated by Michael Mitchell
Directed by Yasen Peyankov
October 6, 2011 – November 13, 2011
Presented with support from National Endowment for the Arts.
With hilarious chill, Werner Schwab's OVERWEIGHT, unimportant: MISSHAPE plunges into the dark, unknowable depths of human longing. Never before has degradation, perverse loneliness, and mankind's toxic ego been so funny.
Together, this brilliant ensemble manages the impossible.
Venus Zarris, Chicago Stage Review
Dark and perverse is what these artists do best." *** 3 stars!
Chris Jones, Chicago Tribune
A jaw-dropping production… This has got to be one of the most unabashedly vicious things I've ever seen on a stage. I loved it.
Tony Adler, Chicago Reader
Trap Door's 2012 season was named "The Best String of Theatrical Stunners"
Chicago Reader
Recommended!
Hedy Weiss, Chicago Sun Times
Moreover, it is beautiful, horrid, confusing, glorious theatre. Recommended.
Will Fink, ChicagoCritic
Director
Yasen Peyankov was born and raised in Bulgaria where he graduated from the National Academy of Theatre and Film Arts in Sofia. Since his arrival in Chicago in 1990, he co-founded the European Repertory Company in 1992, has worked as an actor at the Goodman, Court, Next, American Theatre, and many others. Since 2002, he has been a member of the Steppenwolf Theatre Ensemble, where he has appeared in Time to Burn, The Time of Your Life (also In Seattle and San Francisco), Berlin Circle, Hysteria, Morning Star, (Joseph Jefferson Award for "Best Supporting Actor"), Frankie and Johnny In the Clare De Lune (also In Dublin), Cherry Orchard, Lost Land, The Pillowman, Diary of Anne Frank and in the world premiere of Tracy Letts' Superior Donuts both at Steppenwolf and on Broadway. He has also directed for Steppenwolf, the University of Illinois at Chicago (UIC), European Repertory Company, and Rushfort in Los Angeles, and translated and adapted plays by Anton Chekhov, Mikhall Bulgakov, Nikolal Kolyada, and Vaslly Slgarev. He also appeared in The Hot L Baltimore at Steppenwolf, and directed his own translation of Tracy Letts' August: Osage County at the National Theatre in Sofia, Bulgaria. Peyankov is an Associate Professor at UIC where he runs the theatre program and teaches acting.