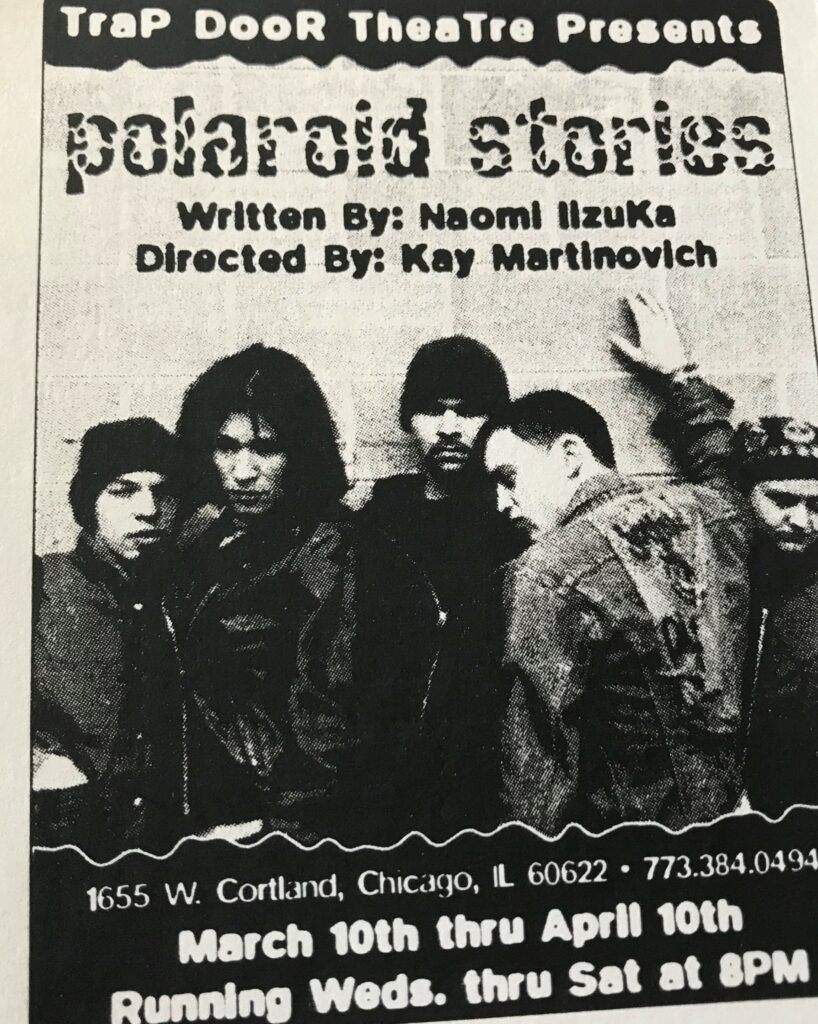 Cast: Beata Pilch, Danny Belrose, Alex Present, John Cabrera, Derrick Nelson, Nadine Griffith, Bernadette Miranda, Annie Long, Aaron Boucher, Yvonne Huff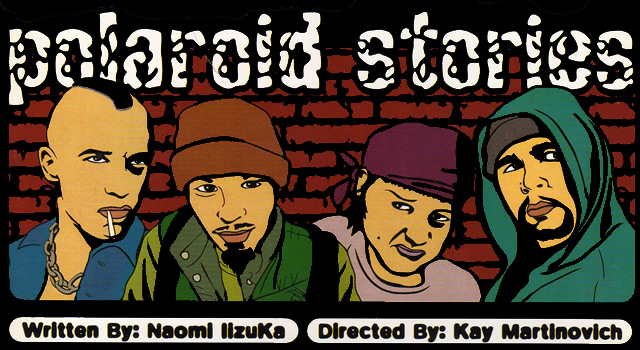 Playwright
Naomi Iizuka is a Japanese-Latina playwright. Her works often have a non-linear storyline and are influenced by her multicultural background. She has written such plays as Polaroid Stories, Good Kids, Scheherazade, Skin, Marlowe's Eye and Tattoo Girl.
Lighting Design: Richard Norwood / Sound Design: Bob Rokos / Costume Design: Beata Pilch / Set Design: Anastasia Platt / Stage Manager: Phil Selvey / Fight choreography: Alan Malone / Film Maker: Frank Carridi, Genevieve Coleman / Film Crew: Dave Valatis, Ryan Resvani / Movement Coach: Dee-Dee Hamilton / Graphic Design: Peter Wollaeger
Polaroid Stories
Written by Naomi Iizuka
Directed by Kay Martinovich
March 10- April 10, 1999

A street theatre poem of emptiness, sensation, desire and fear…
Martinovich and her superb cast have transformed Iizuka's challenging script into two hours of potent, gripping drama.
Nick Green,The Chicago Reader
Director
Kay Martinovich is Head of Performance and Associate Professor in Acting at Northern Illinois University in DeKalb. Kay works as a professional theater director and acting coach based in Chicago. Most recently she directed an online reading of the new play Mentors by Kristin Palmer and starring Austin Pendletown. Other recent credits include The Father at Remy-Bumppo Theatre, the Jeff-nominated Naked at Trap Door Theatre, Deirdre of the Sorrows at City Lit Theatre and the Jeff-award winning La Bete by David Hirson at Trap Door. She was Associate Artistic Director of Irish Repertory of Chicago where she directed the American premieres of Marina Carr's By the Bog of Cats… and Brian Friel's The Yalta Game. Her work has been seen at numerous Chicago theaters including Trap Door, City Lit, Mary-Arrchie, Lifeline, American Blues, The Gift, Buffalo Theatre Ensemble, Live Bait, Emerald City, Circle Theater, Apple Tree, Famous Door, Chicago Dramatists and regional theaters in Wisconsin, Indiana, and Oklahoma. She is a proud member of the Society of Stage Directors and Choreographers (SDC).