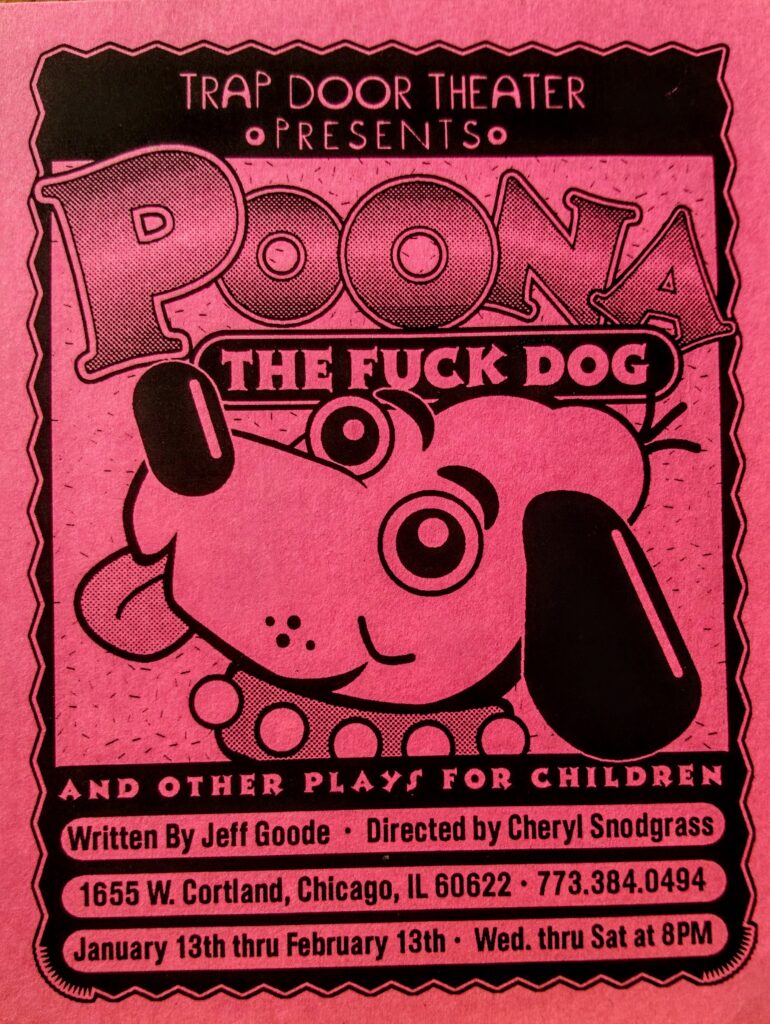 Cast: Brian Bon Durant, Bumper Carroll, Robert A. Felbinger, Inger Hatlen, Lisa Lewis, Sean Marlow, Joe Mellen, Tristan Poje, Courtney Shaughnessy, Doug Steckel, Gary Sugarman, Tina Thuerwachter, and Mark Yoder.
Playwright
Jeff Goode is an American director, actor and playwright. He is the co-founder of No Shame Theatre, and a founding company member of The Unusual Cabaret. Jeff has directed The Maids at Trap Door Theatre. He has written such plays as The Eight, Narcissus & Echo, Lesbian's Last Pizza, and The UBU Plays.
Sound Design: Sean Judge / Lighting Design: Richard Norwood / Set Design:  Steve Czarnopys / Costume Design: Sean Marlow, Beata Pilch,& Cheryl Snodgrass
Poona the Fuck Dog

Written by Jeff Goode
Directed by Cheryl Snodgrass
January 13 – February 13, 1999

A darkly wacky adventure through Poona's Fairy tale world where: Tvs are King, Frogs don't turn into Princes, Princes carry bombs and it's all ok with God. (Oh! Plus one Dragon!)
One of the best productions in Trap Door's history.
Chris Jones, The Chicago Tribune
Director
Cheryl Snodgrass holds an undergraduate degree from the University of Iowa and a Masters in Fine Arts. Cheryl has had the honor to direct Jeff Goode's acclaimed The Eight: Reindeer Monologues, more times than anyone else in the world. Cheryl is a founding member of No Shame Theatre (Iowa City), The Unusual Cabaret (Bar Harbor, Maine) and Les Enfans du Mais & C'est Destine (Chicago, IL). Cheryl has performed in, produced, and/or directed a number of Jeff Goode shows including: Lesbian's Last Pizza, Narcissus & Echo, Escape from Eldarado and Larry and the Werewolf.