Cast: Aaron Boucher, John Gray, Anne Gregory, Arch Harmon, Kristie Hassinger, Myles Leevy, Troy Lindsey, Beata Pilch, Alex Present, Shannon O' Neill, Steve Walker, and Sondra Walters.
Playwright
Rainer Werner Fassbinder was a West German playwright, filmmaker, actor, theatre director, composer, cinematographer, and essayist, best known for his powerful, offbeat, and messy films. Fassbinder's plays, like his films, are about varieties of alienation. The images Fassbinder created for the stage linger as grotesque and brutal, possessing and strange, improbable truth. Some of his works include Bremen Freedom, Blood on the Cat's Neck, Katzelmacher, and The Bitter Tears of Petra von Kant.
Director
Michael S. Pieper has been developing and teaching his method of acting in the Midwest and west coast since 1988. Michael headed up the Acting Program at the Second City Training Center for the last 22 years. He received his Masters of Fine Arts in Directing from the United States International University of San Diego where he also was on the faculty for eight years. He was the Artistic Director of the North Coast Conservatory Theatre in San Diego, the Resident Director/Artistic Associate at the Trap Door Theatre and Artistic Director of the Boxer Rebellion Theatre, both in Chicago. Michael has directed over 98 productions and acted in over 40 productions.
Pre Paradise, Sorry Now

Written by Rainer Werner Fassbinder
Translated by Denis Calandra
Directed by Michael S. Pieper
October 27 – December 11, 1999

Witness the account of the Moorland Murders. Ian Brady teaches Myra Hindley that submission is joy. Together they start to create their own paradise by teaching inferior creatures that happiness is death.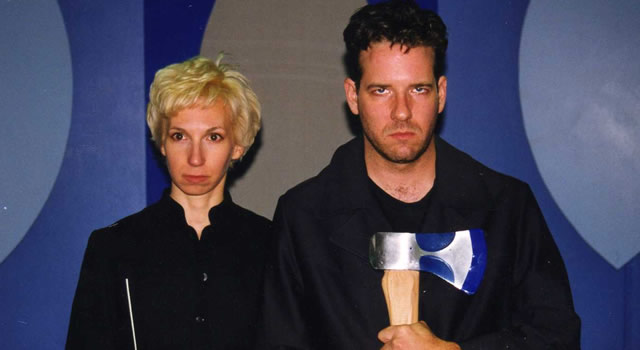 The result is an intellectually rich, stylistically daring work." 

Jack Helbig, The Chicago Reader
Stage Managers: Matthew Lundquist & Peter Esposito / Lighting Design: Richard Norwood / Set Design: Michael S. Pieper / Costume Design: Beata Pilch & Megan Wall / Graphic Design: Brin Sherman / Sound Design: Bob Rokos / Fight Choreography: Danny Robles