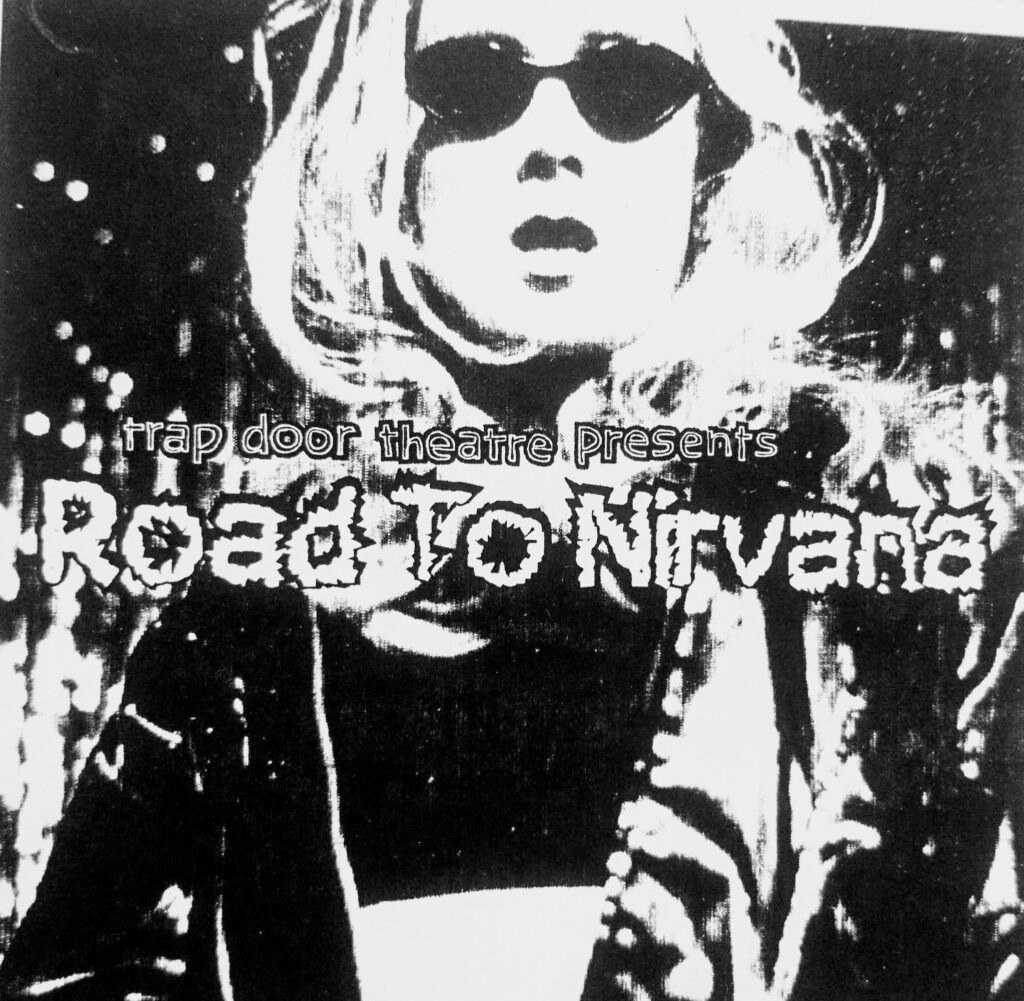 Cast:  Aaron Boucher, Sarah Charipar, Eric Johnson, James Leary, and Sean Marlow.
Playwright
Arthur Kopit is an American playwright. He has been nominated for multiple Tony Awards, and a finalist for two Pulitzer Prizes. He has written such plays as Indians, Nine, Wings, and oh Dad, Poor Dad, Mamma's Hung You in the Closet and I'm Feelin' So Sad.
Assistant Director: Beata Pilch / Stage Manager: Rita Vreeland / Lighting Design: Richard Norwood / Set Design: Michael S. Pieper / Costume Design: Sarah Charipar / Sound Design: Bob Rokos / Music Composition: Bob Rokos / Graphic Design: Greg Wilk
Road to Nirvana

Written by Arthur Kopit
Directed by Michael S. Pieper
Opened November 1997

A wonderfully tasteless look at the perverse power hungry Hollywood producer's daily existence.
Watching these fine actors work their magic together is a real treat.
Jeff Rossen, Gay Chicago Magazine
At the apex of the madness is the gender ambiguous rock star Nirvana (Sean Marlow)…the piece is a creative corrosive shock.
Catey Sullivan, New City
A cast willing to deliver the balls-out performance the material requires."
Jack Helbig, The Chicago Reader
Director
Michael S. Pieper has been developing and teaching his method of acting in the Midwest and west coast since 1988. Michael headed up the Acting Program at the Second City Training Center for the last 22 years. He received his Masters of Fine Arts in Directing from the United States International University of San Diego where he also was on the faculty for eight years. He was the Artistic Director of the North Coast Conservatory Theatre in San Diego, the Resident Director/Artistic Associate at the Trap Door Theatre and Artistic Director of the Boxer Rebellion Theatre, both in Chicago. Michael has directed over 98 productions and acted in over 40 productions.