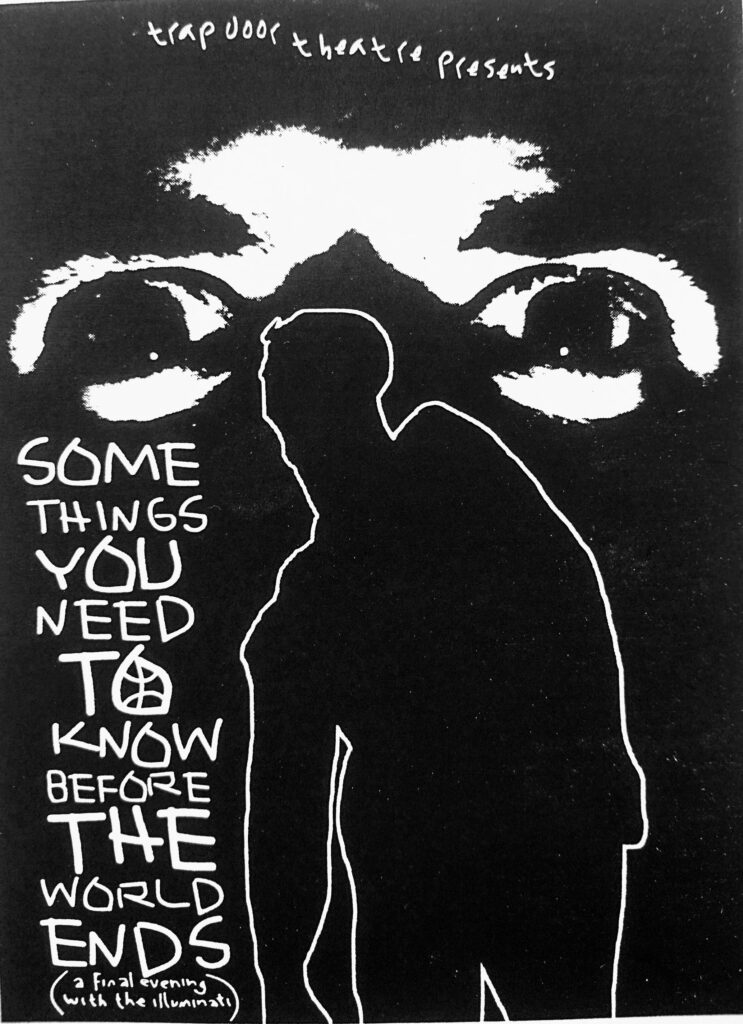 Cast: Eric Johnson and Chuck Raucci.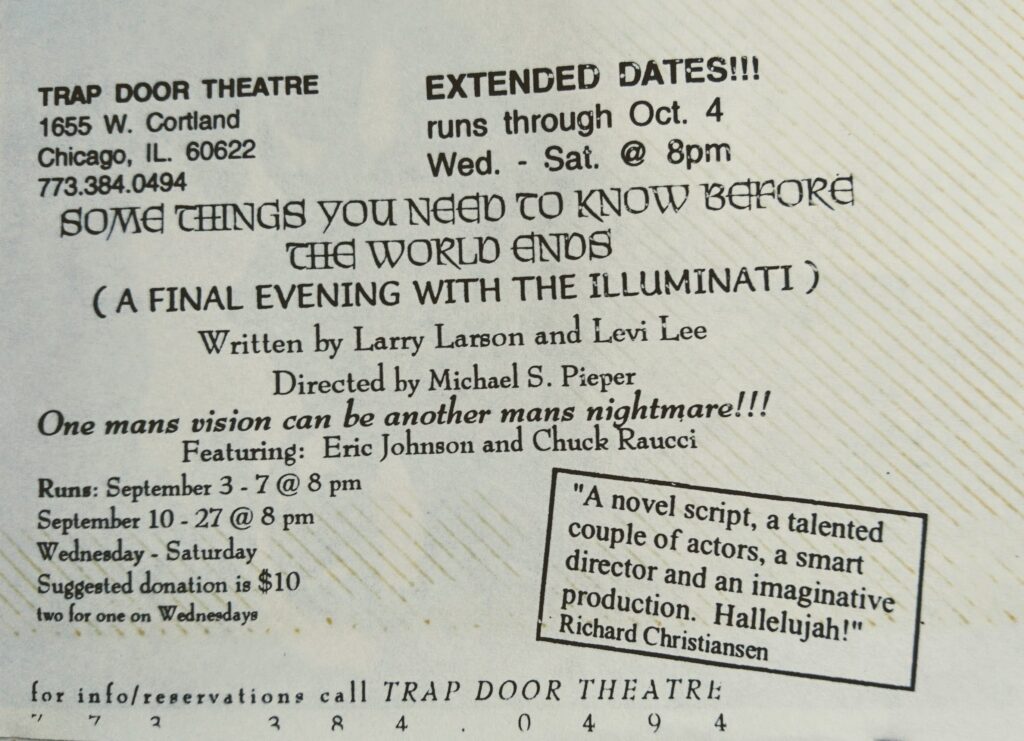 Playwrights
Larry Larson and Eddie Levi Lee have been collaborating playwrights for over thirty years, ever since they met as actors in the company of The Academy Theatre, in Atlanta. They have had numerous productions of their work in New York, Philadelphia, Chicago, Los Angeles, Dallas, Kansas City, Seattle, and abroad in Dublin and Capetown garnering several awards.
Stage Managers: Aaron Boucher & Jason Boucher / Lighting Design: Richard Norwood / Set Design: Michael S. Pieper / Costume Design: Beata Pilch / Graphic Design: Alex Present / Sound Design: Bob Rokos / Music Composition: Bob Rokos
Some Things You Need to Know Before the World Ends (A Final Evening with the Illuminati)

Written by Larry Larson and Levi Lee
Directed by Michael S. Pieper
September 3 – October 4, 1997

The play follows an evening church service with the Reverend Eddie, a protestant minister, and his assistant, Brother Lawrence, in a dilapidated church. The audience functions as Eddie's congregation. The script draws from conspiracy theories, vaudeville humor, and pop culture references.
Performed by people who know what they're doing.
Jack Helbig, The Chicago Reader
A novel script, a talented couple of actors, a smart director and an imaginative production. Hallelujah.
Richard Christiansen, The Chicago Tribune
Director
Michael S. Pieper has been developing and teaching his method of acting in the Midwest and west coast since 1988. Michael headed up the Acting Program at the Second City Training Center for the last 22 years. He received his Masters of Fine Arts in Directing from the United States International University of San Diego where he also was on the faculty for eight years. He was the Artistic Director of the North Coast Conservatory Theatre in San Diego, the Resident Director/Artistic Associate at the Trap Door Theatre and Artistic Director of the Boxer Rebellion Theatre, both in Chicago. Michael has directed over 98 productions and acted in over 40 productions.